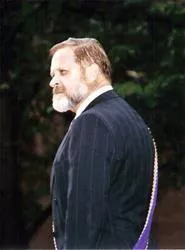 Even in his civvies, this King Lear has presence.
When you're gathered with family, it's a good idea to be circumspect about the questions you ask. No matter how open and honest your clan is, it's best not to inquire how long Uncle Frank has been cheating on his wife or why Cousin Marsha always dates unemployed bikers with face tattoos.
But most of all, be certain not to ask your kids who loves you most. To learn the reasons why (and there are many), check out the free performance of King Lear, now playing in a park near you. Considered perhaps Shakespeare's best work, this play is loaded with more family infighting than has ever been dreamt of on Wisteria Lane. And this production by the Cleveland Shakespeare Festival is tighter and nastier than an Ann Coulter grin.
When the king lobs his unfortunate query, his two eldest daughters, Goneril (an icy Melynee Saunders Warren) and Regan (Sarah Kunchik, in high dudgeon), vie to see who can blow more smoke up the old man's breeches. But the youngest, Cordelia, answers with simple honesty and is dropped summarily from the will. This begins a chain of tragic events that ends in a rather ghastly double eyeball-ectomy, an attempted suicide, and a heap of corpses at the final curtain.
In addition to whipping this 135-minute rendition (without intermission) at a brisk but clearly understandable pace, director Derek Koger makes some interesting decisions by casting a stalwart Alison Garrigan as the Earl of Kent and having Cordelia also be the Fool. Annie Paul handles this intriguing character combination with great style, making Cordelia sweet but never smarmy. The fusion of these two usually separate roles also makes a line in Lear's final speech all the more poignant, when he refers to the dead Cordelia, saying affectionately, "My poor fool is hanged. No, no, no life."
The potent cast is led by Mark Cipra, who nails the royal gravitas as well as the sense of mad foolishness of King Lear as he deteriorates mentally. Brian Pedaci as Cornwall adds a layer of malevolent intensity, especially when he's performing non-elective surgery on Gloucester's eye sockets, and Brian McNally conveys an air of earnest vulnerability as Gloucester's good son.
In the tasty role of Edmund, Gloucester's other son, who's a bastard both literally and figuratively, Leilani Barrett parades his character's vileness a bit too broadly and throws in a few hand gestures (flipping the bird) that feel forced and extraneous. It's too bad, since Barrett is physically prepossessing, has gobs of stage presence, and doesn't need cheap tricks to draw attention.
Koger keeps his players moving constantly, so scenes blend smoothly, and he uses a number of sound effects -- pageant music, thunderstorms -- to ratchet up the emotional content of key moments. While the final scene feels a bit too crimped and crumpled, it doesn't detract from the overall impact of this smart, sharp, and sublimely tragic Lear.