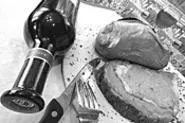 If you're a meat-and-potatoes type, Steve's could be your new happy place.
A group of us were sitting in the Riverview Room at the Ritz the other night, nibbling on spring-tomato aspic and semolina-dusted red mullet, and sipping a fine Tuscan Sangiovese, when the conversation turned, as it always does, to restaurants.
Three Birds, Fire, Classics, Lola . . . We tossed off the names of the usual fine-dining suspects like a bunch of jailhouse snitches on speed. That is, until someone broached the topic of good spots to take the kids. Then you could have spread the silence with a butter knife.
Not that we didn't feel each other's pain. What young parents, desperate to escape the confines of their own four walls, haven't spent a few years in Bob Evans on a Sunday afternoon, watching Justin Jr. splashing in a bowl of chicken 'n' noodles or little Caitlin making bread crumbs out of biscuits? But we weren't talkin' Mickey D's here. What we were trying to pinpoint was a non-chain-linked place where Mr. and Mrs. Foodie could take the Li'l Tidbits for a tolerable meal, and to tell the truth, the options simply didn't loom that large.
Which may explain why, when shortly thereafter we stumbled upon Medina's independently owned outpost of Steve's Dakota Grill (additional Steve's locations are in Marion, Findlay, and Ontario), the spot so firmly grabbed our fancy. In fact, it's not too far afield to suggest that, for your good-natured, family-bound food snob, Steve's is what a pair of beat-up bunny slippers could be to Carrie Bradshaw: a few minutes of blessed relief from the near-constant pressures of being hip.
After all, gourmet or gourmand, there aren't many of us who don't drool at the prospect of a juicy steak, and Steve's serves them up in spades -- sirloins, strips, rib eyes, filets, T-bones, and prime rib included, all USDA prime and choice aged beef, freshly cut, broiled to order, and brought to the table sizzling hot, trailing plumes of oak and hickory smoke. Sure, they may not be the biggest, thickest cuts of beef ever to occupy a plate; then again, the prices aren't enormous, either. But for full, woodsy flavor and overall good taste, cuts such as the 14-ounce Tacoma top sirloin or the 16-ounce T-bone will satisfy all but the pickiest connoisseurs. (And if they don't, rest assured that staffers will do their darnedest to set things right. For instance, we watched in delighted amazement one evening as a genial manager brought several cuts of uncooked beef to a nearby table, so that a disgruntled guest could choose one that was more to her liking!)
But while beef is obviously Steve's bread and butter, the big menu offers something for almost everyone. Families that count red-meat phobics among their number, for instance, will be relieved to find that Steve's kitchen also serves up an assortment of soups, salads, chicken dishes, seafood, and even a pasta creation or two. And while hardcore vegan or vegetarian cases will find slim pickings, they can probably survive on the oversized baked potatoes until they make their way to the nearest juice bar.
For the youngest family members (10 and under), there's a children's menu, with burgers, chicken tenders, fish and chips, and mac 'n' cheese, priced at a reasonable $3 to $5; meantime, slightly older offspring would probably be happy with "two-fisted" steakburgers and chicken sandwiches from the regular menu, hovering around the $7 mark. But frankly, I say let 'em all eat steak: When the restaurant's most extravagant offering -- a 22-ounce porterhouse -- checks in at a modest $19.49, this could be the perfect opportunity to teach your budding Bobby Flay to distinguish between a filet mignon and a strip steak. And even at those modest prices, all entrées are full-meal deals, and come with a generously sized salad (either the house salad, with a mix of lettuces, hard-boiled egg, tomato, and red onion, or the "Caesar," with romaine, hard-boiled egg, delicate croutons, shredded parmesan cheese, and a mild, creamy dressing) -- as well as a choice of starch (check out the melt-in-your-mouth baked sweet potato, for a comforting change of pace) and warm, squishy rolls, served with sweet, maple-flavored butter.
Of course, it's in the very nature of things that grilled slabs o' meat are not exactly challenging fare, and Steve's preparations are no exception. Other than the rotisserie-roasted prime rib, which bore a hint of rosemary, "salty" and "sweet" seemed to be the kitchen's go-to flavors, and cheese the garnish of choice. But just because the food is supremely accessible (and really, what else would you want from a family restaurant?), that doesn't mean that the meals aren't generally satisfying. In fact, from the ultra-meaty, burnoff-worthy St. Louis-style ribs, slowly roasted to melting succulence and slathered in thick, sweet barbecue sauce, to the boneless, skinless chicken breast Monterey, fork-tender beneath a layer of melted mozzarella and a scattering of chopped tomatoes, we had few complaints.
And when the kitchen did come up short, its crimes were mostly misdemeanors. The cheese-draped French Onion Soup, for instance, could have used less salt and more caramelized onion. Jumbo crabmeat-stuffed mushroom caps were firm and obviously fresh, but their savory stuffing was far more cheese than crab. And zesty-sounding Chicken Puttanesca (slightly overdone linguini, tossed with an alleged sun-dried-tomato sauce and topped with grilled chicken slices) turned out to be something of a yawner, a bland band of ingredients that even a sprinkling of capers and black-olive rings couldn't rouse.
Like the familiar fare and the wallet-friendly prices, the steakhouse's casual ambiance also has broad appeal. Snuggled down in one of the few remaining rural stretches of Pearl Road, as it runs between Brunswick and Medina, the place (for years the landmark Pine Tree Inn) has maintained a vintage log-cabin charm, enhanced by a rustic fireplace, wormy chestnut paneling, and sleek stone floors. Jeans and T-shirts fit right in, and thanks to the ambient noise level -- boisterous, but not too obnoxious -- childish prattlings aren't likely to disturb anyone but the parental units.
As for the decor, if the myriad antlers, stuffed and mounted woodland critters, and photos of pine-ringed mountain lakes -- not to mention the plethora of "folksy" signs offering such deep thoughts as "Work is for people who don't know how to hunt" -- seem to hark back to 1950s rec rooms, at least there are cloth napkins on the tables, a selection of more than 30 bottled beers (domestic, imported, and microbrews) at the bar, and easy-sipping Jose Cuervo Gold margaritas, blended with Cointreau, Rose's Lime, and fresh pineapple juice and poured into goblets so startlingly capacious, we wondered what the bartender did with the goldfish.
The one big drawback to Steve's, particularly as a family destination, is its no-reservations policy, which means that hungry children may become intolerably cranky before the eating finally commences. As an alternative on Sundays through Thursdays, well-organized patrons can take a chance on "call-ahead seating," a policy which allows them to get their names on the waiting list (and there always seems to be a waiting list) before their arrival at the restaurant. Still, what exactly the benefits of this system are, we really can't say: Even though we called ahead on both visits, we still encountered 25-minute waits -- and this on evenings when the crowds seemed negligible.
Nonetheless, by the time we finally got around to digging into the giant, multilayered wedges of unbelievably dense cakes -- carrot and chocolate, each one easily enough for a family of four -- we were feeling pretty mellow. After all, even an epicure needs some downtime now and then. And for a friendly spot to get your dose -- especially with the junior food fans in tow -- Steve's Dakota Grill gets our nod.