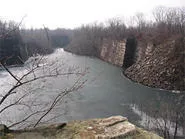 You see an abandoned quarry. Lorain sees a tropical paradise.
To get to paradise, you have to park on an unmarked gravel road in South Amherst, just up the street from Piggy's grocery.
From there you walk through prickers and mud until you see it in front of you -- just don't walk too far. It's a 125-foot fall down the sheer rock face into the quarry lake below. This is one of seven century-old sandstone mines gouging 1,000 acres of woods in Lorain County. The stones for Severance Hall came from here, but now it's just another headstone in the region's graveyard.
But close your eyes for a moment, and imagine a white sand beach below, the bronzed bodies of the super-rich and super-beautiful sipping daiquiris with pineapple wedges. Above your head is a huge glass dome magnifying the Ohio sun into the balm of the tropics. Do you hear that golf crowd clapping faintly in the distance? Tiger Woods just hammered a drive down the Nintendo-green fairway of a PGA championship course. When it cools off this evening, perhaps you'll stroll by one of your favorite five-star restaurants or shop for a new $300 purse at the esplanade.
Believe it or not, Lorain County is banking on this dream for its economic future, hoping to replace the brick and steel caskets that used to be auto plants and shipyards.
Back in 2004, a "consortium" of millionaire investors from Britain calling itself Trans European Securities purchased an option to buy the quarry. Neil Pike, a London architect, jetted over with a slick brochure and rolls of artists' renderings -- designs for a self-sustaining town of luxury homes, gourmet restaurants, and designer boutiques surrounded by the comforts of St. Andrews and Acapulco rolled into one. When he unrolled the drawings for the locals, their first thoughts were to look for the hidden camera.
"I never thought for a moment that they were going to get a sandy beach in a quarry," says Lorain County Administrator Jim Cordes.
But the Brit was a flatterer. "Perhaps it takes an outsider to see the beauty that local people cannot," Pike told The Plain Dealer in 2005. "You see a quarry. We see a world-class facility."
Asked the obvious question of why rich people who could afford the real tropics would want to come to an ant farm in cow town, Pike invoked Kevin Costner. "They said, 'If we build it, they will come,'" recalls South Amherst Mayor Ron Schmitz. "You see on television what some of these people do anymore, you wonder what's impossible and what isn't."
So the locals blushed, then opened their pockets. Rather than wait for Pike's pen to sign on the dotted line, Lorain County spent $450,000 prepping the land. Townships and school districts began arguing like kids over how to split taxes from the proposed $1.5 billion development.
"You've got the golden goose that laid the golden egg," says Amherst Trustee David Urig. "You're going to milk it for all it's worth."
But the goose was late to deliver. Trans European missed its March deadline last year to buy the quarry for $15 million from American Stone Corporation, and it seemed Pike was getting nervous. That summer he flew potential investors across the pond for a tour. One guy flew overhead in a helicopter. Another dug test pits with a bulldozer. Yet neither was ready to whip out the checkbook. (Pike didn't respond to repeated interview requests.)
Pike assured Tom Roulston, chairman of American Stone, that the money was on its way. "It was all fixed," Roulston recalls him saying last November.
Pike promised to call within a week. Three months later and still no call, so American Stone announced to its shareholders that the deal was dead.
But that's just not acceptable to county officials, who say they're still confident the project will go through. Maybe it's the embarrassment of a town rejected so many times, its leaders threw a half-million bucks down the tube to the first guy with a British accent who told them they looked pretty. If they've listened to people on the street, they know the project goes by different names: "Fantasy Island" or "somebody's wet dream."
Yet after American Stone announced the deal had crumbled, all it took was a quick e-mail from Pike to raise hopes again. Plans would soon be submitted to the county, he wrote. As for the money, that was still a work in progress. But it's enough for County Commissioner Betty Blair, who calls the three-year delay a mere "snag."
"It's not a dead deal," she says excitedly.
The county is so yearning for the project that it's signed confidentiality agreements with Trans European so as not to endanger the talks. Jim Cordes says he's optimistic the deal will still go through. But you'll just have to trust him on that. "I may get myself into trouble," he says guardedly.
Meanwhile, back on Earth, the quarry is still what it always was. And while the county's still waiting for a bunch of Europeans to wave their wand and turn a crippled industrial graveyard into the next Saint-Tropez, the 1,800 people of South Amherst are just living. They've got everything they need here: a gas station, a beauty shop, a pizzeria, and Piggy's.
No sense in waking up their leaders, though. They look so peaceful off in dreamland.