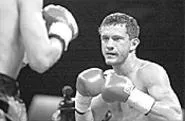 Since he was nine years old and 64 pounds, Frankie "the Surgeon" Randall has been beating the snot out of his boxing opponents. But his left jabs, right hooks, and first-round knockouts are about to come to an end.
At 43 years of age and 174 pounds, the eight-time former light-welterweight champ from Tennessee will retire his gloves by year's end. But not without a 12-round swan song against the much younger Craig Weber at the eight-card Friday Night Fights.
Billed as the Legends Title, the bout showcases Randall and the 31-year-old Weber, whose upset last year at Gund Arena over tough-talking junior-welterweight champ Angel Manfredy stunned the standing-room-only crowd. While Randall isn't proud of the drug-and-alcohol abuse that's plagued his career, he swears he's turned his life around. "I'll bet you're expecting this old man to get beat," says Randall. "You can look at the past, but I'm gonna be a different man. You can bet your life on that."
Weber (pictured), who has lost only 1 out of 22 career fights, is the first to take the old man seriously; he doesn't think Friday's bout is going to be quick and easy. "Have you ever seen him fight?" asks the 173-pound Weber. "I'm not fighting a 43-year-old. I'm fighting Frankie Randall. In my own quiet way, I'm determined to just keep punching."
That's just what Joe Delguyd told him to do. As Weber's trainer, Delguyd doesn't care how old Randall is. Nor does he let Randall's record of 59-17-1 and 42 KOs intimidate him. "He's a dangerous man -- one of the all-time greats in boxing," says Delguyd. "We have nothing but respect for him. But Weber's going to put 100 percent of his heart and soul into [the fight]. Randall's the one who's going to need a surgeon."
Don't book the operating room just yet, says Don Hale, Randall's trainer, who jokes that he's going to pick up Randall at the nursing home and roll him into the arena in a wheelchair. "Heart and soul is great," says Hale. "But heart and soul don't work when right hands keep hitting you upside the head."