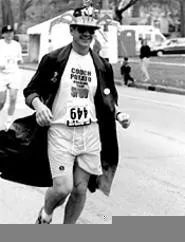 Spudd claws his way to the back of the pack.
There was a time when just being the proud owner of 17 TVs made James "Spudd" Sasak a happy man. He'd turn them all on, then invite his friends over to bask in the glow of Three Stooges reruns.
The constant flickering of the sets "was like the fire around which our ancestors would sit," muses the 47-year-old hay farmer and sailboat rigger, whose nickname arose from his unconditional love for potato chips.
If the reception was bad, he'd put on his special wool fez, customized with homemade foil antennae, and --voilà -- all the snow would clear right up. Occasionally, he did get off the couch, but only if he needed to make a trip to the store to buy bigger pants.
"It was just a marathon TV viewing thing," he recalls. "No fitness involved. Well, maybe a little bit. The Six-Beer Bathroom Dash. The vaunted Couch Potato Triathlon, which included the Wonder Woman Spin, the Colonel Steve Austin Slow-Motion Run, and doggone if I can remember the third one."
All that changed in 1988, when he had an epiphany while watching the New York City Marathon on ABC's Wide World of Sports. As the forest of stick legs scrambled across the screen, self-awareness hit him like a brick of cheddar: He'd passed the better part of 15 years checking in on the likes of the Fonz and Sally Struthers, and put on about 100 pounds in the process.
"I was repulsively titanic," the now-slim Sasak recalls, his voice tinged with disgust and awe. "My 'tilt weight' was 249 pounds."
No longer content to worship the holy trinity of Cheetos, elastic waistlines, and "the Clapper," he wanted something more -- and it wasn't just a Twinkie. He turned to his buddy, J.D. (as much as his beer gut would allow him to turn), and announced that next year, he'd be running that marathon.
"No way," replied a dubious J.D. And with that half-hearted vote of confidence, the Couch Potato Running Team -- a scrappy band of Cleveland marathoners known for their devil-may-care spirit and jogging wardrobe worthy of a prop-room fire sale -- was born.
Their message is simple: You can't rise up if you're sitting down. "I will never forget the amazing feeling of tying those huge balloon running pants beneath my ample gut and taking the first steps off the porch," recalls Sasak. "For the first three to six months, all I noticed when I ran was my belly."
He chugged, crawled, and prayed his way through his first marathon. "I didn't know anybody. I had read nothing on how to marathon. I've got these wool camping socks on; I didn't know that there were these really cool wicking double-polyester socks." He wore his lucky fez, and it made him sweat like a mother in the 90-degree heat.
"You find yourself walking along the course with your fez in your hand," he says. "It wasn't pretty."
For the next race, he chose more heat-friendly attire, including a crown of Styrofoam lobsters and a cotton bathrobe. In lieu of a victory torch, he stuck an old stuffed animal on a broomstick and called it the Sheep of Truth.
Dressing like a fool helped him ward off the demons of self-doubt. If the crowd heckled him, it wasn't because he was fat or slow -- it was because he was wearing a lobster on his head. Sometimes, a bystander would hand him a beer in appreciation, and he'd suck it down like a pro.
After a year in training, he was running 50 miles a week. Out on the open road, words of wisdom floated to the surface of his left brain: "Start slow and taper," his inner voice told him. "It is the duty of our generation to battle the dark forces of obesity."
Pretty soon, he had enough tenets for a Couch Potato Manifesto that he could bring to the masses. Along with his just-rolled-out-of-bed persona, he hopes it will encourage other Hostess-loving everymen to burn their La-Z-Boys.
"If there is a second Revolutionary War to be fought in this country, I believe this is the battlefield," he says. "Because there are a lotta people who get in the car and drive 14 houses down to the end of the street to go to the Dairy Queen."
He's studying to be a gym teacher for the greater good, and he's already picked up a few students along the way. A few weeks ago, they completed the CVS Marathon in record time -- averaging a slow-but-steady six hours "with no discomfort." As usual, they brought up the rear.
"Full robe" members of the Couch Potato team include Debbie "Nurse" Neff, a personal trainer who runs in curlers, a red silk housecoat, and lots of makeup; Frankie, a union heavy who can really throw his fluctuating weight around; and Bobby "Fishboy" Lanigan, a donut-loving therapist.
They look great out there, compared to Bozo the Clown's bastard cousin. "Once you get to know Jim, you'll always know that you're in the background," Neff observes. "There's nothing to be self-conscious about. I can be the goofiest-looking person in the world, and next to him, people don't even see me."
Which really helped that time she lost her bearings and ran in the wrong direction for several miles. "She was a little confused," says Sasak. "We got her turned around."
The newest spud is Grant Marks, a 20-year-old with spina bifida who doesn't have a racing wheelchair, so they've organized a pledge drive to get him one. To make good on those pledges, last week they completed a 26-mile race that organizers had canceled due to lack of interest.
Every spring, the Couch Potatoes gather at Sasak's Lake County farm for a pre-marathon blast of protein in their otherwise vegetarian worlds. Called the Sharing of the Meat Ritual, it involves venturing into the woods and grilling up some big honking slabs of beef.
"Assuming the aboriginal sitting position around the campfire," says Sasak, "we use our hands to tear and share the meat." Just like in the old days, but with smoke and flame instead of a back-to-back Dobie Gillis weekend on Nickelodeon.