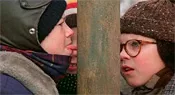 Meet Flick, Randy, and Miss Shields today at the inaugural
A Christmas Story
Convention
. Fans of the 1983 holiday movie can also rub shoulders with some pretty cranky Higbee department-store elves, who herded kids onto Santa's lap in the film. "The actors and behind-the-scenes makers have a great time meeting everyone," says organizer Brian Jones. "They can't believe how many people are such admirers of the movie."The schmoozing continues at 7 tonight, when the cast makes its way to C&Y Restaurant (2222 St. Clair Avenue) to recreate the film's notorious "Chinese turkey dinner" scene. During the $45-a-plate meal, conventioneers can also schlep (scrounge?) for autographs and check out the 1937 touring sedan as well as Shields' classroom chalkboard, both? seen in the show. Movie assistant Lynne Dufont-Levy will also pay tribute to the film's director, Bob Clark, who died this year.The action winds down tomorrow at the recently renovated A Christmas Story House in Tremont (3159 West 11th Street), where some of the film's scenes were shot. Outside, you can shoot your eye out with Ralphie's cherished Red Ryder BB gun. You can also ogle the famed leg lamp and relive key moments from the "tribute to the original, traditional, 100 percent, red-blooded, two-fisted, all-American Christmas." "It's like coming home to the house you grew up in as a little kid, but never got to actually see," says Jones. "Cleveland can learn more about how their city played such a pivotal role in an enduring piece of Americana."
A Christmas Story
addicts convene from 10 a.m. to 5 p.m. today and 10 a.m. to 10 p.m. tomorrow at the Renaissance Cleveland Hotel, 24 Public Square. Tickets are $7 ($5 for kids). Call 216-298-4919 or visit
www.achristmasstoryhouse.com
.
Fri., Nov. 23, 10 a.m.-5 p.m.; Sat., Nov. 24, 10 a.m.-10 p.m., 2007