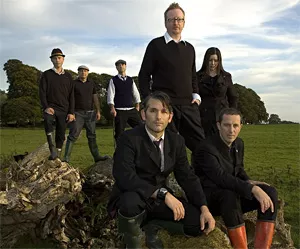 Flogging Molly waits for the Lucky Charms leprechaun before its House of Blues shows.
On their 2004 album, Within a Mile of Home, Los Angeles-based Irish punks Flogging Molly grew up a bit, paring down the rage and amping the introspection. Their fourth studio album, Float (which comes out next month), splits the difference between their past and future. Mixing traditional, rollicking Irish tunes and contemporary, unrestrained punk, Float is the sound of a band enjoying its craft. It's the one thing that sets Flogging Molly apart from other Celtic rockers.
But you really need to see the band onstage, where it spends a huge chunk of every year. Tin whistles, mandolins, guitars, and tons of other traditional (and not-so-traditional) instruments help shape Flogging Molly's inimitable sound. They're Warped Tour vets, five years and counting, and their new Green 17 tour brings them to 17 different U.S. cities, leading up to a St. Patrick's Day blowout in, of all places, Arizona. They've got a pair of shows in Cleveland this week. Break out the green.