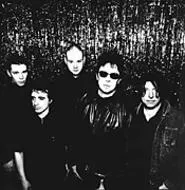 Ian McCulloch (shades) and the rest of the greatest band in the world.
These days, Echo & the Bunnymen singer Ian McCulloch would rather keep it light, belying his image as a dour, trench-coated paragon of cool. He's on the publicity train again, giving a dozen interviews a day, unleashing unexpected zingers, and paradoxically, coming across as a regular family guy.
Known for his wit and opinions (he once called Echo the greatest band in the world and its 1984 album Ocean Rain the "greatest LP ever made"), the lead singer of one of the most successful Liverpool groups of the '80s is a funny, slippery man. McCulloch, whose vocal style bridges the Doors' Jim Morrison and Roxy Music's Bryan Ferry, is pushing Flowers, the eighth Bunnymen studio album, as well as Crystal Days, a four-CD Rhino box with hits, alternates, rarities, and unusual cover versions. Is this a comeback? To hear McCulloch tell it in nearly impenetrable Scouse, no way. The band is as contemporary and committed as any other on the road. Humorous, too.
"I'm performing with a pet monkey," McCulloch says via phone from London. "No, I'm performing with the band. We're, like, a real unit now, all based in Liverpool, except for [guitarist] Will [Sergeant], who's kind of the black sheep."
And where is Sergeant?
"Shacking with some white sheep, last I heard," McCulloch says with a laugh. "He's more rural. He's got straw in his mouth."
McCulloch may joke about his longtime musical mate, but Bunnymen work is serious. In May and early June, the band toured Europe. It launched its three-week North American tour two weeks ago with a free Detroit gig. Then it has one date in Japan, a week in Australia, and an August show at the Liverpool Institute for the Performing Arts that it will record for a live CD and DVD.
On the band's current tour, Sergeant performs a 30-minute set of ambient music prior to the Bunnymen's segment. Set lists from European gigs show heavy reliance on past hits, cleverly interwoven with some of the catchier Flowers tracks. "Lips Like Sugar," "Bring on the Dancing Horses," and that darkling masterpiece "The Cutter" easily align with the occasional Doors cover and such new tunes as "Supermellowman" and the gorgeous "An Eternity Turns." Solo material by Sergeant and McCulloch rarely make it into Bunnymen performances; like Liverpudlian antecedents Lennon and McCartney, the two seem to work best together.
Sergeant and McCulloch formed Echo & the Bunnymen in the late '70s (Echo was the drum machine) after punk flamed out and new wave became stylized. Like colleagues/competitors the Teardrop Explodes and New Order, McCulloch, Sergeant, bassist Les Patterson, and drummer Pete De Freitas worked atmospherics and moodiness to distinctive designer ends in a preview of the shoe-gazer groups of the '90s and the ravers of today. If "new romantic" bands like Spandau Ballet and Visage were too fey, and new wavers Nine Below Zero and the Pogues were too harsh, Echo & the Bunnymen walked the fine line between power and pretension with chiaroscuro finesse, creating memorable pop.
De Freitas died in a motorcycle accident in 1989, a year after the band officially broke up. His death, McCulloch's solo efforts, the mid-'90s spinoff group Electrafixion, and the "reunion" of Echo in 1997 are among the most dramatic acts in what several journalists call Liverpool's longest-lasting pop soap opera. But the latest version of Echo, which includes bassist Alex Gleave, drummer Vinnie Jameson, and keyboardist Ceri James, seems all smiles, and McCulloch is pleased with the acceptance of Flowers, an album of midlife-crisis lyrics and delirious guitar textures. It was released in England on Cooking Vinyl and in America on SpinArt. Both are independent labels with nowhere near the distribution clout of former Echo imprints like Warner affiliate Sire and Universal Music's London Records.
This time, however, the publicity machine is "doing a fine job," McCulloch says, "a hell of a lot better than London Records, which did absolutely shite for Evergreen," the band's 1997 "comeback." Despite decent reviews, Evergreen didn't sell; its successor, 1999's What Are You Going to Do With Your Life?, sold even less, prompting London to drop the group. McCulloch suggests, however, that London didn't do right by the Bunnymen.
"A German-Swiss bloke did bad PR," he says. "He was always holidaying in the Hamptons whenever we played, and when we played the Hamptons, he was in New York."
Despite these ups and downs, and a profile decidedly lower than it was in the middle to late '80s, McCulloch is eager to work Flowers, revisit old material, and play in America. All Echo & the Bunnymen want to do these days is mix it up and stay relevant as a British pop band.
"I think, usually, we split the atom, and there's only so many times you can do that," he says with his usual blend of the cryptic and the provocative. "I like tongue-in-cheek lyrics. I like having a laugh. It's like Picasso when he was 60, just painting a few pictures. It's just an ongoing thing, but I never look back. I'm more concerned about what we're going to do on the next album."
McCulloch, meanwhile, seems to have come to terms with his lot as a happily married family man.
"I've been married pretty much all my life," he says. "Before I met [wife Lorraine], she had designs, somewhere in the cosmos. It's one of the longest-standing marriages in rock."
McCulloch is determined to nail down the Bunnymen's reputation, particularly as it relates to more recent British popsters Blur and Radiohead -- bands that have made claims to greatness similar to those McCulloch once made.
"British pop? You end up talking about the Kinks; they were British pop," McCulloch says. "I think Radiohead's The Bends was a fantastic album, and I was really pleased Thom Yorke didn't look like Cary Grant; if he had, I would have been even more jealous."
McCulloch calls The Bends one of the "best albums of all time." But since then, Radiohead seems to be taking itself too seriously. Latter-day Radiohead, he says, is too solemn.
And in case you thought McCulloch's ego has taken a few knocks from upstart Britpop acts, he's still pretty high on his vocal abilities.
"I didn't like listening to the live tracks on the box set," he admits. "It was mainly my singing. I thought, who the hell was I trying to kid all those years? Whereas now, I think I've got the greatest voice on the planet."
And to what does he owe that vocal greatness?
"It's got to be 95 percent God-given," McCulloch says. "The other 5 percent is cigarettes."