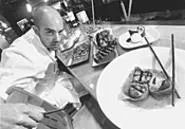 Michael Herschman prefers a chef's knife to a hatchet.
Talented chef
Michael Herschman
(
Mojo
,
Bossa Nova
) is back in the labor pool, after resigning earlier this month from his four-month gig at
Lockkeepers
(8001 Rockside Road, in Valley View). According to Herschman, job security was the issue prompting the change: He claims that the upscale restaurant has had financial problems, resulting in unpaid purveyors and looming cuts to his large kitchen staff, and that he resigned so that he could legitimately look for another job. "I am just an honest guy trying to do what I do. Can't make people pay their bills, and I won't be somebody's axe man," Herschman says.
Ben Weinbroer, Lockkeepers' director of marketing, confirms that Herschman cited "a situation with payables" in his resignation letter and that the restaurant had encountered "some cash-flow problems" earlier this year. He laid the blame on increased competition from new area eateries and a lengthy repair project on nearby Rockside Road, which made it hard for diners to reach the restaurant. "It was a tough summer," he acknowledges, "but now things are looking up. Things are great."
The only winner in this most recent round of restaurant brouhaha would seem to be Lockkeepers' long-time chef and chief utility player, Pam Waterman. After repeatedly pulling owner Frank Sinito's fat out of the fire by filling in whenever he searched for big-name chefs to man his kitchens at Lockkeepers and Park City Diner next door, Waterman is finally slated to take permanent control of the Lockkeepers galley. Waterman's former sous chef Brad Schmid will be taking over the helm at Park City.
At least in Herschman's eyes, the biggest bummer in all this has been Plain Dealer food writer John Long, who scolded Herschman in his December 15 column for "once again [walking] off the job, this time leaving his post at Lockkeepers . . . in the middle of the holiday season."
Herschman says that Long never bothered to speak with him about the fracas; if he had, he would have known there was an orderly departure, not the implied unannounced disappearing act. "I love the way John Long gets his facts," Herschman fumes. "Reminds me of reading at the checkout line at the grocery store. Elvis sightings, too!"
Dinner is served . . . Executive Chef Frank Wielgosiek and General Manager Mark Chase have finally launched dinner service at the West Side Market Café (1979 West 25th Street, 216-579-6800). Like the circa-1912 market itself, Wielgosiek's evening menu is a spirited celebration of international flavors -- everything from sauerkraut balls ($4.95) to southwestern-style black-bean hummus ($4.95), and from Thai beef salad ($7.50) to British fish 'n' chips ($10.95). Along the way, tabletop travelers also can check out the breaded, pan-fried Sicilian steak ($11.50), a traditional, layered Italian torta ($5.95), and the British burger, topped with a sherry-tweaked Welsh rarebit sauce ($6.50).
Chase and Wielgosiek began breathing new life into the previously moribund little restaurant this summer, polishing up the vintage white subway-tile walls, the shiny silver ceiling, and the copper bar top, while working closely with the staff to bring service up to snuff. The result is a friendly, casual spot with just enough oddball charm to qualify as a real café.
Dinner hours are 5 to 10 p.m. Wednesday and Thursday and 5 to 11 p.m. Friday and Saturday. The café also continues to serve breakfast and lunch on Monday, Wednesday, Friday, and Saturday.
Eat . . . Ah, the holidays -- that festive time of year when we overdo, overindulge, and generally engage in the mad spending frenzy that is the hallmark of modern American life. If you need a break from all the weirdness, there's still time to score a very civilized, very centered little holiday lunch at Parker's New American Bistro (2801 Bridge Avenue, 216-771-7130) in Ohio City. Chef-restaurateur Parker Bosley's eponymous boîte (which, incidentally, just marked its 12th anniversary) will be open for lunch from 11:30 a.m. to 2:30 p.m. each Monday through Friday, through December 30. What better antidote to all that is artificial and prepackaged about the holidays than Bosley's thoughtful menu of safe, natural, and locally produced food, and the restaurant's warm, artful decor? Reservations would be a very good idea.
Drink . . . As if getting ready for Dubya's second inaugural bash isn't excitement enough, restaurateur Andy Himmel of Boulevard Blue (12718 Larchmere Boulevard, 216-721-5500) is giving Clevelanders yet another reason to look forward to 2005. Beginning in January, Tuesday nights will find the price of every bottle on Himmel's wine list knocked down by half. We'll be the ones sitting in the corner, wiping our eyes on our Kerry-Edwards banner and tossing back bargain-priced bottles of Silver Oak Cab.
Be merry . . . The 18-month-old Classics (9801 Carnegie Avenue, 216-707-4157), has recently become Ohio's first -- and only -- Five Diamond salon. The ultra-chic sensation, located in the InterContinental Hotel and Conference Center on the Cleveland Clinic campus, received the nod from AAA last month -- and while we've been known to snidely suggest that AAA-award winners are usually as au courant as oatmeal, we've always found the food prepared by chef de cuisine Guillaume Brard to be vibrant and the ambiance of the dining room to be elegant yet exciting . . . particularly on days when the AmEx needs a good workout.