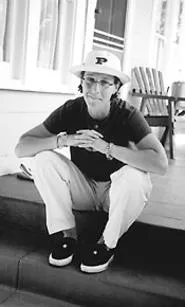 Lisa Udelson's phlick opens the Cleveland International Film Festival on March 14.
There are probably very few instances in recorded history in which the words "Jewish folksinging lesbian" have been used in connection with "Tupperware lady." And while we wouldn't bet a vital organ on it, it's pretty safe to assume that
Lifetime Guarantee: Phranc's Adventures in Plastic
marks the first time since man walked upright that "Jewish folksinging lesbian Tupperware lady" has ever been used to describe an actual living person.
With hair cropped in a flattop circa 1952, business-suit attire from the same era, and songs like "I Enjoy Being a Girl" and "Female Mud Wrestling" in her catalog, Phranc can be both overly earnest and subtly satiric -- precisely the characteristics that make her such a fascinating study, says Lifetime Guarantee director Lisa Udelson.
An icon within certain circles, "Phranc's kind of a chameleon," Udelson explains. "She's always changing her persona and always in such an interesting way. [Selling Tupperware] is a funny twist, but it makes perfect sense that she would do something like this."
Udelson shot and edited the hour-long documentary, which chronicles Phranc's career move from performing (she regularly toured with Morrissey in the '90s) to hawking containers. "[Selling Tupperware] gives her a built-in venue for performing," Udelson explains. "A good salesperson is a good performer."
Lifetime Guarantee opens the 26th Cleveland International Film Festival on Thursday, March 14. Udelson, a Cleveland native, will be in attendance. The film is alternately funny (Phranc, with guitar in hand, hosts parties as if they were mini-jamborees) and heartbreaking (she's inadvertently snubbed at the annual Tupperware convention by the event's organizers).
Yet the fact that she is a folksinging lesbian is rarely a factor in Phranc's foray into sealable plastic. "Tupperware ladies just have this common love of Tupperware," Udelson says. "I was with Phranc a year, and I never saw any kind of prejudice against her. In fact, it was just the opposite. They welcomed her with open arms. They are some of the most amazing women I have ever spent any time with."
Udelson, a Los Angeles resident and film-festival regular, sees Phranc's tale, in a way, as a customary American one. "In an unconventional way, she's very conventional," she explains. "She's got a partner and two kids and lives very traditionally.
"I realized early on that I had a much bigger story than her entertaining Tupperware parties. I became so enthralled with her as a person that I was pushing for [the film] to become a biography, but it just didn't want to be that. It became focused on this particular element, but many other aspects came through." Such as the ever-elusive Jewish folksinging lesbian one.