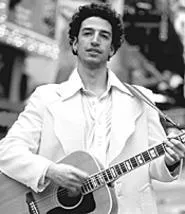 Have a seat, dude. Toothpick settles into his music.
FRI 2/18
Of all the things happening right now in singer-songwriter Toothpick's life -- a tour, industry murmurs, and the release of his debut CD, Time Travellin' Couch -- it's a past connection that's responsible for a great deal of his present success. Toothpick's pal Morgan Spurlock, the guerrilla filmmaker who took on McDonald's in last year's Super Size Me, tapped the former Doug Ray to write the movie's theme song. "We talk about what corporation we're gonna sabotage next," Toothpick says of Spurlock. "Super Size Me," the song, is the centerpiece of Time Travellin' Couch, which skirts the line between hip-hop, pop, and jam-band influences. "I don't try to shoot for anything when I write a song," he explains. "I try to channel what's happening around me. I grew up listening to rock, rap, and the Grateful Dead. As a result, I ended up being a singer, rapper, and storyteller wrapped into one." Toothpick is at the Hi-Fi Club (11729 Detroit Avenue in Lakewood) at 10 p.m. Tickets are $6, available by calling 216-521-8878. -- Michael Gallucci
Feet for Peace
SAT 2/19
It makes perfect sense that Chuck Davis greets callers with "blessings" instead of "hello." The founding director of the North Carolina-based African American Dance Ensemble promotes good cheer even when he isn't onstage. When he and his company perform on Saturday, they'll spread a larger message of global harmony, via African aesthetics and values. "Not only do we want people to be aware of the traditions from Africa, we want to spur interest in culture in general, so people will see how they're related and reach out to others," says Davis, who refers to his group of nine dancers and musicians as "edu-tainers." "People have to be able to understand and see things 360 degrees instead of with tunnel vision." Davis and the African American Dance Ensemble perform Peace, Love, and Respect for Everybody at 2 p.m. at the Allen Theatre, 1407 Euclid Avenue. Tickets are $14.50, available by calling 216-241-6000. -- Zachary Lewis
What's Up, Doc?
FRI 2/18
Expect Doc Severinsen to pay tribute to his former Tonight Show boss Johnny Carson when the trumpet player blows into town on Friday. An Evening With Doc Severinsen features the jazzman and his trio in performance with the CIM Orchestra. Plenty of big-band standards and jazz classics are promised. And don't be surprised if Severinsen unleashes a riff or two from "Here's Johnny," the Paul Anka-penned theme song with which Severinsen, as music director, introduced Carson for more than 25 years. Show time is 8 p.m. at Severance Hall, 11001 Euclid Avenue. Tickets are $35 and $48, available by calling 216-231-1111. -- Michael Gallucci