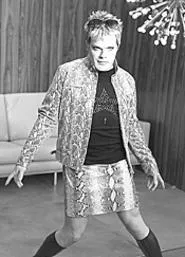 Eddie Izzard and his new breasts, at the Allen Theatre.
FRI 10/17
Eddie Izzard has cross-dressed and crossed over from stand-up comic (HBO's Dress to Kill) to dramatic actor (he was the best thing about Velvet Goldmine). But the British actor, who still sells out 10,000-seat venues in his homeland, says he has no intentions of scrapping the laughs. "I pushed endlessly to get my comedy going, [especially] in America," he says. "Unless some rule comes along that says you can't do both, I won't choose."
The plan is to return to film soon and dedicate himself to it for three or four years. For now, though, Izzard's focusing on the funny. His 2000 show, Circle, was recently released on CD, and he's touring with Sexie, his latest musings on religion, politics, and sex. Clad in black leather and fishnets and straddling a motorcycle onstage, Izzard's still in fine form. Finer, actually -- he's got breasts now. "They're like implants, but they're not planted," he explains.
In characteristic stream-of-consciousness style, Izzard peppers Sexie with such freewheeling topics as guide dogs, Muhammad, horseback riding, and boobies. "Breasts come into it a lot," he says. "I'm very into breasts." What he's not into is writing down material. Izzard works out material on tour, developing and improvising along the way. "I don't need to prepare a character, it's just me," he says. "Just me talking loudly and endlessly." Izzard is at the Allen Theatre (1519 Euclid Avenue) at 8 p.m. Friday. Tickets range from $30 to $50, available by calling 216-241-6000. -- Melody Caraballo
Forest City Enterprise
10/21-11/16
Forest City, the Cleveland Play House's original production about a real-life local hospital, revisits the city in the late 1960s, as one man fights to save his marriage, his life, and his home. Playwright Bridgette Wimberly -- who developed the script during the Play House's past two Next Stage Festivals -- sets the story within the titular structure, the area's first integrated hospital. The drama runs Tuesday through November 16 at the Cleveland Play House's Drury Theatre (8500 Euclid Avenue). Show times are 8 p.m. Tuesday through Friday, 4 and 8 p.m. Saturday, and 2 p.m. Sunday. Tickets range from $12 to $47. Call 216-795-7000 for more information. -- Diane Sofranec
Gypsy, Tramp, and Thief
10/17-10/19
Cleveland Opera opens its new season this weekend with Carmen, Georges Bizet's tragic story about a gypsy girl and the guy whose life she ruins. Emily Golden -- from the Royal Opera House, Covent Garden -- plays the title role, Dorothy Danner directs, and Anton Coppola (who conducted Luciano Pavarotti in his U.S. debut years ago) is at the podium. It's a class act all the way. The production is staged in French, with English translation provided. Carmen is at the State Theatre (1519 Euclid Avenue) at 8 p.m. Friday and Saturday and 2 p.m. Sunday. Tickets range from $24 to $107, available by calling 216-241-6000. -- Michael Gallucci
Steam Twain
SAT 10/18
Could there be a more appropriate title for Shania Twain's latest CD than Up!? Filled with peppy, poppy songs (and two distinct mixes), it's an overload of aerobicize-ready beats and spirit-lifting philosophy. Even the ballads sound as if they're ready for liftoff. Credit producer Robert John "Mutt" Lange (Mr. Shania Twain) and the singer (who co-wrote all 19 songs with her husband); they give you no time to ponder the disc's shortcomings. Onstage, Twain (right) is equally frantic, moving through outfits as quickly as she does her large repertoire of hits. She plays Gund Arena (100 Gateway Plaza) at 7:30 p.m. Saturday. Tickets range from $45 to $80, available by calling 216-241-5555. -- Michael Gallucci