In advance of the Republican National Convention, longtime Washington Post food critic Tom Sietsema visited Cleveland, where he dined at a number of independent restaurants as research for a travel feature. Alongside praise for local establishments like Flying Fig was a swift and unequivocal swing at the service he received while dining around town.
"One missing ingredient: good service," Sietsema wrote in the feature. "With a handful of exceptions — the upscale Edwins, the happy-go-lucky Mabel's BBQ — most of the places I tried treated this anonymous diner as if I were invisible."
While one can take issue with the realities of accurately assessing a city's collective service quality based upon a single three-day steeplechase through town, the writer did call attention to an issue that has been festering like a slow-growing mold in a dark corner of a walk-in cooler. Call it the Great Culinary Talent Crunch of our day, but the fact is that the demand for quality restaurant employees — from servers and assistant managers to line cooks and chefs de cuisine — is outpacing supply.
One doesn't have to be a restaurant critic to notice the negative consequences — though this one certainly has. From lackluster service to improperly executed food, signs of the employment crisis are having real and devastating effects on the diner experience. An early meal at Coastal Taco, one of the busiest new restaurants in the Flats, was a comedy of errors. Our servers appeared dazed and confused throughout the entire evening, if they appeared at all. When the food arrived, it was cold, wrong and unimpressive.
During a recent meal at another popular spot, the table was expected to eat the appetizers directly from the platter, apparently, as the server neglected to offer any plates or silverware. Dirty dishes and empty beer bottles lingered so long on the table at one Ohio City restaurant that we assumed that our server had taken a new position elsewhere in town mid-meal. Under-cooked burgers, over-cooked fish, and menus that look to be photocopied and distributed across town in attempt to eliminate any possibility of creativity on the part of the kitchen all are upsetting realities of the current marketplace.
When I contacted Coastal Taco owner Rick Doody to relate my negative experiences, I was surprised by his candor. Here is a guy who, along with his brother Chris, has opened 115 Bravo and Brio restaurants employing 11,000 staffers, and he admitted he just couldn't get it right.
"We didn't have the staff, we didn't have the training, we didn't have the team," Doody regretted.
Out of all the concerns facing restaurant owners, general managers, kitchen managers and anybody else tasked with hiring, it is the attraction and retention of passionate staffers that is causing the most fits.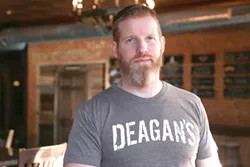 Photo by Douglas Trattner
Dan Deagan
"When I'm looking for a couple of new employees, it's hard to find them," explains Dan Deagan, owner of Deagan's Kitchen in Lakewood. "When we were looking to hire some servers recently, we put out a sponsored Facebook post that went out to like 8,000 people. I think we got four applications."
Asked what he believes to be the cause of that tepid response, the owner of the popular 6-year-old gastropub says with a laugh, "That tells me that either there are too many restaurants, that everybody has jobs, that nobody wants to be a server, or that nobody goes on Facebook."
***
You don't have to be paying attention too closely to see that there has been a genuine and significant restaurant boom in the Greater Cleveland area over the past decade. New restaurant (and bar and brewery) openings have been outpacing closings at rates that appear to hover in the five-to-one range. The growth of inner-ring neighborhoods like Tremont, Ohio City, Gordon Square, University Circle and the Flats appear to be fueled by a flush of new dining and entertainment attractions. A recent downtown development boom ushered in a handful of new hotels, each possessing multiple bars and restaurants with an insatiable demand for hospitality workers.
More than simply causing headaches for those tasked with filling vacant positions, the epidemic is having a negative effect on the dining experience in the form of spotty service, inconsistent execution, and a simplification of menus to better match the skills of the people cooking it.
And we're just getting started. According to the foodservice trade reps at the National Restaurant Association, the industry is expected to add more than 400,000 food-prep and serving positions over the next 10 years. Where all those employees will come from is anybody's guess.
If there's any consolation for local owners, it's that the problem is hardly unique to Cleveland.
"I was joking with my partners the other day and I said, 'Forty restaurants need to close in Chicago,'" says Todd Stein, executive chef and partner of Formento's in the city's West Loop neighborhood. "And I don't think I'm exaggerating the number. Not that I want them to close."
Though Stein was born and raised in Chicago, he actually got his first big cooking break in Cleveland, where he was hired on as executive chef of Vivo, a high-end Italian joint in the Old Arcade. In the decade since he left the North Shore, Stein worked in Las Vegas, developed restaurants for the Wit Hotel in Chicago, and continued to make a name for himself in the Windy City. He says that while the development boom in his town is tenfold of what's taking place in Cleveland, the root causes of the restaurant boom are the same nationwide.
"We're catering to what we believe is the need of guests," he says. "This is their entertainment; it's what a lot of people are using their disposable income for. Most people still want to eat out multiple nights of the week, and that's why you keep seeing restaurants open."
Accelerating the pace and sum of new restaurants is a generation of celebrity chefs and other high-profile operators and restaurant groups with seemingly bottomless access to both cash and the most attractive addresses in town. "Just like with an athlete, these chefs look at it as an opportunity — this is my window to make good, financially," Stein says of the strike-while-the-iron's-hot mentality.
Photo by Douglas Trattner
Zack Bruell
We've certainly seen that take place in Cleveland, where large and growing restaurant groups like Zack Bruell Restaurants, Red Restaurant Group, and even Barrio have hired top-level talent away from their current posts to help with expansion. In the very recent past we've watched Andrew Bower move from Market Garden Brewery to Red's new casual concept 811; Peter Joyce leave his job as culinary director for Crop Restaurant Group to join the seemingly unstoppable Barrio group; and Matt Anderson leave his job as head chef at Crop Kitchen to join ranks with Bruell at Table 45. It wasn't long after those last two moves, by the way, that Crop closed the doors of three of its four eateries.
All of the above translates to a disconcerting trend, one that is forcing bosses to hire warm bodies over able bodies — if bodies show up at all.
"When I started, we had the pick of the litter — and quality people," Stein says. "If we needed a cook, we'd put out the line and five guys would show up, and you'd want to hire all five because they were great. Whereas now, five guys show up and you have to hire one because you need them."
The source of the problem is not simply that there are more restaurants than there used to be, it's that young employees seem less eager to enter the field and make a career out of it, industry veterans report. Back in the day, all it took was a foot in the door and a willingness to learn, and one could work his or her way up the ladder from busboy to GM, from dishwasher to chef, from employee to owner. Today's workers seem less interested in toiling long hours for low wages in dangerous, challenging conditions.
"Years ago when I was at Washington Place, I was getting applications in weekly," says Chris Kafcsak, executive chef at Deagan's. "I haven't gotten an application for a cook in well over a month. Not even someone walking in the door. And when they do, the people are asking for top dollar without even being able to work a hot line."
Kafcsak says that many unskilled applicants walk in demanding $12, $13 and even $14 dollars an hour, wages reserved for his best employees, and even then only after they've been with him for a couple years and proven their value. Those figures might not sound all that unreasonable, but that's only because many outside the industry don't have an accurate understanding of the financial realities of running a restaurant.
"I think the general public has unrealistic beliefs about profit margins and assumes you make a killing," says Jonathan Seeholzer, director of restaurant operations for MRN Hospitality Group. "Profit margins are slim. If you are at 10-percent profitability, you are doing well."
Seeholzer, who helps oversee five restaurant properties around town, says that many area restaurants actually hover in the three- to six- percent range, and "depending on the year, depending on the month, it might be slim to none," he adds.
And out of the net profit bucket come loan payments, capital improvements and everything else needed to keep the lights on and the food cold.
"The restaurant doesn't last forever," he notes. "It's like having thousands of people in and out of your house throughout the year. The HVAC needs to be replaced, walk-in coolers die, roofs start leaking ..."
***
Poorly trained or inexperienced kitchen staffers not only are causing employers problems, they are the unintentional death of creativity. Kafcsak says that he's happy with his current team at Deagan's, but admits that with an even better, more skilled team, diners would be seeing and enjoying a more creative bill of fare.
"We have to take into consideration all new items, testing them out to make sure that we have the staff to prep it, that the kitchen can pump them out on a busy night before they ever hit the menu," he explains. "We've run specials that have sold extremely well, but we know that with the staff we have we're never going to be able to keep up."
In this new reality, Kafcsak and those in his shoes are more than happy to trade experience for enthusiasm and a willingness to learn.
"Not to make light of the situation, but somebody taught me how to do this job, so it can't be that hard," Stein muses. "I look more at the human side of the person than I do the ability side on their resume. Most of the people who have worked in all these great places, in my opinion, generally have a lot of bad habits. So I'd rather take somebody with less experience and a huge heart who's willing to learn and grow and listen. But sometimes you don't have a choice."
To keep Stein's 200-seat restaurant humming requires one chef, two sous chefs and 15 cooks in the kitchen. That pales in comparison to the staff it takes to fully staff the restaurants of the Cleveland-based Paladar restaurant group, which includes two Bomba Tacos and six Paladar Latin Kitchen locations spread across four states. Much of the responsibility for that challenge lands in the lap of Angie Mosher, director of human resources. Of the nearly 500 moving parts, the toughest positions to keep fully staffed are the hourly line cooks and midlevel management spots like assistant managers and sous chefs, Mosher reports.
"There's no question that hiring is a challenge," she says. "But you can always find people with a great personality. If they don't necessarily have the experience, we are happy to train them on how to be a great server. It might take a bit longer, but we continue to find great people."
Some of the staffing issues, says Paladar owner Andy Himmel, can be blamed simply on the distance between job and applicant. As more and more of these new restaurants pop up in hip urban centers or flashy new development projects in spendy suburbs, scores of eager potential employees simply can't make it to the front or back door.
"In wealthy areas like King of Prussia (Pennsylvania, home to the newest Paladar), the cost of living is so high that many employees don't live close to those markets, so it depends on access to public transportation," Himmel reports. "How far is someone willing to go until it stops making sense to come to a restaurant?"
Himmel, who opened his first restaurant, Boulevard Blue, on Larchmere a dozen years ago, says that he finds himself competing for his best talent not just against other restaurant owners as in days past, but against entirely new foes.
"With some of these really great front-of-house managers, you're competing against the entire world," Himmel has noticed. "Where at times people felt trapped in the restaurant industry, you have these front-of-house managers who seem comfortable moving into other industries where they work less hours, make similar amounts of money and don't have the stress that comes with working in a restaurant. When you combine that with the rising demand for high-caliber talent, there's no question that's a problem."
The same can be said of chefs, who are finding new opportunities outside the restaurant kitchen, be that in the kitchens of a high-end grocery store (say, Giant Eagle Market District), at a country club, as the owner of a small catering firm, or behind the desk as a food writer.
Despite being a graduate of the prestigious Culinary Institute of America, and despite launching the award-winning Greenhouse Tavern alongside Jonathon Sawyer, when faced with the choice of staying in the kitchen or moving on to greener pastures, Seeholzer opted for the latter when he signed with his current employer MRN.
"First and foremost, it was my kids and my family, realizing that I had gone days and days without seeing them," he reflects. "For so long it was looked at as a glamorous thing, and so many people got into it, and then they realized that it's not as easy as it looks, those 15-hour days in a hot kitchen."
***
Local restaurant owners who look to Tri-C's Culinary Arts and Hospitality Management Center downtown for help in the matter of staffing are not finding too much in the way of relief. Despite the fact that some 350 students are presently enrolled in the hospitality program, only about 30 make it to graduation each year, according to Karen Monath, associate dean of hospitality management. She attributes the disparity between enrollment and graduation to the realities of life.
"All of our culinary students are required to do at least 200 hours of field experience in the industry as part of their degree," she explains. "Most of our students also work full time or almost full time. Many just end up taking jobs and not completing their degree."
Monath, also a graduate of the Culinary Institute of America, admits that today's student body and entry-level workforce has a very different perception of the career than she and her colleagues did coming up. The odd contradiction is that celebrity chefs and the Food Network have simultaneously created unprecedented interest in the culinary profession while at the same time destroying any likelihood of happiness or success for many who enter it.
"I think the Food Network has helped us and hurt us," Monath says. "Because many of our students come in thinking they'll be the next Food Network chef or, 'I'm going to be some chef to the stars.' No, you're going to be schlepping in a hot kitchen on a hopefully busy line for a number of years. The work ethic is not the same; it's just not, and I don't know what created that."
Deagan's chef Kafcsak, who happens to be a graduate of Tri-C's culinary arts program and now a sitting board member, thinks that his alma mater should implement changes that can benefit future students, graduates and employers.
"I feel like they're stuck on a very traditional ACF track," he says, referring to the American Culinary Federation, the organization that accredits culinary schools and programs nationwide. "They're not teaching enough modern food. There is such a high dropout rate because in six months at a good restaurant they can see everything they would see at culinary school. And the food is up-to-date versus dated country-club style menus."
The complaints are nothing that Monath hasn't heard directly from Kafcsak as well as other chefs and owners, many of whom call weekly in search of employees. There are no current plans to deviate from the classic culinary track, she says.
"I understand that and I respect that, but we have a duty to teach our students the basics first and then they can build on that," she says. "Being ACF accredited is a means that holds us to a certain standard. It makes us more disciplined, it makes us really look at what we're doing, analyze our process, and from an educational perspective it just makes us better."
Of course, the best way to beat the supply challenge is to not be in the market for a new employee in the first place. The phrase "quality of life" comes up a lot when speaking with employers, many of whom are making life much better for their staffers than they themselves had it coming up. It's the reality of the current marketplace, one where chasing the dollar only gets a person so far.
"I insist that the people who work for me work five days a week — and not 14, 15 or 16 hours a day," says Zack Bruell, who eagerly worked those hours six or seven days a week when he was a young chef. "I want them to have quality of life, because if they have quality of life two things are going to happen: The quality of their work won't suffer and they will stay with me, which is really important. For me to grow, I need people around me to do it."
***
Bruell, who employs around 470 people throughout his eight-unit empire, says that he's likely done opening new places until something dramatic changes. That could be a major shift on the supply side, or a major swing on the demand side thanks to population growth. Having multiple restaurants gives Bruell and operators like him a device to keep workers in his employ by having multiple paths of advancement.
"It's very important that people know that they have a chance to grow," he says. "If it's just a job, we don't want them. You want to surround yourself with as many people who think this is their passion, that this is their life's work, and are open-minded enough to say, 'Teach me what you know.'"
That was Nolan Cleary's precise attitude when he started working as a busboy at Lola in 1999. Today, he's the general manager of Mabel's BBQ, one of the buzziest, busiest new restaurants in Cleveland. Along the way he's held every front-of-house position there is, including server, bartender, assistant manager and beverage director. He recognized early on that hitching his wagon to the right horses was his path to success.
"From the onset, it was very obvious that I worked for good people," he recalls. "You could see that they took really good care of their employees. It was, and still very much is, like a family. Obviously, we've grown quite a bit as a restaurant group, but that approach is still something that we talk about all the time."
Another topic of discussion at staff meetings is the current state of affairs in the Cleveland restaurant scene. High-profile closures like Arcadia, Willeyville, Crop Kitchen and Crop Rocks seem to be signaling a tipping point in the marketplace. The question for Cleary and other prognosticators is whether these closings are victims of diminished demand or simply the consequences of being an inferior operation.
"A lot of places have opened, and now we're seeing the wave start to come over and see some places close," Cleary says. "Is it because there are too many restaurants or because the quality is not there? It's a tough question."
Nobody thinks about the mounting quantity of restaurants more than Dan Deagan, who is constantly surveying the landscape in search of warning signs. Is there a bubble? Is the other shoe going to drop? All he really knows for sure is what goes on within his own four walls, but he's concerned about what might be lurking around the bend.
"Thankfully, we're six years in and we've done really well," he says. "But being in this business is so stressful. You have one bad week and you wonder, 'Is this the beginning of the end?' Places that are opening right now, I can't imagine the stress they must be going through because I assume that nobody is doing as well as they expected to. There are just too many places."
Years ago, the biggest threats to small independent restaurants seemed to be the big national chains that invaded our marketplace from footholds like Legacy Village, Eton Chagrin and Crocker Park. Those developments soon will be joined by other projects like Pinecrest and Van Aken District, which will continue to place huge demands on the talent pool and the dining population's wallet.
Regardless of how it all plays out, says Himmel, well-operated independent restaurants will survive and thrive while those that aren't will see diners take their dollars elsewhere.
"What you're seeing nationally in terms of a restaurant recession is a trend affecting larger publicly traded chains," Himmel explains. "Some of those national chains that we used to think were really cool seem kind of passé and dated now. There has been a huge exponential shift over the last three or four years, with a lot of the smaller, independent operators taking a big chunk of that business. Independent restaurants that are run well, provide a good value, and offer something unique are always going to have a place in the market. The restaurants that aren't run well, that have skated along and didn't really try to evolve and grow and pay attention to what's happening, yeah, they're going to have a harder time. And maybe that's not necessarily a bad thing."