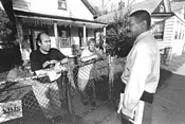 Elwood Clark (right), on his world tour of Ward 7.
Shoes shined and shirt pressed, Elwood Clark embarks on another evening of campaigning for council in Cleveland's Hough neighborhood. He rings doorbells that aren't answered, ignores dogs that snarl at him, and hands out fliers to people on porches.
"I don't vote," Frances Diamond, a resident of East 45th Street, tells him as he extends her a handbill. "My mom was a Jehovah's Witness, and Jehovah's Witnesses don't vote."
Dressed in his meet-and-greet uniform of a gold dress shirt, dark gray slacks, matching tie, and tassel loafers, Clark is accompanied by his campaign manager, Tim Bennett, a straw-hatted man with a laugh like Rosco P. Coltrane from The Dukes of Hazzard. Operating out of a black SUV, they haul around plenty of bottled water and yard signs that Clark's mom helped staple together.
A state transportation supervisor, Clark knows how to wear out shoe leather, not to mention tire treads. When he was running for vice president of his union a few years ago, he stumped in each of Ohio's 88 counties. In some locales, it was practically just him and the cows.
But the residents of Ward 7 are considerably more opinionated than the cows. They've had the queen of the last word, Fannie M. Lewis, as their councilwoman for 20-plus years.
Clark says he once campaigned for Lewis. "He never worked for me," counters Lewis. "He's got on his literature he worked for Fannie Lewis. If he worked for me, he'd know to put Fannie M. Lewis. There are six Fannie Lewises in this ward."
Six Fannie Lewises? The mind boggles. "Ain't nobody running but me, as far as I'm concerned," she adds. "They say I'm too old -- well, the Pope ain't too old."
Clark's hopes are bigger than his chances of winning against Lewis, a neighborhood icon despite all the doppelgängers. Clark's father, David Collier, lost his seat to Lewis in 1979, then proceeded to run against her (and get whomped) in subsequent council elections. The Collier family also has close ties to Forest City Enterprises, a development firm that once unveiled a plan to raze Hough and turn it into a golf course.
Even if elected, Clark can't corral all drug dealers and single-handedly wipe out years of grinding poverty. No councilperson can. But that doesn't stop the people of Ward 7 from grilling him. They don't want abstract ideals. They want concrete guarantees. And since Clark -- a structural engineer by trade -- is experienced in brick and mortar, it can't hurt to hit him up.
"Ms. Lewis isn't running?" Carol Joiner asks Clark, who informs her that yes, Lewis is running for reelection.
"Why should I vote for you and not her?" she demands.
"Because I've lived here all my life," he says.
From the tree lawn, Bennett coaches Clark to mention his 17 years in the labor movement. Joiner's not impressed. "What about these young mens in the neighborhood that have a record?"
"I speak to that," says Clark, mentioning that Columbus has a program for released felons, but he's not sure what's available in Cleveland.
Interest flickers across the face of Joiner's son, a young man who's been sitting silently, with folded arms and a closed stare. "Is that program available now?" Joiner presses.
"I can't say it's available now," Clark says. "But I know some of the players, and changes aren't made by sitting on the outside."
"One more question," she persists, handing him her business card. "My son need a job." He'd hoped to become a carpenter, but had to drop out of training because he has narcolepsy. His teachers were afraid he'd fall asleep on the ladders and fall off. "For the most part, he's a decent kid. He just need a chance."
Clark says he can't promise anything, but advises her to give him a call "when I get elected."
Over on Newton, where modest but well-kept historic homes are shadowed by the ruins of public housing vacated four years ago, residents make more demands. "If we call you, will you call back?" Vickie Dawson wants to know. "'Cuz I can be hard on you." She asks for Clark's number, "so if we need to talk to you, we know you're available, and we don't have to wait two months to hear back."
She wants Clark to renovate Hough House, a bombed-out community center that's still used for tutoring and lunch programs. "When we were little, we did everything there," she reminisces. "Trips, choir, crafts, dance classes. Classes that teach girls to be young ladies and boys to be young men."
Yanick West's home doesn't have a front door, so Clark raps on the decorative gate. "The youth has been forgotten for a number of years," West opines. "They ain't got nothing to do. Back there and over there, they be selling." She'd planned a birthday party for her son in the vacant meadow next door, but finally decided on a park where there was less drug activity.
On East 97th Street, two old men work in their yard, while their house crumbles behind it. They've paid special attention to their landscaping, using glass blocks for a garden border in lieu of stone. They stare blankly while Clark orates, restless to resume their work.
One of their neighbors, Daniel Shortz, is about to expound on what he thinks the neighborhood's issues are. As if on cue, two little girls walk by. "Shut the fuck up," the taller one tells the shorter one.
Shortz gestures at them, grimacing. "It's obvious, the main ones," he says. "Number one, just keeping the neighborhood a neighborhood. This is an area remembered for the Hough riots. That's the most public thing you hear." Besides the East High School football team, there "ain't nothing but drugs. Why would you have all these liquor stores in one place, unless you want people to kill themselves?"
Shortz asks Clark if they can talk privately. They find a quiet corner. Could he be pressing for a job? No, he just wants to look Clark in the eye, man to man, while Clark rattles off his agenda.
Clark says people often ask him for work, however. "I tell everybody, 'I'm not out here promising jobs. When this is all over with, come see me, and I'll lead you in directions to send your résumé.'" He's friends with a lot of important people -- not to mention a few well-placed cows.