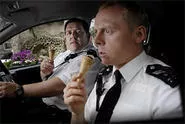 Two cops. Four guns. Zero wounded. Simon Pegg and Nick Frost in Hot Fuzz.
Hot Fuzz
(Universal)
The second feature from writer-director Edgar Wright and writer-star Simon Pegg (
Shaun of the Dead
) has been available on home video for decades:
Hot Fuzz
is, after all, a witty and wisecracking montage of clips from some hundred-plus A-list and bargain-bin action films, chief among them
Lethal Weapon
,
Bad Boys
,
Point Break,
and, oh,
Freebie and the Bean
. Once more starring Pegg and Nick Frost as pals doing battle against baddies, this time in an allegedly idyllic town with a buried secret, Wright's film has done right by the genre:
Hot Fuzz
is giddy, but never stoops to parody. And there's endless fun on the DVD: copious deleted scenes, riotous outtakes. You can even ride along with the threesome as they press-tour the U.S., and the dorks will absolutely thrill along with the trivia track.
-- Robert Wilonsky
The Darwin Awards (Fox)
Eyes on a cave fish, leg bones in the body of a whale: Darwin taught us that a creature can carry extra parts and still make it in the jungle. So it is with this film, which carries at least three unneeded elements, yet still manages to entertain. Named after those mostly apocryphal e-mails you get about folks dying in spectacularly stupid ways, the movie features Joseph Fiennes (snooze) and Winona Ryder (we miss you -- come home) as insurance investigators hoping to prevent future Darwins. Fiennes, sort of a Sherlock for shitheads, pieces together the stories behind completely stupid deaths. These vignettes, crammed with celebrity cameos that feature everyone from Chris Penn to Metallica, are good fun, and it's a good thing -- because the movie loses steam whenever the film strays from them. -- Jordan Harper
300: Widescreen Two-Disc Special Edition (Warner Bros.)
As far as camp pleasures go, director Zack Snyder's Xbox adaptation of Frank Miller's comic book is a doozy -- man-on-man gay porn for soccer moms, at least according to the women I know who'll watch this Persian-on-Spartan bloodbath for one more gawk at Gerard Butler's CG-enhanced abs. And as artistic achievement, well, it's more fully realized than Robert Rodriguez's adaptation of Sin City, which possessed all the warmth of a big-screen flipbook; this, at least, feels alive. The DVD version's even heavier on the testosterone; I don't recall this many butched-up brutes in the theatrical take. As for the extras, it'd be nice if a home-video exec combined the half-dozen shallow shorts, among them a Spartan history and a Frank Miller tribute, into a single decent doc. -- Wilonsky
Starter for 10 (HBO)
Despite the produced-by-Tom-Hanks pedigree, this bit of cine-Brit-pop never made much of a mark in the States, which is surprising, since it's a thoughtfully made compendium of every set-in-the-1980s high-school movie ever made, down to its new-wave score, skinny-tie wardrobe, and cutie-pie love triangle. James McAvoy's a "clever" small-town Brit attending big-city Bristol University, where he's wowed by the hoity-toity WASP hottie Alice (Alice Eve) and wooed by the just-as-pretty Jewish protest chick Rebecca (Rebecca Hall). In its rush to fill 96 minutes with as many clichés as possible, Starter for 10 begins to take on the air of something a little too familiar, but it's so utterly charming -- McAvoy has that young Hugh Grant thing going for him -- you won't mind. Indeed, it's got a nice secondhand nostalgic buzz to it. -- Wilonsky