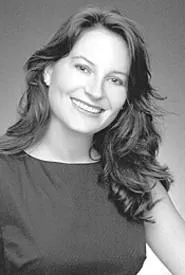 Princess Diaries author Meg Cabot grows up in her new book.
TUE 1/20
Meg Cabot hates the Human Resources Department, that universal bastion of surliness. "They're supposed to be good with people," she says. Her new book, Boy Meets Girl, is set in that division, and its protagonist battles daily with grumpy employees. "I worked in an office," Cabot says, offering a morsel of autobiographical info. "And the HR people hated my guts."
Boy Meets Girl is also about commitment issues, affordable living spaces, and lawsuits -- all grown-up things that Cabot, author of the young-adult fave The Princess Diaries, doesn't get to write about much. "You can live in the teen world for a certain amount of time before you start really craving adult conversations," she says. "But you can also be too much in the adult world to be like, 'Hey, I wonder what's happening on the WB?'" Cabot signs Boy Meets Girl at Joseph-Beth Booksellers (13217 Shaker Square) from 7 to 8:30 p.m. Tuesday. Admission is free. Call 216-751-3300 for more information. -- Michael Gallucci
Got MLK?
SUN 1/18
The Cleveland Orchestra's Martin Luther King Jr. Celebration Concert on Sunday features a pair of vocal choruses joining conductor Franz Welser-Möst in a tribute-filled program. It starts at 7 p.m. at Severance Hall, 11001 Euclid Avenue. Admission is free, but tickets are required (and are available by calling 216-664-2107). -- Michael Gallucci
Muscle Man
THU 1/15
Dante Carlucci, aka the Seductive Muscle, is a beefy bodybuilder from New Hampshire. His new video is filled with shots of him in his briefs . . . and less. A scantily clad Carlucci dances around at Bounce (2814 Detroit Avenue) at 10 p.m. Thursday. Admission is free. Call 216-357-2997 for more information. -- Cris Glaser