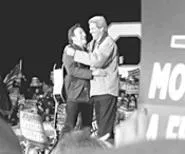 Mike Beder
Portrait of an ass-kicking: Bruce and Johnny on Mall C.
The old man at the podium didn't shout or sloganeer. His was the voice of reason, steady and prosecutorial as he lit up President Bush for his incompetence in Iraq.
Until this moment, the estimated 50,000 people overflowing from Mall C had witnessed the Parade of the Shrill. Mayor Jane Campbell screeched mechanically, sounding like a chicken stuck beneath a monster truck. Someone gave the chicken a microphone.
Congressman Dennis Kucinich's arm chopped wildly at the air, as if he were a lost Atlanta Braves fan, or a miniature Hitler on meth.
Congresswoman Stephanie Tubbs Jones attempted to set the land-speed record for clichés, closing with the ubiquitous give-the president-the-pink-slip line, which, according to paleontologists, was last considered fresh in 1974.
The old man put a stop to it. He felt no need to grovel for adulation. Here was a real guy, who wanted to talk about real things. So he systematically carved up Bush like a veteran butcher slices veal. He offered no bullshit, no easy-to-handle-assembly rhetoric. Just the words of someone who'd studied, who'd learned, who owned the wisdom that comes from smarts and age. You understood immediately why Ohio followed him.
A younger man came next, talking softer, but in the universal tongue of jobs and kids and medicine for the old. To disagree would mean you had to rust-proof your soul.
John Glenn and Bruce Springsteen were in the house. Who invited these guys?
At the Kerry rally on election eve, their presence told you everything you need to know about why Democrats keep getting their ass kicked. Here was Glenn, the face of a once-great Ohio Democratic Party. Here was Springsteen, who'd spent 30 years helping people understand the working life. And here they were, surrounded by the shrieking mannequins that now constitute the party elite. It was akin to Churchill and FDR sharing a stage with the cast of The Surreal Life. The contrast couldn't be sharper.
Mall C had been reserved for party activists. The general peasantry was segregated across Lakeside Avenue. Fortunately, the Kerry camp parked two semis along Lakeside to block the view. The peasants couldn't see the stage.
Many had come to see Springsteen, to catch a glimpse of a future president. They were ripe to be pulled to the Democratic side. One would think party activists would be plying the crowd, hustling for Kerry and explaining which of the O'Malleys, O'Donnells, and Corrigans were with the good guys and which were aligned with darkness.
At this moment, Ohio was the center of the universe. People from Germany to Grenada were counting on Cleveland Democrats to outplay the inbreds in Cincinnati, to keep an idiot cowboy from reclaiming his job as ruler of the world.
They were expecting far too much.
While you couldn't walk more than 10 feet without getting a pamphlet for Lyndon LaRouche -- isn't that guy dead yet? -- the only Democrats working the peasant section were Judge David Matia and the twentysomething daughter of Judge William O'Neill, who earnestly pleaded on her father's behalf.
Party activists were safely ensconced across Lakeside, playing the role of jocks and cheerleaders at a homecoming rally for an 0-7 team, but acting as if they would be 5-2 if it weren't for the refs.
The next day, Kerry would win Cuyahoga County by a stunning 200,000 votes, but this had little to do with the party. Kucinich spent the last year fellating himself on the public dime. In October, when he should have been working Cleveland, he traveled to Washington and Hawaii, the frog prince searching for one last kiss.
Tubbs Jones was damn near invisible. If she were replaced by a toaster oven, it wouldn't be discovered until 2009.
Campbell, of course, was here all along. That's not a good thing. She's stiffer than Kerry and loathed almost as much as Bush. To hear her speak is like listening to an elementary-school principal screeching out the morning announcements over a 1930s PA system. She'd be far more useful scaring birds away from crops.
Contrast this with groups like the AFL-CIO, MoveOn.org, and ACORN. The unions had 2,000 volunteers who knocked on a quarter-million doors and made 15,000 phone calls a day. Another 10,000 volunteers worked job sites.
MoveOn.org had neighborhood block captains who targeted the Democratic faithful and crossed each name off as they entered the polls. If you didn't show up, they'd be at your door, escorting your ass to the precinct.
In the months leading up to the election, it was difficult to go anywhere without seeing someone registering voters. Be it at Kent State football, WWE at the Gund, or Saturday morning at the West Side Market, they were all over you. These weren't party workers. They were union guys trying to keep food on the table, young people inspired by contempt for Bush.
Party leaders, as usual, stuck mostly to the sidelines, because the truth be told, Kucinich, Tubbs Jones, & Co. are very much Republicans: They got theirs, and they won't raise a hand to help you get yours.
AFL-CIO chief John Ryan doesn't like this thesis: "Dennis has this perpetual campaign. He has a really good following that really does make a difference. Stephanie did a lot of work with African American and other ministers."
Yet Ryan is far too gracious to note the obvious: Without his unions, these guys wouldn't have enough juice to buy a ham sandwich.
Glenn understands; it's his legacy they destroyed. But someone should have told Springsteen. All they'd need is a film clip of Bob Taft.
"See this guy, Bruce? In most states, you could run a can opener and still kick his ass. Not us. We're kinda busy right now running Cleveland into the ground. Maybe in 10, 20 years, we could give you a call. Hey, you wouldn't happen to have 10 bucks you could bum us . . . ?"