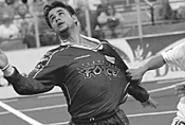 The Cleveland Force kicks it up a notch.
SUN 1/11
The Force's biggest challenge this year is keeping track of the players. Ten newcomers earned roster spots, including Adam Campellone, a 22-year-old who was a high school All-American when he played at Parma. He was still in diapers when teammate Hector Marinaro began his stint with the Force more than two decades ago.
Marinaro -- indoor soccer's all-time leading scorer -- has switched to playing defense these days. Though his greatest contributions may now be as mentor to the young players, he's still a valuable presence on the field. "Hector's happy to help the younger players," says coach Andy Schmetzer. "He still has a lot to [give]."
With all the buzz surrounding a Major League Soccer expansion team starting up here next year, you'd think fans have forgotten that Cleveland already has an indoor version of the sport. But far from overshadowing his club, Schmetzer hopes the new outdoor venture -- which shares players with the Force -- will ultimately send more fans indoors. "[Their] preseason overlaps with [our] schedule," he explains. "So, dates would have to be modified. But our players [would] have year-round employment." The Force takes on the Kansas City Comets at 3:05 p.m. Sunday at the CSU Convocation Center, 2000 Prospect Avenue. Tickets are $10 to $22; call 216-687-9292. -- Matt Leavitt
Man-Made Monsters
Megasaurus highlights CSU's truck show.
SAT 1/10
Put a crappy old car in the path of Megasaurus, and the mechanical dinosaur becomes a three-story eating machine. "It will pick up a car, bite off the roof, and chew the car in half," says George Eisenhart, founder of the Monster Truck & Thrill Show, Megasaurus's favorite stomping grounds. The event is also a battle among big-ass rides that pop wheelies, do 360s, and more. Drivers are equipped with helmets, safety belts, and fire extinguishers. "You have a bigger chance of getting hurt on the way there than these guys ever would," says Eisenhart. The fun happens at 1 and 8 p.m. Saturday, at the Convocation Center, 2000 Prospect Avenue. Tickets are $5.75 to $26; call 216-687-9292. -- Cris Glaser