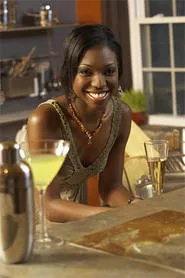 If you're spending the evening out, it doesn't matter whether you're going to your favorite local watering hole or dropping big bucks on a high-ticket package at a ritzy club with a dress code: You'll have a better time if you know how to help the bartenders help you. We got some pointers from
Ursula
and
Melissa
, two veteran drink-slingers who are part of the friendly staff at the
Garage (1859 W. 25th St.)
.
"I've been working New Year's Eve for ten years," says Melissa. "And most people behave themselves, but a few people can ruin the fun for themselves and other people. If you know what to do, you'll have a better time."
Know What to Say and How to Say It
"Wait your turn," advises Melissa. "Screaming and yelling at a bartender won't get you waited on first. Don't slam your glass on the bar. And throwing objects at the bartender does not work. A friendly smile or a polite Pardon me' or Excuse me' is a good way to get your bartender's attention."
"Don't say hey,' adds Ursula. "Hey' is for horses."
Be Prepared
The service pros say they'll be ready when they get to you. But will you be ready for them? Many guests aren't.
"If you're part of a group, gather your order before you go to the bar," recommends Ursula. "That way, the next person doesn't have to wait. And it's easier for everybody. And if you're not running a tab, have your money ready."
Tip Early, Often, and Well
Ursula and Melissa agree that the industry standard ­ that is, what the industry expects from you ­ is to tip $1 per drink. Or if you're running a tab, a 20% tip on the total is a great way to say "thank you" and mean it.
"A lot of people don't know that servers and bartenders work for tips," reminds Melissa. "These jobs only pay a couple dollars an hour, and we work for tips."
Know How Not to Use Money
Don't wave bills at the bartender. Ever. They hate when you do that. Not $20s. Not $50s. Not even $100s. Everybody likes money. Nobody likes it that much.
"Waving money directly in your face doesn't work," says Ursula. "We're not that desperate."
Trust Them
"Know that your servers are working as hard as they can to make sure you're having a good time," says Melissa. "Don't get too frustrated if things aren't happening as fast as you'd like. Know that we're working hard for you."
Remember Why You're There
"The most important thing is to have fun," Ursula reminds us. "Treat people right, and you'll like yourself better in the morning. Your hangover will probably even be better."