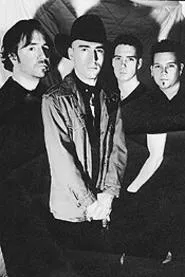 Live: Elevating the art of rock and roll, or so singer Ed Kowalczyk thinks.
Live lead singer Ed Kowalczyk might be many things, but he swears a megalomaniac
isn't one of them. The lanky, enigmatic vocalist claims assertions that he's self-righteous -- which have followed him around for over five years now -- are the result of misinterpretation.
"From the very beginning of my relationship with rock and roll, I was inspired by bands -- and I never hid from saying this -- like U2 and R.E.M.," he admits. "I felt [they] elevated the art form of pop music not only in their own music, but also what they said about it and how they were committed to it as a sort of unprecedented form of communication with people in an artistic sense. I think that rock and roll is unique, and I think I elevate it in interviews and in the way that I'm perceived as being serious. [But] I'm not serious about myself or out there preaching to people. I do feel that rock and roll is an absolutely unique and potentially world-changing, people-moving art form. And so, I'm very serious about it in that regard."
As you can tell, the self-assured Kowalczyk has put a lot of thought into his role as a rock and roll icon. Ironically, the same emphatic earnestness, which initially appealed to socially conscious fans of the mid-'90s, had become overbearing -- at least for some rock fans. At some point between the mega-success of its sophomore album, 1994's Throwing Copper, and its disappointing follow-up, 1997's Secret Samadhi, Kowalczyk and his bandmates -- guitarist Chad Taylor, bassist Patrick Dahlheimer, and drummer Chad Gracey -- appeared lost among their own rhetoric, beliefs, and talents.
Yet Live has righted everything that was wrong about Secret Samadhi and returned strong with its fourth disc, The Distance to Here. Already platinum, the new album features a return to idealistic beliefs -- something missing from Secret Samadhi. Also missing from the transitional, experimental Samadhi was former Talking Head Jerry Harrison, who had produced the band's 1991 debut Mental Jewelry as well as its follow-up, Throwing Copper. Harrison returned to his duties behind the console for The Distance to Here.
"We basically missed him," Kowalczyk explains. "What we realized was that we pretty much self-produced Secret Samadhi, and we felt like it was harder than it needed to be. We wanted Jerry back in the fold. We have such a long and deep relationship with him. I remember, he heard the songs that I was writing for this record on a demo tape and just got so excited about them. He said it was really taking him back to his love for Van Morrison and the Astral Weeks record. He turned me on to that record, and I listened to it, and I was just crying. I was so aligned with Van Morrison and lyrically what was going on. So, he got really excited and came aboard. And I think we made our best record so far. We're all very happy."
It appears on the surface Harrison may be the key ingredient to Live's success. But that would take away from the band's musical abilities. Sure, Secret Samadhi failed to live up to the hype created by the hook-laden, enticing Throwing Copper. But Kowalczyk says the dark, angst-driven album was something the band needed to get out of its system. And that seems to make sense. In this world of one-hit wonders like Hootie and Alanis, a controlled failure is worth much more than an earnest attempt at making lightning crash twice. Kowalczyk says he initially found inspiration in PJ Harvey, who opened for Live on the last leg of the Throwing Copper tour, and looked to her as someone who was recording for a less-than-mainstream audience -- something for which he thinks Live isn't necessarily suited.
"I call them the bottle-of-wine-and-a-joint records, where you really have to come to the artist," he says in an attempt to explain PJ Harvey's appeal. "We learned that [Secret Samadhi] wasn't really the type of music we are ultimately about. It pretty much clarified what we wanted to do next. The Distance to Here, I feel, is much more sort of a leaping out of the speakers at the listener rather than you having to come to our world."
Another sign of maturation concerns the way the band has handled its spiritual beliefs. While Mental Jewelry was based on writings by Indian philosopher Jiddu Krishnamurti and dealt with personal transformation through selflessness, the band has shifted the focus to more general topics. As the main songwriter, Kowalczyk says he feels as though "all paths lead to the truth." This optimism is omnipresent in The Distance to Here, an album that's powered by churning chords, introspective lyrics, and symphonic details. The debut single, "The Dolphins Cry," has been a staple at AOR radio for more than six months, and the band's tour, which concluded at the end of last year (the stop in Cleveland is a make-up date) was well-received. What's interesting about the new album is its layered sound and complex structures. And unlike Throwing Copper, there are no easily accessible, meaty hooks or toe-tapping, out-of-the-box anthems. Yet, the disc has a resonance of brilliance, with each spin evoking something new. Whether it's a subtle guitar riff or a luring drum beat, it has something to offer, as long as you invest the time.
"I always feel that the records that last longest for me in my heart -- as far as I can always turn back to them and get into them, no matter if they're 10 or 20 years old -- are the records [that], when I first bought them, I didn't like or didn't really get," says Kowalczyk. "I remember hearing U2's Achtung Baby and going, "I don't get this.' And then after the second, third, fourth listen, I thought it was their best album. I think that, any time you work as hard on something and try to make it as singular and as unique as you possibly can in your own career, that it's a good sign when people have a relationship with it that grows over time, rather than something that is so obviously trying to be popular or trying to be this or that."
While Live has made the rounds at Woodstock '99 and played at the 1998 and 1999 Tibetan Freedom Festivals, the band continues to challenge itself musically -- no matter what the cost or units sold.
"I think that Live is a band that is about the next 10 years," says Kowalczyk. "Even though we've had a huge amount of commercial success in the previous 10, I still feel like we have a tremendous amount to do and will grow, because I'm always onto the next thing. I'm always thinking that the next album I'll really nail it, although I'm extremely happy with this record."