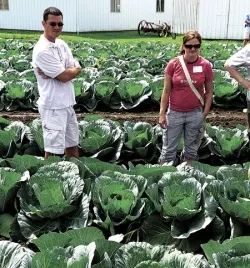 As the appeal of locally grown food became more glamorous, Tony Anselmo grew more distressed. It isn't that Anselmo has anything against local ingredients — the man is a third-generation produce distributor, after all; it's that some fresh-faced start-ups were acting as if they had just invented the idea.
"Local food is the hot, trendy thing in dining right now," explains Anselmo, president of Premier Produce. "We have been quietly selling locally grown produce to Cleveland restaurants for the past eight years."
But Anselmo, a Harley-riding S.O.B., is less a man of words than actions. So rather than simply remind his customers about his product line, he loaded 20 chefs onto a bus and drove them out to see where the produce comes from. On tap was a field trip to six Geauga County farms, all but one operated by Amish families.
It takes less than an hour for the luxury coach to make the journey from Cleveland to Middlefield. Along the way the scenery changes from gritty hardscape to lush green countryside. The hillside is a patchwork of family farms and modest homes. Amish garments hang on clotheslines, gently flapping in the breeze. Hay is stacked to dry in perfect rows of teepee-shaped mounds. SUVs are replaced by horse-drawn buggies.
It is precisely this landscape we are preserving when we decide to buy local. By earning a decent wage, farmers can resist offers to sell family plots to developers. Our dollars stay in the community, where they are spent again and again. The boon to diners is food that was picked ripe yesterday and is on the plate today.
Northeast Ohio doesn't have the reputation of, say, California when it comes to commercial farming, but kicking around these Geauga County fields, you'd never know the difference. Beneath clear blue skies, acres and acres of bountiful crops extend clear to the horizon. And despite what we may achieve in our own gardens, these farms are productive from May through October — a full six months out of the year. Things like row covers, hoop houses, greenhouses and staggered plantings can extend the season even longer. In the dead of winter, most Amish farmers become woodworkers.
"A lot of man-hours are involved in this operation," says Amish farmer Andy Miller. Wearing the traditional dark pants, light shirt, suspenders and straw hat, Miller shares with the crowd the tasks that fill his and his family's days. There's planting, weeding, picking, washing, packing and transporting. "But we're out in the sun, living off the land, so why not?"
Amish, not regarded for their risk-taking behavior, steer clear of fancy crops. Most stick to basics like corn, zucchini, squash, onions, green beans, cabbage, garlic, cucumbers, melon, green peppers and strawberries. Beets typically come in just one color, red, and you aren't likely to find heirloom tomatoes, because they don't hold up so well on bumpy buggy rides.
But visits by chefs help educate farmers about emerging culinary trends. It's not like the Amish are watching Top Chef, so can you blame them if they haven't discovered the latest gourmet varietal of tomatillo? One farmer asks the chefs what size they prefer their pattypan squash, so he'll know when to harvest it. Belying their undeniable talent in the kitchen, many chefs appear completely ignorant of basic crop-growing facts. "Garlic grows underground?" asks one after watching a farmer pluck a head from the soil. "Do green peppers turn red if left to ripen on the plant?" asks another.
Miller and other Geauga County farmers take their harvested crops to Geauga Growers Produce, where it is auctioned off to distributors like Anselmo, supermarkets like Heinen's, Giant Eagle and Whole Foods, and operators of roadside farm stands. Farmers — arriving by horse-drawn wagons, begin dropping off their goods first thing in the morning. By 10 a.m., the 25,000-square-foot building is packed with ripe produce. Two hours later it is completely bare. These auctions move $1 million of food each year.
Back on the farm, a chef's cell phone blares out a tune, effectively piercing the tranquility of the day. But the lessons learned today are easily packaged up for use elsewhere.
"When I opened my first restaurant 11 years ago, I didn't know the first thing about using local products," says Donna Chriszt, owner of Tremont's Dish Deli. "Now that they have become much more available, I wanted to come out and see where they come from, what's involved in growing them. This experience helps me put a farmer with an ingredient. And it gives me a story to share with my customers."