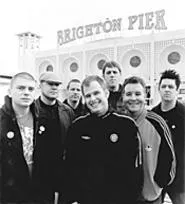 The Dropkick Murphys: Possibly the world's greatest cover band.
Ultimately leading to thousands of failed drug tests over the following three decades, the release of Pink Floyd's
Dark Side of the Moon
was as much a watershed moment for stoners as the advent of pizza delivery. And now it's become even more reefer-friendly, thanks to the Easy Star All-Stars and their reggae take on the album,
Dub Side of the Moon
.
Released in 2002, Dub adds Nyabinghi drumming and a hint of drum & bass to the classic-rock landmark. The ringing cash registers in "Money" are replaced with the sound of bubbling bong hits, and guitar solos are ditched in favor of rapping. Ensconced on the Billboard reggae charts for over 100 weeks, the album has become one of the top-selling reggae discs of the new millennium. In honor of the Easy Star All-Stars' stop this Thursday at Peabody's, where they will play the album in its entirety, here's a rundown of some of our other all-time-favorite cover albums.
Dropkick Murphys Should their 100-proof bar-punk ever get old (and on recent albums, it has certainly begun to), the Dropkick Murphys could always settle for being the world's best cover band. It takes gonads with the heft of bowling balls to tackle chestnuts from AC/DC ("It's a Long Way to the Top if You Wanna Rock 'n' Roll"), Motörhead ("Rock 'n' Roll"), and Creedence Clearwater Revival ("Fortunate Son") and not come off sounding like Mr. Mister in comparison. The Murphys kick-start these classics by streamlining their overstuffed sound (so long, tin whistle, dulcimer, and flute) for the kind of raw punk blasts that first distinguished the band. Best of all is their throttling of Gang Green's "Alcohol," a tune so drunken and debauched, you can feel your liver bloat as the sound storms through the speakers.
Six Feet Under Ever wonder what Deep Purple would sound like if it were fronted by a constipated rhino? Hear for yourself on Six Feet Under's equally ferocious and fall-down funny Graveyard Classics. On it, the band subverts rock standards from Jimi Hendrix to the Scorpions with vomited vocals and down-tuned death-metal guitar. The result is one bitchin' LP, capable of clearing the room faster than nude photos of John Lanigan.
Tori Amos Before Tori Amos truly flipped her wig and started singing about cowboys and underpants on her latest, The Beekeeper, her last truly resonant LP was 2001's Strange Little Girls. On it, Amos adopts a different female persona for each song, covering a series of tunes sung from a distinctly male point of view (Neil Young's "Heart of Gold," the Beatles' "Happiness Is a Warm Gun"), most of which have been deemed sexist or misogynistic over the years. The centerpiece is Amos' haunting rendition of Eminem's "'97 Bonnie and Clyde," where she sings from the perspective of the rapper's slain wife, fretting over the future of her daughter. Amos turns one of Eminem's most vicious tracks into a quiet song of mourning, finding a measure of tenderness in a tune whose only warmth comes from a smoking gun.
Rage Against the Machine Released after Rage had called it a day in late 2000, Renegades made you actually miss the band, even in the wake of the grossly overhyped Battle of Los Angeles. Here, the group somehow teases even more menace out of Cypress Hill's "How I Could Just Kill a Man" and pushes the needle further into the red on Minor Threat's "In My Eyes." And they even make the chicken-chested Bob Dylan sound like a badass on "Maggie's Farm." From old-school hip-hop (EPMD's "I'm Housin') to new wave (Devo's "Beautiful World"), Rage adds funk and firepower to a series of classics, giving the band the send-off it deserved.
Mike Ness As frontman for Social Distortion, Mike Ness has long recognized punk and country's shared proletarian roots. On this 1999 release, Ness wraps a slew of honky-tonk favorites around his weather-beaten baritone, which crackles like logs in a campfire. The songs are all about broken noses and broken hearts, covering everyone from legends like George Jones to forgotten greats like Wayne Walker. The result is an album every bit as intoxicating as its name implies.