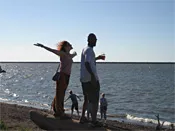 Green is this year's black -- with Al Gore, Live Earth, and the Prius all hogging recent headlines. But that's old news to the Great Lakes Brewing Company, whose
Burning River Fest
has given props to the environment for seven years now. Today's bash at Whiskey Island brings it to the local level. "The way we lead our children to an environmental mind-set has a huge impact," says organizer Rebecca Bendlak. "Everything starts with how we can be environmentally friendly now."
Dozens of area groups will be on hand -- talking about green buildings, urban gardens, and alternative power sources like solar and wind. There are also yoga demonstrations, rock-wall climbing, and ginormous ships docked on Lake Erie that visitors can board. Plus, puppets and face-painting keep the little ones (who get in free) busy. Bands like the St. Edward's Trash Talkers, the Sultans of Bing, and Catwalkblue bring the environmentally conscious noise. "We even encourage people to bike or take public transportation," says Bendlak. "Small steps make a difference."
Sat., Aug. 11, 1 p.m.