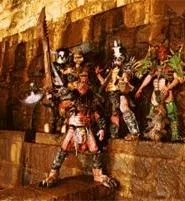 GWAR members like to dress up for their fans.
"I'll be anybody you want me to be," says Dave Brockie, laughing. "I'll answer questions as Gary Cooper if you want. How about that?" Brockie, a good-humored ex-art student from Virginia, is probably more comfortable with a mask on than otherwise. After all, he's best known as Oderus Urungus, a horned alien who's been swinging both a sword and an eye-stalked penis across stages for 20 years with his equally monstrous cohorts in GWAR. He's decapitated innumerable slaves and audience ringers, along with select celebrities and politicians, and covered audiences in fake blood, pus, and other fluids. (Suffice it to say, a highlight of many GWAR shows is the deployment of a fire hose/cannon known as the "Bile Driver.")
For the second straight year, GWAR is the halftime show on the Sounds of the Underground tour, a massive metal-and-other-loud-music festival that's running throughout the summer. They're sharing the stage with Cannibal Corpse, Behemoth, In Flames, Trivium, the Black Dahlia Murder, Shadows Fall, and As I Lay Dying, among others. And though casual observers may have been too busy ducking jets of liquid to listen carefully, GWAR is more than capable of holding its own with those acts on a purely musical level.
Some folks probably come to believe that GWAR CDs are secondary products, akin to those compilations of WWE wrestlers' theme songs. The band has demonstrated musical prowess in the past, with the power ballad "The Road Behind" (provoking the legendary Beavis & Butt-head comment "All videos should be like GWAR videos") and the horn-adorned "Saddam A-Go-Go." It's looking to score again with its new single, a raucous cover of Alice Cooper's "School's Out." The track serves the dual purpose of providing an anthem for the summer tour and paving the way for Beyond Hell (DRT), the forthcoming album produced by Strapping Young Lad's Devin Townsend.
"We've become a metal band again on the last few records," says Brockie. "For a little while there we got sidetracked, trying different sounds. But we've got a drummer and guitarist now who are just amazing."
Indeed, genre-hopping albums like 1997's Carnival of Chaos and 1999's We Kill Everything -- even the band members all but disown the latter -- are what they'd probably call "youthful indiscretions," if they were running for office. The band's last two studio efforts, 2001's Violence Has Arrived and 2004's War Party, were pure metal, bolstered by powerful skin-bashing from veteran band member Jizmak Da Gusha (Brad Roberts) and lead guitar from relative newcomer Flattus Maximus (Corey Smoot, who joined in 2002). While Violence marked the end of GWAR's relationship with Metal Blade Records, it was the band's best-received effort since its label debut, 1990's Scumdogs of the Universe.
"We met [Townsend] on last year's Sounds tour, and it turned out he was a big GWAR fan, so we immediately decided we had to work with him," says Brockie. Producer and group are a perfect match, since Townsend has been behind the boards for some of the hardest and heaviest discs of the past few years, including Lamb of God's As the Palaces Burn and Darkest Hour's Undoing Ruin, not to mention Strapping Young Lad's astonishing The New Black. His trademark sonic overload and well-documented antic sense of humor ought to help make GWAR the musical contender it has always secretly been.
Beyond Hell won't be out until fall, though, and in the meantime, there's a country full of unsuspecting teenagers to soak with stage-juice. Early in GWAR's career, it was a mainstay of the alternative club scene, playing with acts like Mudhoney, Soundgarden, and even Danzig. "As the years went on, bands started not wanting to play with us, because they knew they were gonna get splattered," says Brockie. These days, a festival presents an ideal platform for the band's overamped shock theater.
"We love the outdoor show," Brockie says. "We play for kids who don't know who we are; we do a half-hour set and get to spend the rest of the day drinking and checking out other bands . . . It's great!"
It may seem surprising that the bandmates would prefer to be outside in midsummer sunlight -- where all the seams on their rubber costumes can show and where the temperature can reach the upper 90s, if not higher -- to a club tour. But when Brockie relates some of what indoor gigs actually involve, his attitude's more understandable.
"I remember, in New Orleans, it was so hot in the club we were playing that I passed out onstage. A lot of places aren't properly air-conditioned or anything, and it gets to be like 110 degrees onstage."
Indoors or out, though, the GWAR live experience remains fundamentally unchanged from year to year. That's the glory of it, in a way -- there's a reliable element of madness.
"The plot stays the same," says Brockie. "We come onstage, chaos ensues, and at the end, a giant monster comes out. In between, we bring out people who are currently in the news or the public eye and chop their heads off." Bill Clinton, O.J. Simpson, Osama Bin Laden, George W. Bush, and many others have fallen before the swords, axes, meat grinders, etc. One of the best characters GWAR has come up with in some time, though, is the Nazi Pope, who's exactly what he sounds like -- a pontiff with a big ol' swastika on the front of his pointy hat. But who came first, GWAR's Nazi Pope or the Catholic Church's?
"The real Nazi Pope was first," Brockie says, laughing. "We thought that was too perfect not to do something with. I mean, the Catholic Church is so big in Africa and Latin America, and people really thought that when John Paul II died, they were gonna get a brown-skinned Pope -- but what do they get? A guy who was actually in the Hitler Youth!"
Brockie's feeling somewhat reflective as GWAR gears up for Sounds of the Underground. This year represents the band's 20th anniversary of gore- and goo-splattered existence, after all, as the hilarious new DVD Blood Bath & Beyond reveals, with its primitive video footage of early gigs and snarky commentary from Oderus and group manager Sleazy P. Martini.
Did Brockie ever think that his little art prank would last two decades? "We actually thought time would reverse itself and run backwards, so the universe could erase all trace of our ever having existed," he says, laughing again. "But now that it's been 20 years, we're planning to milk that anniversary for at least three or four years."