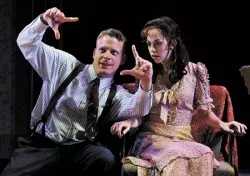 Damn those literary geniuses. Once their impeccable prose invades our psyche, it's impossible to excise them. So when my editor requested a year-end wrap-up of theater highlights, all I could hear echoing in stereophonic Dickensian sound was "it was the best of times, it was the worst of times." I suddenly found myself cast as the theater critic, Ebenezer, and floating like the Ghost of Cleveland's Recent Theater Past. It's time to venture through Merrie Olde Clevelande, plumbing the handful of glories and sighing over the burned chestnuts.
First on our journey we encounter four performances that illuminated our hearth and our hearts. Happily, two of the performances were promising indicators of a bright future: students from the burgeoning theater departments at Baldwin-Wallace College and Cleveland State University. Corey Mach brought new life to Bud Cort's delightfully suicidal Harold in Cain Park's local premiere of the musical Harold and Maude. Though the show was problematic, every aspect of Mach's maniacal youth proclaimed freshness and screwy charisma.
In the Beck Center's production of the Mary Martin version of Peter Pan, John Paul Soto had the difficult task of filling a role associated for more than a century with charming, boyish actresses and literalizing it as a real boy. Musically and histrionically, Soto defined winsomeness and made every member of the audience long to fly off with him once more to J.M. Barrie's Neverland.
One doesn't usually think of a narrator as more than a functional prop in a musical. But Marc Moritz, with his urban slyness and rueful tenderness, became the heart and soul of the Great Lakes Theater Festival's rendition of Stephen Sondheim's Into the Woods. If only the rest of the production had been as touching and clever.
As in the case of Meryl Streep, whenever Dorothy Silver enacts a new role, it seems to be an unspoken rule that we begin polishing our apples for this supreme thespian teacher. Silver becomes a more precious commodity with the passing years. As a nursing-home inmate in Alan Bennett's Talking Heads 2 at Beck Center, she once again reached a peak in dramatizing the core of human experience.
Perhaps the happiest surprise was Linda Purl's Amanda in the Cleveland Play House production of Tennessee Williams' The Glass Menagerie. You don't expect one of the Fonz's former main squeezes to come back in such crystalline, no-fuss-no-frills form. Eschewing the affectations that often accompany this challenging role, Purl brought an uncanny emotional directness and honesty to one of Williams' most unforgettable creations. The best of local theater times undoubtedly was the triumphant renovation of the Hanna Theatre into a much-needed and intimate arena space.
Nonetheless, to be frank, both opening Great Lakes productions there were a bit of disappointment. Dougfred Miller's titular portrayal in Macbeth was colorless to the point of invisibility, while our heart still bleeds for Laura Perrotta, whose Lady Macbeth was trapped in a grotesque Maid Marian wig. Great Lakes' Into the Woods lacked warmth and sure pacing. Aside from Moritz and a few others, the casting was uneven and the rewards intermittent.
The news so far this year at the Play House has been good. We could have wished for any other Williams than the done-to-death Glass Menagerie, but this go-round with the Gentleman Caller was solid enough to honor the work's luminous tenderness. It was by far the best work artistic director Michael Bloom has done in Cleveland.
Also on the boards at the Play House was an amusing production of a hilarious farce, Michael Frayn's Noises Off. Due to fuzzy staging of the third act, the production didn't entirely deliver the uproarious goods. Karamu and Dobama Theatre collaborated on a vibrantly effective realization of Caroline, or Change, one of the rare successful musicals written by a major playwright, Tony Kushner (of Angels in America fame). A profoundly moving and sassy reminiscence of a Jewish boy's conflicted relationship with his family's black maid, the show never lets you off easy. Sarah May's fine production sadly fell victim to a mischievous sound system, which rendered many of the lyrics unintelligible.
Among the worst of times was Karamu's lamentable choice of William A. Parker's Waiting 2 End Hell. The show has the excruciating thesis that black female empowerment is responsible for the dissolution of black families. In perhaps one of the most horrific displays in all of Western theater, a husband uses a gun to bring his accomplished wife back into the arms of shackled domesticity. It was an evening that proved that a word processor can be a dangerous weapon in the wrong theatrical hands. The poor cast had little to do but to live down to this drivel.
Heading downtown, we come to the bejeweled, restored theaters at PlayhouseSquare. With recent high-powered tours of Legally Blonde and Jersey Boys, the organization showed that it is a conduit for the best of New York talent. Both shows were desserts during hard times. Our one New Year's wish for PlayhouseSquare is to focus more on showcasing local creations and artists.
Of course, what we offer here is only a sampling of the triumphs and catastrophes that put passion into Cleveland nights. Even amid major economic stress, it's a joy that people still take artistic risks, let alone leave the house. God bless them, indeed, every one.