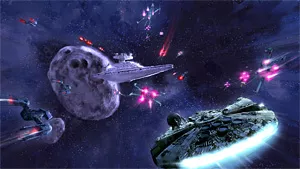 The Millennium Falcon and the Star Destroyer, locked in battle. Yes, we're nerds.
TOP PICK — Star Wars Battlefront: Renegade Squadron (LucasArts)
One of our all-time favorite video-game series returns with a Han Solo-led, galaxy-spanning adventure for the PSP. A gang of space cowboys takes on the Empire in eye-popping locales like Endor and Hoth. The coolest new feature lets gamers guide the Millennium Falcon into combat or pilot Slave I as Boba Fett. Plus, the multiplayer option is a Force to reckon with.
CD — Extra Golden: Hera Ma Nono (Thrill Jockey) This Washington, D.C.-based Afro-pop group lost a founding member to AIDS in 2005. Its second album pays tribute to him with a mix of Kenyan benga grooves and homegrown jams. It's danceable, thought-provoking stuff, spiked with a dash of sentimental reflection ("I Miss You"). Plus, BFF Barack Obama gets a shout-out on "Obama."
VIDEO GAME — Halo 3 (Microsoft)
Yes, it lives up to the oodles of hype that preceded its release. And yes, it offers knockout multiplayer action. But this groundbreaking shooter (for the Xbox 360) actually tells a pretty riveting story in single-player mode, where gamers lead Master Chief on a quest to save mankind from a legion of weapons-toting baddies. Nothing beats ripping a big-ass gun from a turret and hauling it around for instant carnage.
DVD — It's Alive 1974-1996 (Rhino)
The Ramones rarely wasted a note in the studio or onstage. They were masters of the three-chord, two-minute song. So their concerts never revealed much. Still, this two-disc set compiles more than 100 scorching live performances of faves like "Blitzkrieg Bop" and "Sheena Is a Punk Rocker" that span more than 20 years. Hey ho, let's go!
b>DVD — The Sopranos: Season 6, Part II (HBO)
This four-disc set gathers the last nine episodes of one of the greatest TV shows ever. We're still reeling from the series' finale — an existential mind-fuck open to many interpretations. Bonus material includes a funny faux-doc, Making Cleaver (about wiseguy Christopher's slasher pic) and an enlightening Music of The Sopranos. Who knew Journey was so cool?
COURTESY FLUSH, PLEASE — The Very Best of Mick Jagger (Rhino)
Jagger launched his solo career right around the time the Rolling Stones started sucking. So don't expect much from the 17 songs on this CD (one exception: the 1970 movie tie-in "Memo From Turner"). Since many of the tracks come from the mid-'80s, there are plenty of clunky-sounding synths and era-defined cheese. Bandmate Keith Richards wasn't far off when he referred to one of Jagger's albums as "Dogshit in the Doorway."