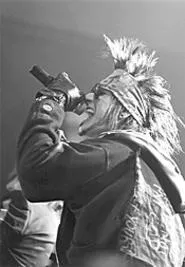 Shouting at the devil: Brides of Destruction frontman London Le Grand, at the Odeon, May 13.
After nine years in Cleveland, the
Rock and Roll Hall of Fame and Museum
is planning to open a second facility in Phoenix, Arizona. The Rock and Roll Hall of Fame on Tour site will provide a temporary home to the Rock Hall's traveling exhibits, which feature assorted memorabilia and programs.
"It's a way to extend the Rock Hall's brand," says Todd Mesek, the Hall's senior director of marketing and communications. "It's a sampling of what we do here. It creates an opportunity to get people to Cleveland, and it's a potential revenue opportunity."
While the Rock Hall doesn't have visitors lined up around the block, Mesek says that the brand extension presents "no financial risk." Dale Jensen, co-owner of the Phoenix Suns and Arizona Diamondbacks, recently joined the Hall's board of directors. Jensen assembled investors for the project and will provide a facility adjacent to the Suns' ultramodern America West Arena.
Rock Hall on Tour is scheduled to open in early 2005.
· Cleveland singer-songwriter Connor O'Brien is having a good season. His midtempo power ballad "Ready to Fall" is in rotation on Kiss 96.5 FM and 102 FM the Zoo. Before starting on his follow-up to 2002's Soliloquy, O'Brien will star as Chris in the off-off-off-Broadway production of Miss Saigon. The show will run at Lakewood's Beck Center for the Arts from July 16 through August 15. At the age of 19, O'Brien was offered the lead understudy role in the musical's European touring company, but turned it down to pursue college studies.
· If Ian MacKaye, Mike Watt, and Jello Biafra aren't reason enough to buy the May-June issue of Punk Planet, check it out to see what the alt-journal thinks of some local acts. The Demo-lition Derby column reviews Neon Dub from Akron's dubbed-to-the-max Intelligent Knives and Millions of Women Can't Be Wrong, or You've Made Your Bed, Now Go %$#@ Yourself in It!! from Cleveland's Balomai Brothers. The Balomai disc is the 12th release from Junk Rock Records -- not to be confused with the U.K. DJ label of the same name -- and it recently became the first LP in the label's 25-year history to sell a single copy. The Balomai Brothers will celebrate their anniversary and newfound commercial success with a June 26 show at Lakewood's Symposium.
· Veteran jazz vocalist Andy Bey will appear at Boulevard Blue (12718 Larchmere Boulevard, 216-752-2200) following his Saturday, May 22 concert at the Alcazar Hotel (2450 Derbyshire Road, Cleveland Heights).
· Kent stoner-emo wunderkinder Party of Helicopters are in preproduction for their next disc, with Tim Patalan, the arrangement whiz known for his work with Sponge, Jaded Era, and the Fags. The album has no title or release date.
· Concord-based spooky soundscapists Midnight Syndicate have inked a deal with Warner Bros.' Snapkick Productions to compose music for the upcoming feature film Sin-Jim Smyth. The supernatural action flick is about two federal marshals transporting a prisoner who's really the devil. The Syndicate also scored the first official Dungeons & Dragons soundtrack. Their work has appeared on Monday Night Football and been used as King Diamond's pre-concert intro music.