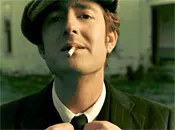 Through his latest CD,
Cigarettes and Gasoline
,
Emerson Hart
has learned to forgive the person who murdered his dad in '70s New Jersey. Even though the case remains cold and the former Tonic singer doesn't know who his father's killer is, his 12-song debut disc as a solo act follows a "cathartic journey." "It refers to an olfactory sense from my childhood: My dad smoking Marlboro Reds and getting gas in Jersey," says the 38-year-old Hart, who's in concert tonight in Cleveland "I remember sitting in the back of his Caddy. His arm up on the armrest and him smoking are early memories for me."The album has spawned a string of Top-40 smashes, like last summer's "If You're Gonna Leave." Hart's latest single, "I Wish the Best for You," is a reflection about the breakup of a friend's marriage. "That song is looking at myself and going, 'Learn from this,'" says Hart. "I saw inside of it, that you can love something only so much to be able to save it before it becomes an obsession." And he can't wait to connect with his Cleveland fans. "I believe in going out and seeing people face-to-face, saying, 'This is where I am right now,'" says Hart. "Writing is my therapy. That's how I exist." Hart goes on stage at 9:30 tonight at the House of Blues' Cambridge Room, 308 Euclid Avenue. Tickets are $12 to $15. Call 216-523-2583 or visit
www.hob.com
.
Sun., March 9, 9:30 p.m., 2008