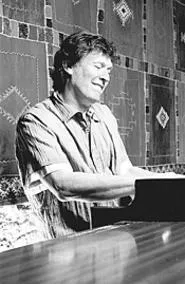 When Steve Winwood sees a chance, he takes it. So, he'll play House of Blues on Wednesday.
The Last Great Traffic Jam
, a DVD of Traffic's 1994 reunion tour, wasn't meant to be anything but a concert film. But then drummer Jim Capaldi, who joined original bandmate
Steve Winwood
and a four-piece backing group for more than 75 shows a decade ago, died of stomach cancer on January 28. The new DVD now serves as a poignant tribute to Winwood's longtime friend.
"We were going to release it with a Traffic tour last year," says Winwood. "But Jim got sick and wasn't able to do the tour. We thought he may recover and continue on with the project . . ." He trails off. "Now, it's a very special piece."
The Last Great Traffic Jam is one of three new projects Winwood has on tap this fall. He's on tour through mid-October (with a stop at House of Blues on Wednesday). And on November 1, his 2003 CD, About Time, will be reissued as a deluxe Dual Disc (with live tracks and a concert DVD). "We were very happy with it, but many people weren't aware that it came out," Winwood says of the disc, which saw limited distribution on Wincraft, his indie label, a couple of years ago. "I'm happy that it's reaching a wider audience."
About Time's polyrhythmic globe-trotting reminds Winwood of the music he played in Traffic, the supergroup he formed in 1967, when he was just 18 years old. "In those days, the term 'world music' wasn't really coined," he says. "Had it been, that's what we would have said we do. We worked with African musicians back then. It's not that far removed from my new stuff."
Winwood came of age with the Spencer Davis Group in 1960s Britain. He played piano and sang the hell out of "Gimme Some Lovin'," a rock classic he co-wrote when he was 15. He founded Traffic during the Summer of Love with Capaldi, Dave Mason, and Chris Wood (all session players with whom he had worked in the past). They recorded a handful of albums before breaking up in 1974.
Two decades later, Winwood -- a solo star since 1980's Arc of a Diver -- and Capaldi regrouped for a world tour that played in front of more than a half-million people. (Horn player Wood died in 1983; guitarist Mason, long estranged from the band, didn't participate.) "After playing as a solo artist in the '80s and '90s, it was great to be back in a band situation again," recalls Winwood. "There was so much more musicianship. We were able to jam together. It wasn't just a solo artist with accompanying musicians."
For his latest tour, the Rock and Roll Hall of Famer is performing in smaller venues -- something he hasn't done since he became a rock megastar. The set list dips into his catalog of Traffic, Blind Faith (the other supergroup he started, this one with Eric Clapton), and solo tunes (like 1986's monster hit "Higher Love").
"I'm working much more in a band situation with these musicians," says Winwood. "They're involved in the musical direction. We're reinventing stuff onstage. I'd like to think that I'm at a happy medium at the moment."