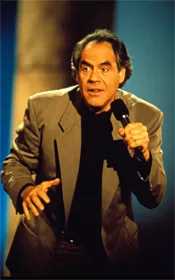 Veteran comic
Robert Klein
proudly declares that he's a city boy through and through. "I just love cities," he says. Too bad he's so disappointed with ours. "It was like somebody gave a city and no one came," he says. "I went to the Rock and Roll Hall of Fame. I was so underwhelmed. I can only see so much of Elvis' pants."
Klein left his native New York in the mid-'60s to join Chicago's famed Second City troupe. "It was a dream come true," he says. "It was the perfect gig for me." Forty-plus years later, he's become a stand-up institution. And he's still in fighting shape, even though "I lack some of the physical agility I once had," he says. "But it's no longer an adversarial thing with the audience -- like bullfighting."
Aug. 17-18, 7:30 & 10:15 p.m.