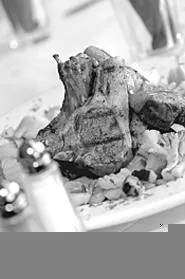 Here's a tip: The regulars head straight for the marinated lamb chops.
"Value" is a buzzword with us habitual restaurant-goers, but what exactly does it mean? For starters, let's dispense with the notion that it equals "cheap." A super-sized burger and a liter of cola consumed in a moving vehicle may be cheap, but it's not value. Likewise, an all-you-can-eat buffet, stocked with gloppy casseroles and lukewarm Tater Tots, does not a value make. And unless you're dining in a Georgia fish camp, value is something you will rarely find served on a paper plate and eaten with plastic cutlery.
So if value isn't merely code for "lots o' cheap grub," what is it? Without stepping on the toes of novelist Robert Pirsig -- the author of Zen and the Art of Motorcycle Maintenance spent nearly 400 pages exploring the related notion of "quality" -- we'd suggest that value can be found only where quality has been established. Or, to be specific, when a diner stumbles upon a restaurant where the food is honestly conceived, thoughtfully prepared, and presented with genuine concern for whether the recipient will find it pleasing -- and, as a final lagniappe, discovers that it costs far less than he might have imagined -- said diner has discovered true value.
Fortunately, even those who don't bother to define value can probably recognize it when they see it, and there are few places where seekers are more likely to strike gold than at Kristofer's, a "fine casual dining" room in North Olmsted.
Neat, tidy, and comfortable, Kristofer's is veteran restaurateur George Servetas's newest project, a sort of toned-down, family-friendly successor to his popular Warehouse District dining room, the Greek Isles, which he closed a little less than two years ago. (Zdenko Zovkic took over that prime space on the corner of West Sixth and St. Clair for his highly polished salon, XO.) After more than 20 years in the biz, Servetas and his wife and partner, Kathy, know a little something about value, and they have used their insights to craft a hospitable neighborhood restaurant, serving better-than-average food at extremely reasonable prices.
Servetas's nephew, Kristofer Koukoutaras, is both the restaurant's namesake and one of its chefs (along with fellow Greek Isles vet Melinda Xhoxha), and while their straightforward Greek and Mediterranean menu breaks no new culinary ground, their kitchen turns out consistently good-tasting variations on the usual themes of meat, fish, and seafood. Equally important to the discussion of value: Portions are generous; most entrées come with a well-stocked bread basket, a choice of soup or a salad, and a side dish; and nothing on the dinner menu checks in at more than $19 -- although nightly specials can go a little higher. At lunch, a similar menu includes a selection of burgers and sandwiches, with prices that max out at $12.95.
Among the starters, for instance, guests can't go wrong with the traditional saganaki, an ample square of salty kasseri cheese doused with sweet brandy, set aflame tableside to shouts of "Opa!", and then extinguished with a squirt of lemon juice: While the portion is certainly large enough to share, flavors are so clean and gripping that you'll hardly want to. Also, tender rings of pan-fried calamari, in a light, well-seasoned breading piqued with freshly ground black pepper, could scarcely be improved upon, and if the accompanying sweet-tart marinara tends to mask, rather than enhance, the honest flavors, a bit of lemon juice elevates the ubiquitous dish from routine to nearly irresistible.
Of course, even without ordering an appetizer, diners can count on stimulating their taste buds either with the included house salad of torn romaine -- garnished with a cherry tomato and several slices of green onion, and tossed in a mild, well-balanced, housemade vinaigrette -- or with a cup of steaming hot avgolemono, Greece's bright, bracing version of chicken soup, enriched with egg yolks, rice, and lemon.
When it's time for the main event, options meander from marinated grape leaves to an eight-ounce filet mignon; in between, there is a small but tempting assortment of chicken, pasta, pork, lamb, fish, and seafood dishes, as well as four dinner-sized salads and one or two daily specials. On a weeknight, a magnificent whole sea bass was the offering du jour, its pearly flesh remarkably sweet and flaky beneath its crackling crisp skin; a simple but mouthwatering sauce of lemon juice, olive oil, and oregano added a fillip of zest. And on a Saturday, a tender chicken breast, rubbed with oregano and generously stuffed with a rich, tangy blend of spinach and feta, then encased in crunchy phyllo, tasted pretty special too.
Still, fans of Greek fare will undoubtedly head straight for the marinated lamb chops, Athenian-style. A popular dish at the Greek Isles, the thick-cut chops emerge from their three-day soak in a blend of olive oil, red wine, and herbs with fabulous flavor; gently grilled to a rosy medium rare, their juiciness is unsurpassed.
Of course, how it is that the kitchen can produce such good-tasting morsels and still not turn out a proper baked potato remains a mystery. Suffice it to say that those in the know will skip the hard, waxy spud and go for the delicate baked rice on the side instead.
Come time for sweet endings, Koukoutaras and his staff deserve nothing but kudos. An amply sized crème brûlée featured breathtakingly rich custard, all atremble beneath a sheer, translucent shell of caramelized sugar. And warm bread pudding -- spiked with plump raisins, fragrant with cinnamon, and finished with a jaunty cap of whipped cream -- was as dulcet and lush as fine, fresh French toast.
Befitting the modest food prices, a small international wine list focuses on agreeable, inexpensive wines. For instance, both the serviceable Woodbridge Chardonnay (California) and the accommodating Alice White Shiraz (Australia) go for $4 a glass or $16 a bottle. Prefer a cocktail? At $5, our Cosmo might have been on the small size, but it still delivered the desired outcome. The happy result of all this is that a couple can begin a meal with drinks and a shared app, move on to the full-meal-deal main courses, and finish with coffee and a communal dessert -- all enjoyed in a comfortable setting with candlelight, cloth napkins, and sturdy flatware -- for around $65, tax and tip included. Those with more self-restraint, of course, will pay less.
Equally important to creating that sense of value is prompt, knowledgeable service. And from patiently helping a companion choose a suitable wine to expertly removing the head, tail, and bones from a whole sea bass, our waiter (also a Greek Isles alum) seemed thoroughly professional. But take note: We were mighty glad we hadn't ordered our lamb chops well done, after hearing him . . . um . . . discourage a diner at a nearby table from doing so.
And while we're grousing, we must also comment on the background music, a somnambulistic soundtrack of lifeless tunes -- the likes of which, we had thought, were last heard in a doctor's waiting room circa 1957.
"This is what hell will be like -- without the food, of course," a sensitive companion moaned during a moribund version of "Beyond the Sea." Unless Servetas can somehow be convinced to switch to light classical music or jazz, other equally sensitive audiophiles might consider bringing along their iPods -- or their earplugs.
Then again, we never claimed that Kristofer's was perfect. What we claimed was that it's a terrific value -- and in many cases, that's enough.