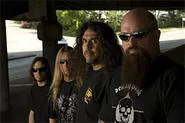 Kerry King (right) isn't expecting a call from the Rock Hall.
Headbangers will argue all day whether Slayer is the all-time greatest heavy metal band. And now, a quarter-century into the band's career, a smaller number of music fans -- not all of them metalheads -- are claiming that the kings of thrash are one of the best rock bands ever, period.
All that's debatable, but this isn't: Slayer fans are the most willing to carve their heroes' logo into human flesh. Three examples:
1) Inside 1994's Divine Intervention CD -- a picture of a bloody, angular SLAYER cut into an arm.
2) 1995's Home Intrusion video -- actual footage of a fan slicing SLAYER into his forearm, then cauterizing it with a propane torch.
3) YouTube -- a lingerie-clad girl uses her fingernails to rip SLAYER into some longhair's back.
"I think [those are] few and far between," says guitarist Kerry King, taking a call at his Los Angeles home. "That kind of person might be looking for a little extra attention."
The axeman and lyricist might downplay the sanguine tributes, but he'll concede that if any band deserves them, it's probably Slayer. And while he doesn't have his group's name commemorated in scar tissue, he's just as committed to the band's unwavering anti-religion aesthetic. At 42, he looks harsher than ever, covered from hands to head in barbed tribal tattoos, with "GOD HATES US ALL" inked into a meaty forearm. Sure, King may look like a demon, but he talks like a disarmingly regular guy.
"I try to take all my experiences from growing up as a fan and apply them to Slayer," says King, reflecting on the band's seemingly youthful endurance. "I think that's why our fans are so dedicated to us."
The band was coronated king of thrash with 1986's classic Reign in Blood, which invariably ranks in all metalheads' top five favorites. King and rhythm guitarist Jeff Hanneman penned most of the disc's brutal tracks, permanently fusing metal's brute power, classic rock's virtuoso chops, and hardcore's raw attitude.
Slayer's eight other studio albums aren't bad either, filled start to finish with nothing but state-of-the-art thrash. No ballads. No bids for airplay. Not even a single acoustic intro.
Few groups have been as consistent for as long, and fewer still have remained true to their intensity and intent. Let's look at a few of the contenders: Motörhead's greatness lies in volume and attitude -- which are easier to maintain than Slayer's breakneck pace. The Rolling Stones had a pulse as recently as 1994's Voodoo Lounge, but "Love Is Strong" ain't no "Paint It Black." Like the Stones, U2 still sells records and tickets, but Slayer doesn't have a lyrical low comparable to Bono's space-filling "yeah yeah yeah" from "Vertigo." And while Judas Priest and Iron Maiden have learned to recreate their classic sounds, Slayer's one of the few long-running bands that's never recorded an album with, say, a different singer and fill-in guitarist.
"People need continuity," says King. "We've changed drummers, sure, but if you take people out of the front positions, people are like, 'Well, Slayer's coming to town -- who's playing with them?'"
Maintaining his band's purity takes serious effort. Rather than padding its bills with palooka opening acts, Slayer brings top-tier groups on tour, including Mastodon and Lamb of God. For this tour, the band voted to take out neo-thrash frontrunners Unearth -- one of the best live bands from the new wave of "real heavy metal" (an informal movement of groups intensely opposed to metalcore and nu metal).
Unlike Metallica, whom King is quick to criticize for general inertia, Slayer still plays a full-on metal show -- but it's not as easy as it was 20 years ago. Before concerts, he stretches his neck and back for 30 minutes, plays guitar for another 30, then stretches more before taking the stage for an hour or more.
"That's what people expect of us," says King. "That's what we expect of ourselves. Unfortunately, the first time I saw [Judas] Priest was on Point of Entry. I'd seen pictures of them all in leather, studded out. And that was the only tour in history where Halford wore denim. And I hadn't heard Maiden before, and Maiden opened, and they kicked the shit out of 'em. And it's always a dark thought in the back of my mind: 'I can't let that happen.'"
Slayer tours come around more often than albums. Christ Illusion is the band's first since 2001's God Hates Us All, and it's the first in over a decade with original drummer Dave Lombardo, who left to raise a family, then explored his arty side with Fantômas.
The new disc has generally been received as the band's strongest since 1990's Seasons in the Abyss. Christ Illusion debuted at No. 5 on Billboard, and "Eyes of the Insane" -- the band's latest look at the real-life nightmares soldiers face -- earned Slayer its second Grammy nomination. Even reputable critics are giving the band some props.
"They are one of the very best American rock bands," said Greg Kot, a Wilco biographer who reviewed the disc for Sound Opinions, a radio talk show about rock. "What they do with a guitar, bass, and drums is unequaled in the history of modern music."
Slayer may be getting gray hair, but the band is spending its silver anniversary on the road. By the end of this tour cycle -- likely sometime in 2008 -- the band will be eligible for induction into the Rock and Roll Hall of Fame. But King doesn't see Slayer joining Van Halen, R.E.M., and Black Sabbath anytime soon.
"If it does happen, it'll be after it's important," he says. "If anybody gets in from this genre, it'll be Metallica, for sure. If we get in, it'll be an afterthought or [because of] pressure from fans. They won't say, 'You guys did a lot for the music, you changed shit, you need to be in today.' I don't expect that shit. We've always been the blackball band, the bad guys. Unless you're a fan, that's a bad thing."