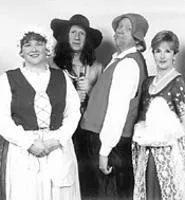 Johnny Appleseed (the dude on the right) and pals spread love in Berea.
Ohio's history pages are filled with notable folks: Thomas Edison, Jesse Owens, John Glenn, that cute girl on
Dawson's Creek
. The planners of
Ohio Chautauqua
, a traveling tent show of first-person historical portrayals, are hoping their lineup of history-makers is just as compelling.
"We want people to be able to learn about their own state's history and culture," explains Fran Tiburzio of the Ohio Humanities Council, which is presenting the outdoor festival in Berea Thursday through Sunday. "So the characters have to have an Ohio connection. There are lots of interesting people, but if they didn't pass through Ohio, we don't want them."
And it's no small feat that Berea snagged the Chautauqua this year (the first time, incidentally, that the three-year-old program is being presented in Northeast Ohio). Tiburzio says that Ohio communities must go through a grueling process -- well, applications are filled out and potential sites are visited -- to be one of the five areas chosen for Chautauqua. (Berea kicks off the season, which also includes stops in Xenia, Ashland, Archbold, and East Liverpool.) "It is a competitive process," she says. "People have to sell their community to us."
Food, drink, and souvenirs are promised, along with "five characters ripped from the pages of Ohio history": Pioneer John Chapman (better known as Johnny Appleseed), Iroquois Chief Logan, aristocrat Margaret Blennerhassett, frontiersman Simon Kenton, and Mary Draper Ingles, who was captured by the Shawnee tribe, escaped, and returned home to tell her tale.
Chapman's alter ego is the most famous of the bunch. "Johnny was very childlike," says Hank Fincken, the Indianapolis resident portraying Appleseed at Chautauqua. "There's an innocence to his character. I play him as an eccentric. But the difficulty is that what you come to believe about Johnny may have nothing to do with history. There's a lot of mythology. There are charming stories about the man who could sleep with bears, wore a pot on his head, and traveled all the way to California. That's all part of the mythology.
"You never quite figure a person out. There's always more to learn about a character."
Tiburzio says it's the attention paid to history's details that sets Chautauqua apart from other summer festivals. "We're trying to reach as many people as possible with as much stuff as possible," she says.
Or, as Fincken explains, "Johnny Appleseed was kind of a seed in himself, [sown] in people's memories. The hard part is bringing out the real Johnny in a way that people will still admire the guy. He's a worthy model for us today."