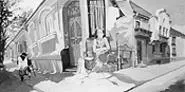 "Corner Seat," by Judy Harlan.
Returning to one's childhood home is usually a mixed experience. For some it's two parts nostalgia to one part bitterness; for others, it's a blend of ingredients that are difficult to isolate.
Judy Harlan seems to belong in the latter category. When the 46-year-old Cleveland artist returned to her childhood home in Romania recently, she had to contend not only with her own childhood experiences there as a Jew who was persecuted by Romania's postwar communist regime, but with the ordeals of her Holocaust-surviving parents, who were forced to leave Romania as adolescents for Auschwitz and Dachau. Harlan has turned to painting and drawing to express her feelings about herself, her parents, and her heritage.
She "rediscovered" her need to paint as recently as 1995. Though she trained at Cleveland's Cooper School of Art during the mid-'70s and for a few years thereafter pursued a career as a commercial artist, the creative urge was rekindled upon a visit to Oradea (her hometown in Romania). There she explored her early life and, in the process, aimed to develop a better understanding of her parents' traumatic past. She also has looked at her own past as an immigrant to the United States who continually felt lost and displaced during the late '60s.
Tracing Home, a show of Harlan's paintings, drawings, and prints, is now on view at Notre Dame College's Clara Fritzsche Library. In this body of work, Harlan shows viewers the results of her trek back to Romania (with her parents) and the lessons she learned there. The work exudes sincerity, and in places, it is starkly confessional. If one approaches this exhibit in the spirit with which it seems to have been offered, as a rapidly executed set of visual impressions that reminds one of diary entries (except in visual form), it is thought-provoking and relevant. In fact, the exhibit is most interesting for what it cleverly avoids doing.
Holocaust historian Raul Hilberg once said, "In all of my work, I have never begun by asking the big questions, because I was always afraid that I would come up with small answers." Hilberg went on to say that he preferred to initially focus on details and minutiae, so that he could then piece them together and give a fuller description of what happened. That's the spirit of this exhibit. Harlan puts things together piece by piece. Although we don't get the "fuller picture" that Hilberg mentions, this autobiographical exhibit nevertheless contains much that is of interest.
Some of the more effective work here deals with the artist's experiences as a newly arrived immigrant. When immigrants, such as Harlan and her parents, were permitted to come to the U.S. following the war, the transition was frequently fraught with language problems, financial difficulties, and a descent on the socioeconomic ladder. All that is encapsulated in Harlan's "Our First Year in America." It consists of two drawings of the Harlan family sitting in their living room -- one done in black pencil and the other in black crayon with periodic flights into color when dresses and shirts are described. Even these additions of color do little to alleviate the gray, dispirited feeling of the scene, in which each family member bears an anxious look. Most disturbing of all is the low ceiling: A young man standing at the foot of a staircase appears to be just a few inches shorter than it. By thus skewing spatial relationships, Harlan has found a way to visualize the sense of anxiety and confinement felt by an immigrant family that had not yet reconstructed its crumbled life.
Works such as "Our First Year in America" are contrasted with work that directly addresses the Holocaust. For example, one painting shows the artist's mother as a girl reading a book while being transported, with other victims, in a cattle car. A caption informs us that Harlan's mother, an avid reader, has always viewed reading as a way to help make unpleasant situations more tolerable. This is a work that, unfortunately, relies heavily on the caption and, unlike "Our First Year in America," does not find an effective way to make its point visually. The yellow light streaming through the window of the cattle car might suggest the role that reading played in the life of the artist's mother: a gleam of hope in an otherwise miserable existence. But this is facile symbolism at best.
Other works deal more successfully with such fragile material. In "2 Survivors, Six Million Dead," a frame that holds a drawing of two hazy adult faces is contrasted with another drawing just beneath it that consists of a blurry shape with no discernible edges. This blurry mass of muted purples and browns looks as though it was created by running dull bits of crayon across the paper. The idea here might be summed up in the phrase "survivor's guilt." The two blurry faces (the survivors) are not part of the six million dead (the blob of ill-defined color), but Harlan -- by using the same colors for both sections of the work -- might be suggesting that a part of these survivors has nevertheless died during the war, and that they should rightly be included among those who didn't make it. To seal the point, each drawing is connected to its companion via two metal wires that, in this context, suggest the barbed wire of a concentration camp.
Harlan's depictions of slices of life from her Romanian visit are, for the most part, admirably understated. There are scenes of town squares, elderly men hunched over maps, and elderly women with world-weary expressions. However, aside from the economical use of maps, as a way to signal that the feeling of being lost and the promise of finding where one is are twin concerns for the artist, Harlan relies on the fact that many of these people have numbers inscribed on their arms to drive home the Holocaust theme.
A work like "Corner Seat" bypasses this strategy, though, and it successfully suggests through indirection. In it, a centrally placed middle-aged woman sits on a street corner while, on each side of her, building facades stretch back into space. Next to the woman is a broom and a wash basin. The work nicely conveys an impression of a person who is completely at home in her surroundings. She might be involved in the daily drudgery of washing and scrubbing, but her corner seat is like a throne, and it's as though she presides wisely over this modest domain.
Bringing the immigrant theme full circle is a work called "Our 33rd Year in America," which balances the edgy uncertainty of the work dealing with the family's first year in America with a sense of optimism at its 33rd. The drawing shows some members of Harlan's family at a peaceful lakeside scene, with stretches of bright green grass, ducks, and a clear summer sky. If one didn't know better, one could say that work like this suggests that life is all serene contentment. How context counts. After seeing the rest of the exhibit, one is left in no doubt that this kind of peace has only been achieved after supreme effort.
Tracing Home includes the poetry of Andras Mezei, a Jewish-Hungarian poet and Holocaust survivor whose work meshes well with much of this exhibit. Harlan employs the poetry selectively (as captions to some of her works), and in truth, the visceral punch of Mezei (who describes scenes of soldiers forcing mothers to choose between their children and of Jews about to be executed recognizing their executioners and telling them, with gallows humor, to "shoot straight") sometimes gives a much-needed wallop to town scenes that, by themselves, don't advance the Holocaust theme. Perhaps that's the point. Visitors today to Auschwitz and Dachau sometimes express amazement that these dilapidated structures surrounded by weeds and fields were once the site of a killing operation that claimed thousands of lives daily. The present tends to mute the horrors of the past, and recognizing this, Harlan adds Mezei's words to jolt us back to the reality of past horrors. That, in the final analysis, is what exhibits like this are meant to do -- persuade viewers to remember what happened.
Though Harlan's work acknowledges the horrendous experiences endured by survivors like her parents, it searches for and finds a positive dimension of the Holocaust legacy. This positive dimension consists of a heightened sensitivity to Jewish culture and ancestry, and a belief in the healing power of art.
Charles Yannopoulos can be reached at cyannopoulos@clevescene.com.