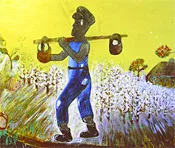 Alenka Banco remembers her husband's reaction the first time she bought a piece of Reverend Albert Wagner's artwork. As they examined Joseph and Mary swooning over baby Jesus, they noticed the paneling the piece was painted on had a bullet hole in it. "The reverend was so poor that he would paint on anything he could find. My husband said, 'Are you kidding?'" says Banco, whose Convivium33 gallery is displaying
Salvation of Reverend Albert Wagner: The Exhibition
through the middle of next month. "I didn't repair it, because I think it's part of the quality. It's one of my favorite pieces." Nicknamed "Black Moses," Wagner preached at the People Love People House of God on Cleveland's East Side. In 1975, at 50 years old, he picked up a paint brush for the first time. The collection of 40 portraits spans Wagner's career, until his 2006 death at age 82. "He had great respect from the best artists in Cleveland. They would hang out with him or drop off food," says Banco. "He had a strong relationship with the arts community." At today's 6 p.m. opening reception, authors Gene and Linda Kangas will peddle their Wagner bio,
Waterboy
, which they named after one of his paintings. Money from the book's sales will help keep Wagner's East Cleveland art museum in business. "Cleveland is special when it comes to the arts," says Banco. "The reverend was definitely a significant figure." The exhibit is on display from 11 a.m. to 2 p.m. Tuesdays through Fridays and 10 a.m. to 2 p.m. Saturdays and Sundays at Convivium33, 1433 East 33rd Street. Admission is free. Call 216-881-7838 or visit
www.josaphatartshall.com
.
Tuesdays-Fridays, 11 a.m.-2 p.m.; Saturdays, Sundays, 10 a.m.-2 p.m. Starts: March 14. Continues through April 13, 2008