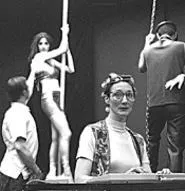 Mom gets ready to write some Hot 'N' Throbbing smut at the Liminis.
6/18-7/17
Hot 'N' Throbbing, opening Friday, is Convergence-Continuum's latest production about a highly dysfunctional family living in the modern world. In this case, Mom writes porn for women, daughter Leslie Ann may or may not be a lesbian, and Dad is "a drunk asshole," says artistic director Clyde Simon.
"They say all politics is local," says Simon. "How much more local can you get than the family?" Toss in some domestic violence and guns, and you've got the makings of one screwed-up clan. "The attraction here is that obscenity begins at home. We always think, those people. But those people are us people, if we just buy into the system."
Still, Simon says Hot 'N' Throbbing isn't to be taken too seriously. After all, this is a play in which the mother pens sex-heavy scripts in the comfort of her own home. "It's a sitcom situation," he says. "The characters she creates come to life and invade her life. It's a dark comedy with sex, violence, porn, and family life." Hot 'N' Throbbing is at the Liminis (2438 Scranton Road) through July 17. Show times are 8 p.m. Thursday through Saturday. Tickets are $9 and $12; call 216-687-0074. -- Michael Gallucci
W.A.R. Is Swell
Lady DJs rock the house most righteously.
SAT 6/19
"You can give your heart to Jesus, but your ass belongs to the Corps" goes a line in the Vietnam War epic Full Metal Jacket. But clubgoers associate gyrating posteriors with a different sort of W.A.R. -- the Women and Records DJ crew. "There was no party in town that was done solely by women," explains Noel, who spins hip-hop, funk, and soul. The bimonthly outing features Bonita (dlp) dropping '80s new wave and modern-day electro, and Ursula spicing things up with salsa and house. Other female warriors have played everything from Top 40 and disco to downtempo and breaks. According to Noel, the gals ain't lookin' to battle. "We just get a chance to hear and play the music that we want." W.A.R. is declared at 9 p.m. Saturday at Karma, 2000 Sycamore Street. Admission is $5; call 216-781-2500. -- Melody Caraballo
My Sweet Chord
Former metal singer hosts Krishna fest.
SAT 6/19
Erstwhile Spudmonster Don Foose goes by a different name these days -- Dayal Nitai Das. It means "servant of the mercy of God," explains the singer of the defunct hard-rock band and organizer of Saturday's Ratha Yatra Festival of India. "I always thought [Krishnas] were freaks at the airport, giving out flowers and trippin' out on some crazy peace buzz." After a perusal of the guidebook On the Way to Krishna, Foose was hooked. His conversion has resulted in the annual food-and-music fest -- which includes performances, a smorgasbord of vegetarian eats, and a traditional wedding ceremony. It happens 11 a.m. to 7 p.m. at Lincoln Park, 2409 West 14th Street. Admission (and food!) is free; visit harekrishnafoodforlife.com. -- Lucy McKernan
Indian Summer
6/18-6/20 Fresh from winning a 2003 Native American Music Award for Ride the Lightning, Cherokee flutist Douglas Blue Feather is the headliner at the 10th annual Competition Powwow, three days of Native American drumming and dancing contests. It happens from 2 to 8 p.m. Friday, 11 a.m. to 8 p.m. Saturday, and 11 a.m. to 6 p.m. Sunday at Edgewater State Park, 6500 Cleveland Memorial Shoreway Northwest. Tickets are $8; call 216-351-4488. -- Cris Glaser