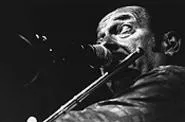 Ian Anderson, the world's foremost heavy metal flautist.
Midway through the conversation portion of Ian Anderson's appearance at the Rock Hall, Anderson was asked how difficult it was for him to quit smoking. The question might seem banal, but what else do you ask the leader of Jethro Tull -- a guy who used to wear Victorian waistcoats and tights, and dance like a dervish while playing the flute on one leg. Granted, Anderson wasn't decked out in old-fashioned threads (he wore contemporary black slacks and a button-down shirt) and had what little of his hair is left trimmed short -- but his new look doesn't mean that he has become any hipper. Try as they might, the interviewers just couldn't get anything interesting out of Anderson, who told one too many jokes about Jimmy Page's "dirty Polaroids" and, at his most intellectual, attempted to draw analogies between playing music and painting (his other love). The sold-out crowd didn't seem to mind, though, and treated him like a war veteran, standing to applaud as he came onstage and exited.
The performance portion of the show wasn't any more exciting than the conversation. Anderson played a handful of songs from his new album, The Secret Language of Birds. Playing flute and singing, Anderson performed all the songs to the accompaniment of a CD, on which was recorded the rest of the music (Anderson played virtually all of the instruments on the studio version of Secret). He introduced songs such as "The Secret Language of Birds," "Postcard Day," and "Boris Dancing" respectively with boring stories about waking up to the sound of chirping birds, his distaste for "tropical holidays," and witnessing Boris Yeltsin dancing. Anderson pulled out an Indian bamboo flute for a song from Tull's last album, J-Tull.com, but it didn't help any -- the music, more new age than rock and roll, still sounded like Windham Hill leftovers. It was only on the closing track, Aqualung's hard-rocking "Locomotive Breath," that Anderson hinted at why Tull has sold some 60 million albums over the course of its career. Talk of eventually inducting Jethro Tull into the Rock Hall might have been bandied about at this show -- but it's more likely that the group will go down in rock history as the band that stole the Grammy from Metallica.