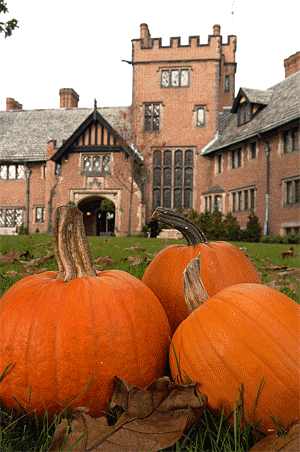 The Cleveland Museum of Art's Robin VanLear welcomes autumn with scarecrows at Stan Hywet's 40th annual
Ohio Mart
. Instead of using burlap for the face and straw to stuff the body, Van Lear created the 20 "culture crows" from plywood. She then shaped the eight-foot-tall monsters to look like telephone receivers and staircase banisters. "She came into the museum one day, looked around, and found items that inspired her to design them," says spokeswoman Donna Spiegler. "It's a pretty cool interpretation of the modern-day scarecrow."
Once you get past them, more than 100 artisans from across the country will hawk everything from jewelry and candles to teddy bears and Santa Claus dolls. It'll also be the last chance to see the museum's butterfly exhibit in its conservatory before it shuts down for the winter. But don't be surprised if the monarchs and 30 other butterfly species are a tad cranky. "Butterflies do not like it cold. They like it hot and sunny," says Spiegler. "We've jacked up the humidity to keep them happy enough to fly right up to you."
Oct. 5-8, 10 a.m.-5 p.m.