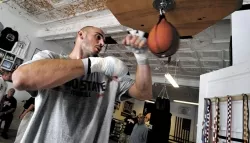 This time last week, Youngstown boxer Kelly "The Ghost" Pavlik, the WBC and WBO middleweight champion, was 34-0 as a pro ("The Hero," October 1). The streak is over. On Saturday, October 18, Pavlik resoundingly lost a non-title match to Bernard "The Executioner" Hopkins. Hopkins, 43, is a future Hall of Famer, whose 10-year stint as a middleweight champ is a record. B-Hop was 3-1 in his most recent fights.
Pavlik was heavily favored. In all the pre-fight analysis, pundits found just one weakness in Pavlik's defenses: his weight. Pavlik normally fights at 160. Last October, he fought Jermain Taylor at 166; with the extra pounds, the Ghost looked sluggish. He weighed in at 169 on Friday. (Hopkins, who successfully made the leap to light heavyweight, weighed 170.) What a difference nine pounds made.
Hopkins dominated the fight, bloodying Pavlik's nose and giving him a welt under his right eye. By the seventh round, Hopkins was taunting Pavlik and winding up, Ali-like, before punches. Pavlik went the 12-round distance but lost a unanimous decision. ESPN.com titled its coverage of the match "Ghost Buster."
"I just could not get off tonight," Pavlik told the Associated Press. "It just wasn't me tonight. I'll be more comfortable going back to 160." Team Pavlik did not respond to Scene's requests for comment. On Monday, the blog on Pavlik's official web site (teampavlik.blogspot.com) noted, "An injured elbow coupled with antibiotics to treat a case of bronchitis may have diminished Pavlik's strengths. Pavlik's usual energy, punch volume and snap were non-existent from round one."
Hopkins - who had been uncharacteristically restrained in his remarks before Friday's in-your-face weigh-in - settled down after the bout ended. "Don't let this fight destroy you," Hopkins told Pavlik. "You're a great middleweight champion. You have a great heart. Keep your head up." - D.X. Ferris
DEVELOPMENT HELL
The Dead Matter - a vampire-ghost movie written and filmed in Northeast Ohio over the past couple years - won't be alive in time for Halloween. The project represents the next level in multimedia horror for the Midnight Syndicate, the locally based musical franchise that provides spooky music for theme-park rides, movies and role-playing games.
Syndicate co-founder Edward Douglas co-wrote and directed the flick with fellow Northeast Ohioan Tony Demci. The movie stars Tom Savini, the special effects icon-turned-actor who might be best known as the biker Sex Machine in From Dusk Till Dawn. The movie also stars Andrew Divoff (the one-eyed Russian from Lost) and Jason Carter (Marcus Cole from Babylon 5). But most of the cast is local, including Big Chuck from the long-running TV showcase The Big Chuck & Lil' John Show.
"We're in the final stages of post-production," says Douglas. "The movie will be done in January. And we've had interest from distributors. In the end, the distributors will decide when it's being released. The premiere will be in Cleveland, though. Absolutely."
The Syndicate has partnered with goth retailer Hot Topic to promote the flick. Even though the movie isn't ready, a trailer is available at Hot Topic's t3nth1rtyone.com ("10-31") Halloween web site, but it's easier to type in deadmatter.com and follow the links. - Ferris
ARE YOU ROCKING HARDER THAN YOU WERE FOUR YEARS AGO?
Def Jam/Phat Farm co-founder Russell Simmons visited downtown Cleveland recently, with LeBron James in tow, to mobilize the urban and hip-hop crowds to register to vote. Simmons was here on behalf of the Obama campaign, though James wisely kept it neutral and didn't mention candidates.
But Scene writers don't have to sell shoes or tickets, so we can weigh in with relative impunity. I'm already sold on the Dems - or, as I like to call them, The Good Guys - but the Rap the Vote campaign got me wondering: How is the heavy-metal crowd going to vote this year? So I asked around. Here's what your headbanger delegates had to say.
"I'm going to vote for whoever's best for the job," says Akron's Tim "Ripper" Owens, the former Judas Priest frontman and current working-class all-star. "And right now, I'm not sure either one of them [is best]. If I was a parent, and I am, I don't want McCain, because you'll have war. And Obama is young, and [with] Democrats, you'll be taxed out the yin-yang. [Author's note: I think that's just if you make more than $250,000 a year - at least that's what Biden said. Ripper does pretty well, but we'd be surprised if he's doing that well.] I think they're both good on some issues, but I think there's better people. And you throw Palin in there, and it's like putting concrete boots on. I'm not a Democrat or Republican."
Ripper's on tour with guitar hero Yngwie Malmsteen but says he'll be home on election day, so he won't have to cast an early vote. Also present on November 4 - or, as we call it in my house, The Day the Nation Will Choose Between Having a Future and Careening Toward Total Armageddon, Winking and Grinning All the While - will be Roger Ganley, host of WRUW-91.1 FM's weekly Children of the Metal Movement show.
"I've always been a Democrat," says Ganley, who transferred his allegiance from Clinton to Obama. "No party is ever perfect, but [the Republicans are] more worried about what's going on everywhere else than what's going on in this country. If the Republicans get back in, it's just going to be worse. Look at what's going on with the dollar - Canada was stronger than the U.S. dollar for a minute there. The country has gotten worse since the Republicans got in."
Ganley also points out that metalheads have an unfair rep as being conservative. That's probably spilled over from gun-toting longhair guitar-man Ted Nugent, who casts a long shadow.
"A lot of metal people are Democratic, contrary to what the popular belief is," says Ganley. "Most metal people are pro-choice, pro-drug, less-government. They're more open-minded than people give them credit for - we've always been picked on. We've always been the outcasts."
With the hard rock/metal vote potentially split, we turn to Red Giant frontman Alex Perekrest for a tiebreaker. "Obama," says Perekrest, who volunteers for Democratic political action group Progressive Future. "Because he wants to end the war in Iraq as soon as possible. I want to reverse everything Bush did, and with McCain, that's not going to happen. In a perfect world, I'd vote for someone Constitution-based like [independent presidential candidate] Ron Paul, but I can't risk it this time." - Ferris
SOMETHING NEW TO WORRY ABOUT
"Gene," a resident of Lebanon, found a very odd photograph when she imported the sunset pictures she had taken last Monday into her computer. One picture clearly shows a metallic object floating in the sky above a church. An enhancement of the photo reveals a classic "drone" shape, rounded with appendages, but no clear method of flight. Some believe that these drone photographs are simply hoaxes perpetrated by computer geeks with Photoshop skills. Others think the drones are military craft that use cloaking technology stolen from crashed alien ships. Decide for yourself by viewing the "evidence" at ufocasebook.com.
HAIRY SITUATION
Warning to turkey hunters in Gurnsey County: Bow hunters recently encountered a large creature with reddish-brown hair, according to a report posted at bigfootdiscussions.invisionzone.com. It is suspected that the beast they encountered was a Bigfoot, most probably an Ohio Grassman. Bigfoot, of course, cannot be proven to be native to this region, and so you do not need a license to shoot on sight. Just be sure to look for a zipper first.
IT'D BE FUNNY IF THEY WEREN'T SERIOUS
The Akron Fossils & Science Center's fourth annual fundraiser will take place November 1, to raise money for the Copley museum dedicated to educating Ohio's youth on the true history of our planet - that is to say, the one where the Earth is 6,000 years old and where it was cowboys, not a meteor, that killed off the dinosaurs.
ROAD TRIP
Mansfield Reformatory in Mansfield, best known as the prison from The Shawshank Redemption, is open for tours during the Halloween season. Local ghost hunters consider the prison to be a hot spot for paranormal activity due to the decades of bad mojo that seeped into its stone walls, and they often capture orbs and rods in photographs taken near the solitary confinement wing. The all-night ghost tours have already sold-out, (start making plans for 2009!) but until November 1, you can visit the prison's very own haunted house, "Prison of the Evil Dead," Thursday through Sunday nights for $15. Visit Haunted.com for more info. We want to believe. Alert The O Files at scene@clevescene.com