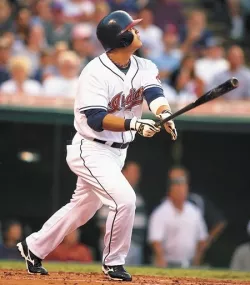 This is the first in a series of previews looking at the 2009 Indians. In each installment, I'll chat with a Tribe writer/blogger. Today's guest: Steve Buffum, who contributes a regular column to TheClevelandFan.com.
VG: Culprit numero uno in the Tribe's summertime malaise was the bullpen. Who solidified themselves as go-to guys next year? Is a bonafide closer that big of a deal? Could Jensen Lewis serve adequately in that role?
SB: Yeah, since 2005, the team goes as the bullpen does. The correlation is striking, and it hurts my eye.
The question isn't whether that closer is important in the abstract, but whether it is to the Indians.Listening to Eric Wedge, who thinks the whole bullpen rotates around the hub of the closer, I'd say for this team: It is. The only guys I'd be happy to have in next year's BP are the Raffies and Lewis. Juan Rincon must die.
But Lewis showed me enough that unless the team can get a Really Good Closer, Lewis can do at least as well as the next tier.Expecting that all the Really Good Guys (Lidge, Rivera, Nathan, Rodriguez) aren't coming, I'd say about the only guys I'd really pick over Lewis, who could possibly be acquired, are Scott Downs, Brian Fuentes, Heath Bell, Grant Balfour or Kerry Wood.
On the subject of Eddie Moo or Masa Kobayashi, I invoke the Thumper Rule.
Bullpens are unpredictable, but the rotation shouldn't be. Yet the Indians go into the 2009 season with, let me see, carry the three … zero "sure things." Yes, Cliff Lee was extraordinary, but he also pitched a career-high in innings. Fausto Carmona's command: excrement. Jake Westbrook: out 'til after the break. Anthony Reyes might or might not be hurt. The other lefties - like Laffey, Sowers, Jackson and Scott Lewis - are untrustworthy or mooks or both. Who starts for this team in 2009? Do we need to acquire another established starter? How many?
VG: The assumption -- and yes, that is a critically dangerous word when forecasting performance, as we saw this year -- has to be that Cliff Lee regresses a little bit but is still the Ace We Sorely Need. In the same vein, 2009 Fausto should be (has to be!) closer to the 2007 version than the injury-marred, spring-training Ricky Vaughn self of 2008. Both cases obviously depend on their arms being healthy (knocking on Jhonny Peralta's hands).
Slots 3-5 are muddled, and while it would be nice to see Shapiro go out and get a proven arm, it seems the focus from the front office is on an infielder and the bullpen, and correctly so. Like the issue of the closer, it's a question of what this team needs the most and whether you get the most value from free agency or the trade market. With middle of the rotation arms coming at a hefty price, they'll probably add a younger starter by jettisoning some prospects. If some serviceable rotation of soft-throwing lefties like Laffey and retread arms like Reyes eat up enough innings and can hold down the other two spots, the rotation should be less of a question mark than it first appears. Just look at what the Tribe did in the second half -- albeit under no discernible pressure -- with the Brady Bunch of starting rotations.
If that's the case, however, the Indians will have to do what they didn't do the first two months of last season, namely producing hits that allow men to safely cross home plate. There's a smorgasborg of issues there. Let's start with one Kelly Shoppach. Stay or go?
SB: I always get a chuckle when people declare someone as untouchable. Really? Untouchable? Hey, I have a family heirloom from the 1800s that has a lot of sentimental value. It's yours for a billion dollars. With that money, I can hire a hypnotist to convince everyone in my family that the replica I'd commission was the real thing.
The way to look at this is that Shoppach is a very valuable asset, one that you won't "sell" for less than "more than he's actually worth." Would you trade him for Tony Pena Jr. just to avoid his arbitration years? Of course not. That would be asinine. Would you trade him for Tim Lincecum? Of course you would. That would still be asinine, but you'd be the asininee instead of the asininer.
Shoppach is a valuable, near-everyday offensive force with defensive value at a premium position. If he's on the roster in 2009, he'll be a real contributor. But if you can get an established good starting pitcher for him - say, a Jake Peavy - well, ultimately, that's what assets do: They get exchanged for something more valuable. I say you make it known that Shoppach can be had for a great package and accept nothing less. If you wonder if the other guy is offering enough, he's not, and you keep him. And that's OK. … What about Jhonny Peralta? I feel like I'm in the distinct minority when I see him as a net asset at shortstop. Would you move him to third, left, second, or Pittsburgh, or go get a 3B and leave him at short (and Cabrera at 2B)?
VG: I laughed when Eric Wedge recently said the following about Jhonny Peralta: "There is always going to be that ball that is just off the glove. But he's as good as anybody in the game, if not the best, at the routine play." On the most literal level, that is just plain wrong. That is Sarah Palin incorrectness there. He made 14 errors this year, which was middle of the pack for SS. The correct statement would have been: "Jhonny is an entirely average, adequate, common, humdrum and unremarkable fielding shortstop on balls hit directly at him."
But the subtext of what Wedge said is more interesting. He's tacitly admitting that balls hit directly at Peralta are the only ones he gets and seems okay with that. Sorry, but that's not good enough for me. Stick Jimmy Dimora at short with a glove and hit balls directly at him, and I'm sure he'll field the majority cleanly, given enough practice. That's not what the position needs - nay, demands. Peralta's zone rating (which basically calculates how many balls hit to the general SS area a fielder records for an out) hovered around .808 - second worst in all of baseball.
His completely sub-pedestrian play at short isn't good enough reason to move him, though. That depends on finding a second baseman (hello, Brian Roberts!) who can make a legitimate difference in the lineup. The fact that Roberts or someone else of his ilk could step into the leadoff spot, and thus make it possible to move Grady to the three-hole, are all potentially huge bonuses that make it worth exploring.
Let's jump to the outfield momentarily. Shin-Soo Choo has obviously solidified a spot for himself in the everyday lineup next year after pulverizing the ball. (If the Indians don't do this, they are stupid. That much is clear). Does Francisco have the other side locked up? Is he a placeholder for Matt Laporta or someone we may come across in trade/free agency in the next year?
SB: Yeah, Francisco's just a guy.ÊHe's better than Dellucci or Michaels or the desiccated husk of Trot Nixon, but he's a guy. He hits OK, but not actually well (.266). He gets on base OK, but not actually frequently (.332). He hits a few homers, but he slugged .438. My problem with Francisco is that he is a dead, dead, dead pull hitter. He pulls everything. You might argue that he could still improve, but I'd counter that the league might simply throw him nothing but sliders away, and he'd be toast. This having been said, he's adequate. If you have limited resources, you address the enormous sucking wounds before the mild sprains, and if we went into next season with Choo, Sizemore, Francisco, Gutierrez and Dellucci, it'd be OK. But yeah, he's a placeholder.
Speaking of sucking wounds, which of the Very Slow Three contributes anything of note next season: Victor Martinez, Travis Hafner and Ryan Garko?
VG: I'm not even going to fathom a guess on Travis Hafner. I feel like he could swing wildly his first at-bat and send his right arm helicoptering into the stands, or he could play a productive, yet diminished role in the offense.
Victor will be Victor. I think you'd be hard-pressed to find an individual who watched what he did after the injuries and tell you he's not going to be the same double-machine he was when healthy. Bad things happen when you try to play with one arm and one leg. Just ask Andy Marte, who seems to be lacking both appendages.
Garko … well, Garko is where I have a beef. He racked up an absurd RBI total (90) given his long streaks of ineptitude, and that number is certainly deceiving. He strikes out a lot, and for a "power hitter" he has no power (.404 slugging percentage). I don't care that he had the most games with more than 5 RBI in the majors this season (4). If there is a "placeholder" on this team, it's Garko. It seems the easiest void to fill, and also the one we can afford to fill at our leisure. Put it this way: If Garko is batting eighth, and is in no way relied upon to hit for power, then he's OK. If for whatever reason - injuries, suckitude, Hafner quitting baseball to be a body double for Javier Bardem - the Indians demand more than that, they're in trouble.
Quick hitters: Do you pick up Jamey Carroll's $2 million option?
SB: Absolutely, easy call. The distance between him and Mike Rouse is staggering. You need a guy like that who won't be a huge drop-off, and if he's overpaid by $1M, who cares?
Is Andy Marte on your roster next season? Are the Indians too gun-shy after the Brandon Phillips debacle?
VG: Andy Marte is done. He gave nary a sign that he could even be a Jamey Carroll-caliber role player. He also gave nary a sign that he could fend off a flock of geese with a bat.
Rafael Betancourt: 2007 version or 2008?
SB: Split the difference. That'd put him right around his career ERA of 3.23, which is a fine reliever.
My bullpen: Betancourt, Perez, J. Lewis, Meloan, Kobayashi, Rundles, New Acquisition.
Eddie Moo takes Kobayashi's place when he breaks down. Yours?
VG: I'm not even sure. Your list looks about right, though Meloan and Rundles could and probably will hop on the Buffalo carousel as the likes of Jeff Stevens finally get a shot in the pen. Just weird to think Betancourt and Perez will be the "vets" of the group, save for Totally Kick Ass Unnamed Relief Pitcher Free Agent Man.
Yes or no: Eric Wedge grows a fu-manchu, and the facial-hair corollary, will there be room for Sal Fasano on the team? (This is really irrelevant to winning, I just like the man.)
SB: Wedge has been permanently intimidated by the quality of Fasano's 'stache, and is even money to shave his entire head in shame. Sadly, even if Shoppach is traded, Fasano must look elsewhere for employment with guys like Santana, Toregas, and Teddy the Wonder Lizard in the system. Asdrubal Cabrera: capable of growing facial hair?
VG: Chin only, and limited to exactly seven sprouts of hair - though this is enough to make Scott Lewis insanely jealous to the point of contemplating using a permanent marker to address the issue. Will Fausto ever wear a hat that doesn't have the MLB hologram sticker still firmly attached to the underbrim?
SB: Yes, it will now be a picture of Gary Sheffield to motivate him.
Brian Slocum: Terrible pitcher or most terrible pitcher ever?
VG: Ever is a long, long time, and while it's hard to say for sure when you're talking about that kind of spectrum, I humbly congratulate Mr. Slocum for even being in the conversation. It's one of those "it's-an-honor-just-to-be-nominated" kind of things.
Faster: Ryan Garko or the field in the hot dog race?
SB: Does the field include a glacier? I'd have to go with the field, especially in these times of global warming.
Best depth perception: Joel Skinner, Dale Sveum or Leela from Futurama?
VG: Leela, hands down.
Alright, we know what the Indians want, we know what they need. What do you think they'll get?
SB: There are three categories here:
1) What I think they need; 2) What I perceive the front office to think their priorities are; 3) What is actually acquirable, from either an availability or monetary perspective.
I mean, I think everyone would agree that having Mariano Rivera, Albert Pujols or Lance Berkman on this team would make it better. This isn't going to happen because of item (3). And I'm going to rule out things like signing C.C. Sabathia because someone will give him a sixth and maybe a seventh year, and that team isn't Cleveland.
Item (1) is easy: We need a good starter, a reliable back-end relief pitcher, either a 2B or 3B depending on how you view Peralta, and a corner stick (LF or 1B in particular). That's a lot in one off-season.
Item (2) is reasonably easy to determine from press releases and such. The team wants an established Closer With A Capital C more than anything, with Lewis as a backup plan. They'd like to get an infielder and use whatever's left over for a corner stick. I haven't heard them talk about acquiring a starter.
In my opinion, they're going to get a closer. They made a run at Trevor Hoffman before, but I think that ship has sailed. I see a few targets (not necessarily mine): Just looking at a raw list of pitchers with 20-plus saves and an ERA under .400, I see Jose Valverde, Kerry Wood, Brian Fuentes, Kevin Gregg, Salomon Torres and Matt Capps as being guys you could possibly get. Fuentes has been mentioned too many times. Torres remembers The Six Million Dollar Man. I see one of the other four in Cleveland: I'll say Capps, Gregg, Valverde, Wood in that order of likelihood. I see the oft-mentioned Brian Roberts (2B, BAL) as being too expensive. I'd rather get a 3B anyway. I fear Garrett Atkins' home-road splits. Joe Crede's back scares me. Ex-Tribesman Kevin Kouzmanoff's OBP was abysmal. I barely survived the high winds of the Russ Branyan era once. I'd like to make a play for Adrian Beltre (SEA) or Edwin Encarnacion (CIN), with the caveat that Encarncion's defense is, um … ungood. The other approach yields Dan Uggla (FLA), whichever of Mike Fontenot or Mark DeRosa the Cubs don't want, or gambling on Orly Hudson to heal properly. I would go with Beltre, and expect the Indians to end up with Atkins, Florida's Jorge Cantu (see Encarnacion), or KC's Mark Grudzielanek, which would injure my lymph nodes. I have lots of starters I'd try to acquire and expect none of them. I think we'll somehow end up with Brad Hawpe, the Colorado OF. Not my first choice, but he has a tiny home / road split (unusual for a Rockie) and a smallish left-right split. He's a natural RF, but I don't see why he couldn't play left at least as well as Francisco, he of the wicket legs. And, ultimately, that's a better team.
vgrzegorek@clevescene.com