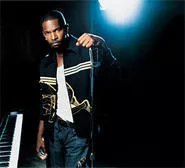 Jamie Foxx's Unpredictable Tour is a celebration of Foxxness: First he does some stand-up, touching on Britney's recent "cootenanny" moments, while also setting his hooks into Oprah, Michael Richards, and Prince. After that he does a set of romantic, sexed-up crooning for the ladies, culling material from the Grammy-nominated Unpredictable. He then gets behind the piano and morphs into Ray Charles, flashing back to Ray, reminding the crowd that he's an Oscar winner. "But I'm a nigga too," Foxx reportedly said at his recent show at Madison Square Garden. Obviously, success (let's not forget Dreamgirls and Foxxhole, his new Sirius channel) has not gone to his head.
"This is the best show, I believe, that I've done, because I get to put the things that I love most together," says Foxx, en route to Sundance. "It's one of those shows where you can really get it all in." But reviews of his Garden show have been pretty harsh. He's a big talent, they all say, but he's cramming too much into one show, making it unfocused. The New York Times compared it to an "old-fashioned variety show" that needed more guest stars. Newsday tagged the Ray Charles mini-set "a cheap gimmick." And the New York Post, in its usual style, simply called him "Cockamamie Jamie."
When asked if he read the unkind reviews, Foxx says no and whispers in an almost comically shocked voice, "What are they saying? What are they saying?"
They're saying it just might be too much Foxx, Mr. Foxx. He then says he doesn't read reviews, and people are just going to have to see it for themselves. "I get it done," he says, irritated. "How do you get it done?"