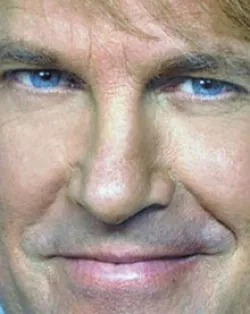 John Tesh became a nationally known figure when he hosted the syndicated celebrity-driven Entertainment Tonight in the mid-'80s through the mid-'90s. However, Tesh, 56, was a sports reporter and a news anchor before taking on ET duties. He's also part of the new-age and Christian-contemporary scene as a keyboardist, guitarist, saxophonist and vocalist, and has focused on music since leaving ET a dozen years ago. In a recent phone interview, Tesh talked about his passions: his wife, music and television work.
You've got some mad skills. Is there anything you can't do?
I have limitations just like everybody else. I just do some things that get some publicity. People focus on your entertainment coverage and your new-age stuff, but some of the coolest stuff you've done is the television instrumentals, like "Roundball Rock," which was used by the NBA during the '90s. It hits so hard that Nelly sampled it.
The TV themes I did were challenging. You have to get right to it. Sometimes you have about six seconds [to connect with the listener]. That's pretty immediate. I did a lot of music for downhill ski races, which is very, very fast and powerful. I also did music for the Tour de France. I love doing that kind of music. That big, bombastic type of music is fun to do.
Some guys who work on the periphery of sports are athletes and some aren't. Are you an athlete?
I'm a runner. I've run a couple of marathons. I like to participate as well as watch sports.
Why are some of the best broadcasters sports guys? They blow away the news anchors.
I agree. Bryant Gumbel is tremendous at whatever he does. Al Michaels is brilliant. I can't imagine anyone handling the [1989] earthquake at the World Series years ago better than him. He was just exceptional at a very difficult time. That turned from a sports event to a news event, and he was amazing. Jim McKay pulled off the same thing during the 1972 Olympics in Munich. Right, Jim McKay was as good as it gets during the Munich massacre. You have so much going on in front of you, and then there is what's going on in your ear when you're covering on television. It's more challenging than people think.
But then you focused on your music.
Music has always been such a passion of mine. I couldn't turn my back on it. I thrive on playing music. I can't think of anything I enjoy as much as music.
You're known for gospel and new age but is there any style of music that you're passionate about that you don't perform?
I'm a '60s guy, so I love Jimi Hendrix. I saw Hendrix at Woodstock, and I love listening to him to this day. You don't always play the music you love, and I love the rock from the '60s. I'm also a big fan of orchestral music. I'll listen to soundtracks and they'll give me ideas for melodies. I'm constantly listening to music. I don't lock myself away. I try to stay as open as possible. I'll play along with different radio stations in my office. I'll play along with a classical station and then switch to hip-hop and then rock. I love music.
You get a lot of jabs from the media. How do you deal with it?
I don't let anything like that bother me. I just focus on what I need to focus on.
You get so much grief for being a good family guy. Does that bother you?
No. The truth is that it's so much easier to be bad than good. It's easier not to take a stand in life. I would rather do the right thing, even if it's not a fun thing to do. Life isn't easy, but I think we should try to make things the best they can be.
And then there's your amazingly hot wife (actress Connie Sellicca).
She's my rock. I don't know what I would do without her. She reminds me of how wonderful my life is - not that I need to be reminded.
music@clevescene.com