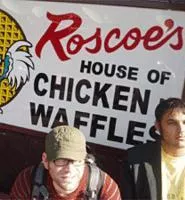 At the Mercury Lounge,
every
Wednesday night is a great way to go over the hump. DJs Jugoe and Onit start the night with downtempo and Latin breaks, like choice Tito Puento remixes. As the night wears on, the tempo picks up, and by the time your buzz kicks in, they're unleashing surefire dance tracks -- if a little Baltimore club music from Spank Rock doesn't get the floor moving, a mashup of ODB's "Got Your Money" and Tom Tom Club's "Genius of Love" will. This week, DRM -- CEO of New York City's Bastard Jazz label -- will join the party, and you can take home Jugoe's original mix-and-mashes with
Bstrd Boots Volume 1
, bootleg EP split with Dallas' Hydroponic Sound System.