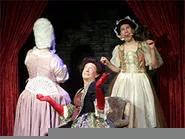 Wes Shofner (left), Clyde Simon (center), and Stuart Hoffman find joy in the transgendered life.
One of the enduring truths of actors is that costumes can have a transformative effect on their ability to play a given role. Countless thespians have admitted that they were floundering in search of a character until the costume showed up during rehearsals. Everything then fell into place.
Given the right getup, a person can discover his inner cop, clown, or Nazi. Or perhaps his inner 18th-century Frenchwoman. That's what happens to three Depression-era midwestern chaps who explore the outer reaches of their identities in Act a Lady, now being produced by Convergence-Continuum. Playwright Jordan Harrison has created a riotously farcical play-within-a-play, melding and reshaping both language and gender into an evening of gloriously goofy moments and startling surprises.
A trio of ordinary fellows -- brother Elks in the small town of Wattleburg -- decide to put on a fund-raiser for the kids in town. They agree to mount a melodrama set around the time of the French revolution, with themselves as the leading ladies. It's an idea instigated by middle-aged Miles, with the help of his buddies True and young Casper. But the whole plan infuriates his wife, Dorothy, who trills self-composed fundamentalist ditties ("We're stompin' on the devil's toes!") while accompanying herself on the accordion. She considers men dressing up in flimsies the nexus of evil, and only agrees to let Miles participate if he signs a promise to never ask for anything weird again.
So the show is on. To help them create their illusion, the guys bring in a butch feminist director named Zina and makeup artist Lorna. As rehearsals progress, we observe each of the men swerving in and out of their new feminine personas before ultimately confronting their male identities, as performed in drag by the women.
Confusing? You bet, and that's why it's fun. The six-person cast, under the skillful direction of Arthur Grothe, is led by Con-Con co-founder Clyde Simon as Miles. But his major role is Romola, the aristocratic friend of the scheming Countess. Mincing about in a voluminous gown, Simon is a sadly faded flower as Romola. But after the Countess sabotages her carriage, killing her, Romola returns from the grave. This gives Simon the opportunity to dive headfirst into a wild-haired portrayal of teeth-gnashing zombie zaniness that is without a gram of subtlety, but is flat-out hilarious.
The (barely) closeted Casper plays the gentle but devious Greta, maidservant to the Countess. Using his drag costume as cover, Casper tries to come on to chunky True -- a tanner who is a bit perplexed by his adoption of the role of Countess. ("I wish it was harder to be a woman; it would make me feel more like a man.") Stuart Hoffman is sweetly amusing as Casper/Greta, gazing into a mirror as he tries to suss out his place in the world. As True, Wes Shofner lacks the magnetism necessary to draw the attention of Casper (and also Lorna), and he doesn't submerge in the Countess role sufficiently to bring out all the playwright's clever nuances.
Denise Astorino is sharp and compelling in the less showy role of Lorna, a jovial gal who uses her cosmetic skills to transform faces. Her description of Hollywood's Gish sisters, detailing how their peach fuzz catches the light and makes them glow, is entrancing. The no-nonsense, perceptive director Zina (upon meeting Casper she says, "I know one of you when I see you") is given a tenacious and often amusing turn by Lauri Hammer. But her large scarf and cropped-pants costume seem a bit too chic -- it wouldn't look out of place at Legacy Village on any Saturday afternoon -- and it does little to evoke who Zina really is.
Then there are the significant contributions of one Lucy Bredeson-Smith. A regular with Convergence-Continuum, the thin and angular Bredeson-Smith is consistently excellent. Here, she assays the role of initially narrow-minded Dorothy with exacting vocal precision (it seems as if she's dicing her words with an ice-hardened stainless-steel blade). As Dorothy softens and begins to understand the art within theater, she admits that she saw her husband's show and "went somewhere . . . and I'm not sure I totally came back." Even in this exaggerated work, Bredeson-Smith is believable and rivets one's attention.
While some of the gender switchbacks don't entirely succeed -- in particular, Lauri Hammer as Casper's male alter ego falls flat -- the identity carousel that playwright Harrison sets in motion describes a very real circle of life. We are -- each of us -- a mixture of many genders, ranging on a scale from absolute feminine to absolute masculine. And the best idea, which this production achieves wonderfully, is to go out and have fun on that continuum.