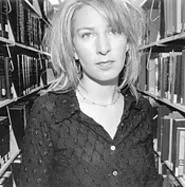 Dore amid the books -- just like Lucinda Williams might do.
Last year, singer-guitarist Florence Dore played one of her best shows in Cleveland. An English professor at Kent State University at the time, Dore landed the opening slot for oddball singer-songwriter Robbie Fulks at the Grog Shop -- her most high-profile gig since moving here. Up until the Fulks show, she had played with a makeshift band composed of Hillbilly Idol guitarist Al Moss and stand-up bassist Bill Watson. While Moss and Watson are great players, this show represented the chance to make a real impression.
Dore decided to bring in the members of her New York-based band. Bassist Scott Yoder was already in town visiting relatives, and drummer Dennis Diken made it in smoothly. But guitarist Chris Erikson, who was flying in from Brooklyn, was bumped from his flight and got to Cleveland hours after he was supposed to, missing a rehearsal. He arrived at the Grog Shop just in time to "grab a beer and get on the stage," as Dore puts it.
"He kept leaving the airport and almost going home, because it looked like it almost wasn't happening," Dore recalls. "But we had a gig. The nature of performance is that you have to cope with whatever comes your way. It was a particularly challenging show, but it turned out really well."
That Dore was able to pull it off is symbolic of her perseverance. After playing in various country, punk, and rock acts for more than 10 years, she has finally self-released her first full-length CD, Perfect City. The title track is a song Dore wrote about New York, and "Wintertown" is an ode to Kent. Dore has lived in her share of places: She grew up in Nashville, went to high school in Washington, D.C., then attended Weslyan University in Connecticut. After finishing school, she moved to Boston and played with Erikson, whom she met at Weslyan, in a punk band called the Myrtles.
One of the Myrtles, Chris Poppin, later joined Fuzzy, an alterna-pop act that put out a record through the now-defunct TAG/Atlantic label. Fuzzy introduced the Posies to Dore's song "Christmas," and they liked the track so much, they recorded it for Just Say Noel, a seasonal album that came out five years ago on Geffen Records. "Everybody likes a sad Christmas song," Dore says of the track, which is about spending the holiday alone. It's given Dore some of her best exposure.
After Boston, Dore moved to Berkeley in the early '90s for graduate school. She stopped performing for a short time, but realized she didn't want to give up music altogether, even though she had her head buried in books about critical theory. "I was like, one cannot be a scholar and a musician," she says. "But I was depressed, because I missed my music." She started playing with some members of a local act called the Mudsills and reconnected with Erikson; three years ago, she, Erikson, Diken, and Yoder recorded No Nashville Tonight, a three-song demo.
That was the album Dore promoted when she lived in Kent during the 1999-2000 academic year. She says she was happy teaching at Kent State and playing in Cleveland, but she accepted a fellowship at New York University, not only for the academic experience, but to finally record a full-length album. She went into the studio with songs she had written over the past decade and recruited former Del-Lord Eric "Roscoe" Ambel (Bottle Rockets, Nils Lofgren) to separate the good ones from the bad for Perfect City.
"He's great in the studio," Dore says of Ambel, who also produced No Nashville Tonight. "He manages to keep a clear perspective. He's like a person who gives good haircuts. The hair's wet, and they're pulling out strands. You wonder how the fuck they know what it will look like later. Roscoe's able to know ahead of time how things are going to turn out."
The album has been reviewed in No Depression, the magazine that serves as a bible of sorts for the Americana set. Already, Dore has been compared to the acclaimed Lucinda Williams. "People say, 'She's a chick, and she's blonde. She must be like Lucinda Williams,'" Dore says. But more significantly, Dore's been accepted as an Americana artist of national stature -- a label she doesn't dismiss, even though she might not know what the category really means. "Americana is like any kind of musical categorization. It's both useless and necessary."
In addition to working on a book -- an expansion of her dissertation -- about censorship, Dore has played regularly in New York at the Lakeside, a venue she likens to the Beachland. One night, she ended up getting onstage unexpectedly. She had gone to see the Minus 5. When the Posies' Ken Stringfellow, also a member of the Minus 5, discovered she was in the audience, he decided to cover "Christmas."
"I'm sitting there, and it's totally packed, even though it's an unannounced secret show," she says. "And they start playing my song. I got up and did background vocals. I got to be onstage, with [R.E.M. guitarist] Peter Buck playing my song. That was really quite a thrill. Afterward, he shook my hand and said it was a good song."
After this short tour, which will bring Dore to Cleveland and Pittsburgh, she'll play the Women in Twang festival in Boston and a music conference in Nashville, as she continues to teach at NYU. And when the school year ends in May, she'll return to teach at Kent State and play locally. Despite the near-mishap that occurred the one time she summoned her band here, she imagines she'll try it again, as she looks forward to returning with a new perspective on both Cleveland and her music.
"The way I'm looking at it is that I'm making a whole bunch of inroads in clubs in New York and establishing myself here, to some extent," she says. "It's a really good place to do that. When I lived in Cleveland that first year, I did a number of shows in New York, at the Lakeside. Now, I have other places I can play. New York is a good center for music, and Cleveland is great, too. Because it's cheaper, Cleveland's almost an easier place to run the band from. It's great to have had a couple of years to solidify the band, but there's no reason it can't keep happening from Cleveland."