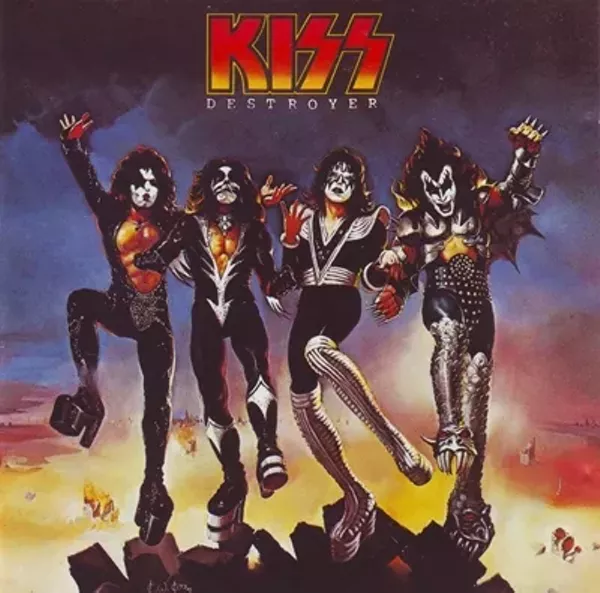 Photo via Wikimedia Commons
On the heels of the band's breakthrough live album Alive!, KISS went into the studio with producer Bob Ezrin and made its masterpiece, Destroyer. Rock and roll snobs can't deny that this album is pretty damn good and filled with unforgettable rockers like "Detroit Rock City," "Shout It Out Loud" and "Do You Love Me?" as well as the smash hit ballad "Beth." Even lesser-known songs like "King of the Night Time World," "Flaming Youth" and "Sweet Pain" show the band at its best. Destroyer is an all-round rock and roll classic.
Photo via Wikimedia Commons
This album does not have any huge singles on it, but this is probably KISS's best-written record. The songs are well-structured and really catchy. However, the audio-quality is inferior to the rest of the KISS catalogue. It sounds too low-fi, especially in the drum production. Fortunately, many of the album's tracks received a sonic upgrade on their Alive! "live" versions. Don't miss great under-appreciated songs like Gene Simmons' ballad "Goin' Blind" which might be the most nonsexual song he's ever written (though it's still pretty sexual). Hotter Than Hell is an essential KISS record; it's just a shame that it was not recorded as well as the rest of their catalogue.
Photo via Wikimedia Commons
Love Gun marks the end of an era. Following the release of this album, the band would start to fragment and become less consistent as the group tried to expand its commercial appeal by experimenting with other sounds like disco . . . Love Gun is a really good KISS record, complete with plenty of classics like "Christine Sixteen," "Shock Me," "I Stole Your Love," "Plaster Caster" and the title track.
Photo via Wikimedia Commons
KISS's first record has aged really well. It's a fun album that blends glam-rock with Raspberries-flavored power-pop. It includes KISS essentials like "Strutter," "Deuce," "Firehouse" and "Black Diamond" . . . The record did not chart on Billboard until two years after its release, but it's a solid debut for a band eyeing global domination.
Photo via Wikimedia Commons
Dressed To Kill sonically repeats the formula of the first two KISS records. The opening four tracks are somewhat forgettable. However, from the fifth song, "Rock Bottom," to the rocking conclusion of "Rock And Roll All Nite," you are in for a treat. This was the last album the band made before its breakthrough, Alive! Be sure not to miss out on the rock and roll dance party of killer tracks like "C'mon And Love Me" and "Love Her All I Can."
Photo via Wikimedia Commons
What can I say? The current line up of KISS featuring Paul Stanley, Gene Simmons, Tommy Thayer and Eric Singer delivered a nice surprise with its most recent offering, Monster. The musicians successfully channeled KISS's trademark head-banging hooks with riffs a la Zeppelin and Aerosmith. Check out "Hell Or Hallelujah," "Wall of Sound" and "Long Way Down" – Monster is the band's most consistent record since Love Gun.
Photo via Wikimedia Commons
Unmasked is a rather controversial KISS record. It is the last one (before the 1990s reunion) with Peter Criss credited as the drummer. However, he does not actually play on the album. Unmasked is super poppy and turned off a lot of KISS fans that were already struggling with the disco-infected Dynasty. If you can get over how poppy Unmasked is, it's not a bad record; it is just not a rock album. It has a number of redeemable moments. For instance, Ace's "Talk To Me" and the Runaways-flavored "Is That You" are infectious, as is Simmons' "She's So European." Avoid "Shandi" and "Naked City." Overall, if you tread carefully, you just might enjoy it.
Photo via Wikimedia Commons
Rock and Roll Over falls into the era of "classic KISS." It was an attempt to reach out to the fans of its first three more barebones rock albums following the lavish production that was Destroyer and the success of the ballad "Beth." Rock and Roll Over has some big KISS songs like "I Want You," "Calling Dr. Love" and "Hard Luck Woman" but it is an inconsistent record that comes off as a little undercooked, especially in the lyrics department. Lyrically, the band has never been particularly profound, but "Baby Driver" and "Take Me" are exceptionally sophomoric and uncreative. For example: "Put your hand into my pocket grab onto my rocket . . ." You see? – A little too Spinal Tap.
Photo via Wikimedia Commons
After the failure of Music From The Elder and dancing with disco sounds on Dynasty, KISS decided it needed to deliver in the rock department. Of the records made during the band's makeup era, Creatures of the Night is the heaviest one. If you are a fan of '80s rock then this one is for you. Ace Frehley appears on the album's cover, but actually isn't on the record. Vinnie Vincent, his replacement, shreds some slick solos. The problem with this record is that the band is trying so hard to gain macho credibility that it makes Creatures of the Night not as much fun as the traditional KISS record.
Photo via Wikimedia Commons
This is where KISS began changing its sound to keep up with pop trends. Exhibit A and B: "I Was Made For Loving You" and "Sure Know Something" are flat out disco. They aren't terrible, but would have definitely freaked out fans of its earlier work. Ace's cover of the Rolling Stone "2,000 Man" is pretty cool and provides some much needed rock credibility to this collection. Interestingly, this is the only album where Ace sings more lead vocals than Gene. Other redeemable moments are Ace's "Save Your Love" and Gene's "X-Ray Eyes". Overall though, Dynasty reeks of a band having an identity crisis.
Photo via Wikimedia Commons
The first new KISS album in eleven years, Sonic Boom, was marketed as a return to the songwriting style of the band during the '70s. It's a mixed bag, neither good nor bad. "Yes I Know (Nobody's Perfect)" and "Hot and Cold" are solid songs that would not have sounded out of place on Rock and Roll Over. Then, there are some really cringe-worthy cheesers like Stanley's "Danger Us." The important thing with Sonic Boom is that the band was making new music instead of issuing yet another greatest hits package.
Photo via Wikimedia Commons
This was the much-awaited reunion album with Ace and Peter, but it is very skippable. Fun fact: "Into The Void" and "You Wanted The Best" are the only songs that have Ace, Paul, Gene and Peter all performing on the same track. Those songs are the record's highlights. On the whole, Psycho Circus lacks focus and smells like a quick attempt for some fast cash.
Photo via Wikimedia Commons
A kind way to describe this record is "ambitious." "Misguided" or "over-blown" are probably more accurate. This prog-rock concept record is not so much a rock album as it is the perfect soundtrack to a game of Dungeons & Dragons. Music From The Elder is a weird one. It also was the first KISS record to fail to reach gold status in sales. Ace Frehley sums this record up best with his opening lyric to the song "A Dark Light": "Look out, 'cause there's something wrong."
Photo via Wikimedia Commons