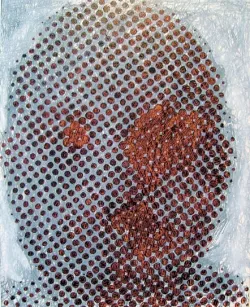 The words "art" and "hard work" aren't often used in close association, yet just about every artist knows what it means to sweat over the difficulties of process and expression, presentation and promotion. Then there's the fact that most artists do double-duty, working at sundry day jobs before pumping aesthetic iron during off-hours. An artists' celebration of Labor Day is, therefore, very appropriate, and that's what the organizers of "Labor and Industry," Tremont artist and arts advocate Dana Depew, Tim Donovan (director of the not-for-profit historical/environmental advocacy group Ohio Canal Corridor) and Cleveland-based photographer Dan Morgan have put together at Depew's Asterisk Gallery in Tremont. Sponsored in part by newly available funding from Cuyahoga Arts and Culture (your tobacco tax dollar's destination) and the world's largest steel manufacturer, ArcelorMittal, which purchased Cleveland's LTV Steel four years ago, the exhibit is a varied display of mostly excellent art in a range of media.
ÊLast year, the Ohio Canal Corridor's first Labor and Industry exhibit, mounted in a Tremont warehouse, featured noted area photographer Roger Mastroianni's black-and-white studies of steel production at LTV's plant. A couple of those dramatic, sparks-flying photos of a style of industrial production that is now largely obsolete are on the walls this year as well.
But for the current show, Depew says, "We wanted to expand into some other areas where people work in the so-called Rust Belt - shipping, furniture making, medicine and obviously fine arts." A selection of historic photographs on loan from the Western Reserve Fire Museum remember vintage equipment and the heroics of tired-looking men, inhabitants of a vanished city. But Mastroianni's recent photos of a coronary artery bypass graft procedure underway at the Cleveland Clinic are as shockingly intimate as they are technologically up-to-the-minute, showing close-ups of clamping and sewing techniques that look like the complex rigging of an industrial loom in miniature. The point is made that in the 21st century, the repair and maintenance of biological machinery has become one of the region's biggest and fastest-growing industries, employing thousands, even as jobs in the manufacturing sector continue to melt away. Mastroianni's superb digitally printed photographs are vertigo-inducing observations of the dramatic micro-technology of modern invasive surgery as it enters the fragile yet resilient environment of the body, on which human events of whatever scale ultimately depend.
ÊAlso striking are a group of photographs by Lou Muenz. These carefully composed shots of LTV's pre-Steelyard Commons property observe a desolate landscape where the only traces of the bustle of earlier times are snatches of ancient-seeming signage. One massive, peaked-wood and corrugated-iron structure, with the legend "Machine Shop" inscribed over its huge double doors, could almost be a cubist-style painting by 1930s-era artist Lyonel Feininger. The stark geometric lines of its functional design are continued into the sky and along the ground by electric wires and paths. Yet the dominant mood is one of abandonment and damage, as if Muenz had found a blueprint in the trash, worn and stained by harden-bitten realities of weather and profit.
Much farther down the slope of pessimism are three drawings by celebrated Cleveland-based rock 'n' roll artist Derek Hess, recently noted for depictions featuring biting political commentary. "Intervention" shows a huge hand descending past a factory-crowded horizon to press its forefinger against the back of a grotesque, demon-colored entity, which appears to be giving birth in the foreground. Reminiscent of W. B. Yeats' "rough beast" as it slouches toward Bethlehem to be born in his poem "The Second Coming," it's hard to tell here whether the divine hand is helping or hindering that process.
By contrast, a heyday of Midwestern industrial creativity is evoked just a few feet away by a mini-exhibit of mid-20th century studies for bicycle design, plus an actual rocket ship-like kid's pedal car, both the work of the late, revered designer and artist Viktor Schreckengost, on loan from the collection of the Schreckengost Foundation. Installed between these extremes are two mysterious sculptures constructed from found materials and hand-forged steel components by Stephen Yusko. "Collector" sits on the floorboards looking like a sample of antique technology, possibly from another planet. A length of red hose curves gently out of the back end of a steel box mounted on spoked steel wheels, hooking up with a bell-shaped metal cuff at the other end, surmounted by a cut-off valve. The steel box has a lid like a grate, which lifts off to reveal a generous pocketful of unidentified seeds. Maybe it's a lawn spreader on its home world. Or a vacuum cleaner. Whatever the case, Yusko's surreal formalism is a highlight of the installation at Labor and Industry, helping the exhibit transcend clichés as it reaches for hidden dimensions of use and intention. A group of smaller paintings by Depew, reproducing the insignia of various Great Lakes shipping and transportation companies like Oglebay-Norton and the Inter-lake Streamship Company, also have a quaintly surreal quality, like the flags of imaginary nations, even as they remember a very real bygone era.
A FEW BLOCKS to the southwest on West 14th, former exit gallery director Corey Baker has reopened that storefront space as TIXe Gallery for a one-time showing of his own mixed-media paintings. The 13 works on view run from less than a foot square to almost 10 times that size, executed in a startling array of unexpected, often trompe l'oeil materials. Constructed in a grid made of multiple panels, one of Baker's paintings, "Amy," uses oil paint on canvas. But that's the exception. For another gridded work, "Julie," the artist makes freehand scratchy blue dots of varying intensity with an office pen on stretched wax paper. Close up, that particular work has a doodle-like quality, but others, like the richly glowing gold-leaf-on-acetate "Sarah C.," seem almost machine-made. All 13 portraits recreate photo images from a meticulous system of idiosyncratic marks, holes and dots. If the method seems distant from flesh in its abstraction, Baker closes back in on his subjects through sheer intensity, as he lovingly renders this small group of his favorite people - persons he has loved and lost as well as some who remain in his life.
ÊMeasuring 80-by-120 inches, Baker's oil on wax paper, 93-panel "Crystal" took several months to complete. Each individual rectangle is as unreadable as a greatly enlarged corner of a news photo printed in half-tone dots, yet each conveys a cryptic fascination, like a single letter from an unfamiliar alphabet. As he works methodically to reproduce images of beloved friends - or the two small self-portraits also included in the show, one of which is made of drill holes - Baker is entirely isolated from the big picture, like a ship's navigator using coordinates to steer through a thick fog. At close quarters, the graphic quality of Baker's dots is the most noticeable feature of the work, but from 6 or 10 feet away and at different angles, the image of a young woman flickers into view, almost like a hallucination. From even farther away, the blue tint of the dots begins to lose its hold on the eye. The coherence of the image falls apart, but, as if in compensation, the structure of the supports behind the semi-transparent wax-paper surface of each panel becomes more visible, giving the work a geometrical, even architectural emphasis. Baker says that he wants to create a challenging optical experience for viewers, one that varies according to where and when it is seen; one painting uses an oil-based white intended to yellow over time.
Ê"Pete's Remains" is another large grid of circles on masonite panels, which, in this case, look like holes and were made by pressing pennies into white oil paint. Baker then removed the paint-encrusted coins, putting all $28 worth in a large pickle jar, and painted the depressions in a range of blacks and grays. The subject is Baker's most influential instructor, Peter Fletcher, who taught at Viterbo University in Wisconsin until his death from lymphoma in 2003. Like coins placed on the eyes of the dead, Baker's technique here funds a passage to deep levels of associative power, buying time from the eye as Fletcher's smiling, bespectacled face, much larger than life, flickers in and out of focus, as if a switch were turned on and off. Here, as elsewhere in Portraits, Baker's meditative, cumulative technique comes quietly into the presence of his subject, as if blindfolded or slowly blinking, magically manufacturing presence out of absence.Ê
arts@clevescene.com