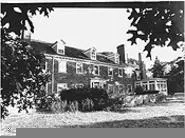 The Taylor mansion is scheduled to be razed later this month.
There are few stretches in Greater Cleveland more serene than the three-mile section of Lake Shore Boulevard that winds through Bratenahl. It's a leafy patch sprinkled with gorgeous mansions, wrought-iron fences, and lakefront developments with names like Breezy Bluff. The wealth of trees gives the exclusive village a rustic feel, even though it's just five miles from Public Square.
That pastoral atmosphere has been broken by plans to develop more than 25 acres of property that runs between Lake Erie and Lake Shore Boulevard, pitting neighbor against neighbor. Led by former Cleveland Cavaliers Coach Mike Fratello and developer John Ferchill, the development has some Bratenahl residents worried their village will be transformed into just another condo-filled burg. And preservationists are upset that Ferchill and Fratello's plans call for the demolition of a mansion listed on the National Register of Historic Places.
"I don't think it should be torn down, but it looks as though they're going to do it," attorney Bourne Dempsey says of plans to raze the Taylor mansion.
Ferchill is partnering with Fratello to develop eighteen acres of prime lakefront property surrounding Fratello's home, which is adjacent to the mansion. Concerned about how it might be developed, Fratello bought the property, which includes the Taylor mansion, and began carving out his own development plan with Ferchill.
They decided to slice the property into one-acre parcels, which are now retailing for between $250,000 and $750,000 — for the land alone. Then upscale homes will be built. Most residents had no problem with the Ferchill-Fratello development up to that point. But the plan raised a few eyebrows when it was announced they planned to tear down the Taylor mansion.
The stone home, with more than a hundred windows, was built in 1916 for Sophie Strong Taylor, who ran William Taylor Son & Co. for more than forty years. The May Co. bought Taylor Son & Co. in 1939, when Sophie Taylor's estate was liquidated, and the Catholic Diocese of Cleveland purchased her mansion four years later.
The lakefront estate then became the Bishop of Cleveland's residence, which is why many Bratenahl residents still refer to the home as "the Bishop's Mansion." Archbishop Edward Hoban lived on the property and died there in 1966. His successor, Bishop Clarence Issenmann, lived there until 1977, when the diocese sold the mansion.
"It was a very fine house," says Dempsey, who has joined with a handful of residents in a quixotic effort to save the mansion. "It had beautiful woodwork and a chapel Bishop Hoban added to it." In 1986, it was added to the National Register of Historic Places as a "cultural resource worthy of preservation."
Several residents have formed the Bratenahl Community Foundation in an effort to buy some of the property. They are not opposed to Ferchill's development in principle, but are asking him to retain the Taylor mansion, just as the lakefront homes of Howard Hanna and Samuel Mather were left intact as their surrounding property was developed.
The fact that it's on the National Register of Historic Places "seems to carry no weight with the developers," resident George Landis says. "We're just objecting to him tearing it down."
The abandoned mansion needs a lot of work. A recent visit revealed several broken windows, water damage to the interior, and general neglect. Several sources who have toured the property say the mansion would require serious renovation.
Kevin Weigand, who works for the Ferchill Group, notes that a listing on the National Register of Historic Places carries no provision against a building being demolished.
"It's not a historic building," says Weigand, who anticipates the mansion could be demolished by the end of August. "It's an old building. It's in the middle of a future road, and it cuts off the view of the lake."
There have been several people interested in buying the house, according to Weigand. But when they learn what it will cost to renovate it, they quickly lose interest. "In my personal opinion, it's not that great," Weigand says of the old home. "It sticks out like a sore thumb."
Bratenahl Council President Mike Licastro says, as long as Fratello and Ferchill are following zoning ordinances — and they are — it's really nobody's business what they do with their land. "If you want to control the future of the land, buy it," he argues. "It's a free country. I think it takes amazing temerity to dictate what someone can do with property they own."
As for the mansion, Licastro shares the developers' sentiments. "It's in deplorable condition," he says. "It doesn't have the ambience or historic value of the Hanna or Mather mansions. They said it wasn't economically feasible [to renovate the home], and that's not surprising. It was disappointing, but you can see where they're coming from."
Several members of the Bratenahl Community Foundation concede that saving the Taylor mansion may be impossible. But some are turning their attention to blocking the development of an eight-acre parcel contiguous to the Ferchill-Fratello property by developer Bill Roediger, who plans to build 24 townhouses retailing for up to $250,000 each. He says a small but vocal minority are simply resistant to change.
"We've gotten some people who never before were interested in zoning until they say, "Oh, that's in my backyard,'" Roediger says, adding that his development will retain plenty of green space and be set back from the boulevard. "It's small special-interest groups who just say, "Oh, I don't want it there.'"
Licastro points out that new developments help fund the village, which has virtually no commercial property and whose residents pay into the Cleveland Public Schools. Bratenahl has seen a wave of development in the past decade, with places like the Shoreby Club and new homes sprouting up, stickers still on newly installed windows, and young grass pushing up through the baked brown dirt.
But now the village has enacted a moratorium on new development through the end of the year — the Ferchill and Roediger projects were grandfathered in — to give village residents a chance to decide when enough development is enough.
"People don't like change," Licastro says. "There are people in the community who want it to be 1935 again. Well, it's never going to be 1935 again. People have a right to develop their property."
But Landis isn't ready to give up the fight just yet. "Fratello and Ferchill seem to be outside the community thinking on this," he insists. "It doesn't matter to them that it's on the National Register of Historic Places. Public opinion is the only way it will be stopped."