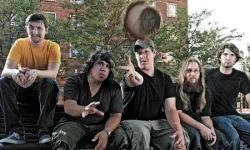 Above This Fire bassist Oliver Barrett and guitarist LT Magnotto are such friendly, good-natured guys, you'd never guess they play in one of the city's more aggressive hardcore/metal bands. Barrett is a skinny guy with, what he refers to as, "the best mustache you've ever seen." Magnotto is short, stocky and has the kind of bemused look on his face that makes it appear he's up to some mischief. Sitting at Tastebuds, a downtown eatery they frequent, they're clearly excited about Last Ones, the new disc they're releasing on their own newly formed Forest City Records.
"We completely funded this new album from start to finish," says Magnotto. "The design on the album was completely kept within the band. Our guitarist Aaron [Salo] took the photo on the cover, and Oliver did the design. We tried to keep it professional and didn't sacrifice anything. A lot of people think DIY means Xeroxed cover art. It bums us out that a lot of kids think they need to hire some douchebag who dresses like Fred Durst to do their marketing."
The album's liner notes alone are a marvel. Each song has its own lyric sheet, and by shuffling the pages, you can create 14 different album covers. Not that the band put all its emphasis on the packaging. Recorded locally at Ante Up Audio and Conquistador Studios, the album, which commences with the parched vocals and staccato guitar assault of "To the Wolves," nicely balances heavier moments with more melodic ones. Sing-alongs like "Polygraph" and "Life in the Quicksand" are ready-made mosh-pit anthems, and Andy Hoffman sings with all the urgency of Rage Against the Machine's Zack de la Rocha.
Magnotto and Hoffman are actually the only two remaining original members in the band, which formed in 2000 when Magnotto was still only a sophomore in high school. After self-releasing an EP, the band signed to Life Sentence Records and issued In Perspective in 2005, toured heavily and scored a slot on Hellfest, a popular hardcore festival that turned out to be one of the biggest disappointments of its career.
"We thought it was going to be the shit," Magnotto says. "The day before the show, it got canceled. It was the worst day ever. We were so stoked about it. No matter how shitty our shows were leading up to it, we were like, 'It's all good. Hellfest is coming up and it's going to be great.' That was one of our lowest points."
The band came back to Cleveland and regrouped, inspired by a fan who wrote a letter telling them their music kept him from taking his life. "We booked a tour so that we could play his house and hang out with him," Magnotto says. "That was amazing. And it was cool because that's what we're in it for. We're not in this to be on MTV, because that shit's not going to happen."
The guys are well aware of the fact that they've outlasted most of their contemporaries. That's why they call their new album Last Ones. And because everyone has a day job and the guys are spread out around town (drummer Dave Anderson even commutes from Pennsylvania to practice and record), making the album wasn't easy.
"It took a loooong time to write the album," says Barrett. "We don't get to practice as much as we'd like. It was tough to write the songs and practice them and then get them tight."
With limited distribution (though you'll be able to purchase the disc at all the usual digital outlets), Above This Fire isn't looking to get rich with the release of Last Ones.
"It's a cliché, but we're just in this to have a good time," says Barrett. "We're not going to make a career doing this. If we wanted to have a career, we wouldn't be playing this type of music. We just want to keep it as a really fun hobby."