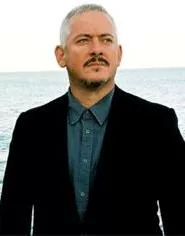 Call me Captain: Jon Langford leads Ship & Pilot into port.
"I usually dream that my arms aren't long enough to reach the guitar, or I'm wearing no underpants in the supermarket, or I've got an exam today and I can't seem to find my way back to the school, stuff like that," Jon Langford laughs over the phone from Chicago, where the affable 48-year-old Welsh expatriate has lived since 1991. "Although the last song I wrote, I was dreaming it, and I woke up and wrote it down. That can be pretty dangerous, because they can be really crap songs -- even though in the dream, it's No. 1 on the charts!"
Dreaming, of course, usually entails sleeping, and it's hard to figure out how and when Langford manages to get any shut-eye. He has at least four active bands to maintain: the Mekons (the legendary punk/inside-out-country group he co-founded in 1976 while attending art school in Leeds), the Waco Brothers (his long-running, boozily raucous Cash/Clash outfit), the Pine Valley Cosmonauts (his Americana supergroup/country-standards cover band), and Ship & Pilot (which includes members of both the Mekons and Waco Brothers). Invariably, there's a friend's album to guest on or a last-minute gig to join, as well. There's his celebrated painting career -- Langford's highly collectable, acrylic-on-wood renderings of skeleton cowboys on horseback, brandishing lassos, and old-time country stars and boxers sporting blindfolds, he says, are really what pay the bills these days. He's a frequent cartoonist, etcher, and essayist, and the host of a weekly radio show (The Eclectic Company, on Chicago rock station WXRT). Then, there's Langford's most time-consuming pursuit of all: He's the father of two boys, ages three and eight.
"Apart from watching SpongeBob with my kids, I'm at my happiest playing music all the time or getting over to my painting studio at eight in the morning, even if I have a hangover," he says. "I love to be busy, and there's always too much to do." Almost on cue, a voice can be heard in the background -- it's his wife, informing him that their youngest son has just jammed nearly a whole roll of bathroom tissue down the toilet. "Can I call you back in 10 minutes?" he asks, then does. "Nothing like a toilet overflowing on a Sunday morning," he says. "See what I mean? Always something going on!"
On top of everything else, there's Langford's "accidental" solo career, which he started even later than he began making babies -- his first child came when he was 39; 1998's Skull Orchard was released after he turned 40. It's accidental in the sense that his solo albums have usually come about from unplanned recording sessions and generally consist of songs that simply didn't fit any of his other projects. Such was the case with his newly released third solo effort, Gold Brick (or Lies of the Great Explorers or Columbus at Guantanamo Bay), most of which was recorded in one day.
"This guy who bought a painting off of me owns this really nice studio in town, and instead of giving me the full money for the painting, he was like, 'I'll give you half the money and a free day in the studio,' and I was like, 'Yeah, that's a great deal,'" he says. "I figured it would be a good excuse to bash out all of these songs that have been lying around."
Remarkably, this combination of pieces from his notebook and a four-track demo forms one of Langford's most purposeful-sounding, thematically cohesive, and thoroughly enjoyable discs. Its prevailing lyrical focus is on displacement: the expatriate long removed from his native land, yet still trying to make sense of his adopted country. Its vexed narrators sit in corner bars, drive on back roads, and sail the seas, searching for self and meaning, and yet, as Langford belts in the song of the same title, "All roads lead back to me."
And, as you would expect from the unabashed lefty, there are plenty of jabs at the American sociopolitical zeitgeist: "Buy It Now" and "Tall Ships" incisively critique rampant consumerism; "Dreams of Leaving" pours from the heart of the working poor ("Mega-slums in mega-cities/You can taste the air in the back of your throat/There's gates to enter but there's none to leave/And I only came here to take a look"); and in the closing, rollicking epic, "Lost in America," Langford imagines Christopher Columbus landing in Guantanamo Bay, then being detained and forced to watch lousy daytime television as a form of torture.
Still, almost every expression of ennui is accompanied by a blithe, sometimes exuberant melody formed from chewy electric guitars, organ, piano, and violin; they're surprisingly lush and polished compositions, in light of the exceptionally brief amount of time spent in the studio. Langford's vocals may also come as a surprise to some longtime fans -- here he sings, quite impressively (and, it must be noted, sounding quite Joe Strummer-esque at points), as opposed to his usual shouting.
"All the yelling and chanting and the noise, that's just a smokescreen, like that's gonna change anything," he says. "You gotta be smart. I mean, 'Lost in America' is this melodic song that's actually gotten on the radio, and there's women at the health club doing their exercises to a song about Abu Ghraib and TV cops with lung disease! I don't know what kind of impact it'll have, and I didn't write it to get on the radio, but it's out there. I still feel that art is a kind of weapon, and it's a mirror at the same time -- the fact that a song like that is on the radio is a sign of something shifting in the culture."
Gold Brick has justly received some of the most enthusiastic responses of any Langford album, from any of his bands. That he's pulled off the feat at 48 -- and after 30 years in the biz -- has raised many eyebrows: a reaction that Langford can understand.
"I don't think anyone goes to see the Rolling Stones or Paul McCartney, and thinks, 'Play some of your great new stuff!' And yet some people manage to keep it going, to keep pushing things. I saw Bob Dylan play when I was making my first solo album, and it was really hopeful to me that maybe it doesn't have to be like, 'All right, I'm over 40, therefore I'm washed up and I can't make anything interesting.' It's completely ridiculous. Why can't I?"